Philips has had a tumultuous past when it comes to the TV industry in India. After years of trouble and losing market share to Japanese, Korean and Indian competition, Philips quietly pulled out of the Indian market a couple of years ago. It now seems to have had a change of heart and has returned with a bang, bringing its latest 4K models in tow.
Now operating under a new corporate name, Philips has returned through its Indian subsidiary PE Electronics. Philips also announced a new range of 4K TVs, with 50-inch, 58-inch and 65-inch models being added to the lineup. All these new TVs boast of Ultra-HD 3840x2160-pixel screens.
The Philips 58PUT8509/98 is the second-largest in the new 4K range, and costs Rs. 2,35,000. It features motion enhancement, Ambilight backlighting, smart functionality, 3D, and other features that promise to justify the asking price. Philips hopes to position itself in the premium tier and take on the likes of Sony, Samsung and LG. We reviewed this 58-inch television to find out if it truly fits in among the top tier of 4K TVs.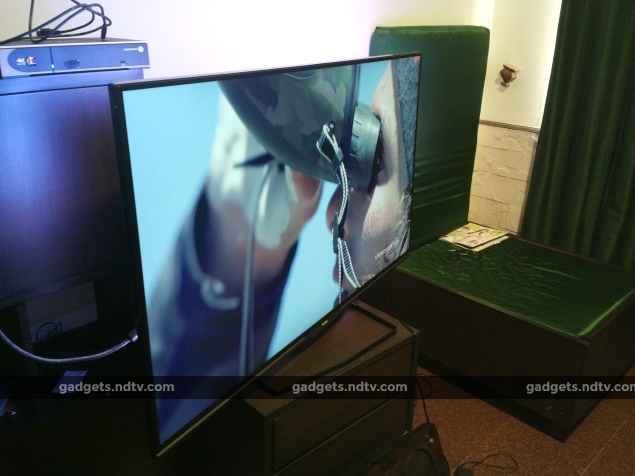 Design and Features
The Philips 58PUT8509/98 4K TV uses a 58-inch LED Ultra-HD screen, which is capable of 3D display using active 3D technology. Picture enhancement technology used includes Pixel Plus, Digital Natural Motion, Micro Dimming and 400Hz PMR Ultra for improved 4K motion. Unfortunately, the refresh rate over HDMI at 4K is limited to 30Hz, and this is a big disappointment for us. The speakers of the TV are on the bottom, and they output at 20W. Connectivity options include four HDMI inputs, one component input (YPbPr), two USB ports, an IEC75 antenna input, an Ethernet port, audio L/R in, digital audio out, a headphones out, and Wi-Fi. The TV is powered by a dual-core CPU and features a proprietary user interface for smart functionality.
The box includes two active 3D glasses, a table-top stand, awall-mounting kit, a detachable power cord, and a rather unique remote (more on that later). With the stand attached, the TV weighs a hefty 25.6kg. It's stark black all around, but features a silver edge at the bottom. It's also a bit thicker than many similarly priced and specced TVs. Despite the size and weight of the TV, the stand is a single-stemmed affair, and allows it to swivel within a limited range. Two HDMI inputs and one USB port are conveniently located near the left edge, while the Ambilight emitters are dotted around the two sides and top of the rear.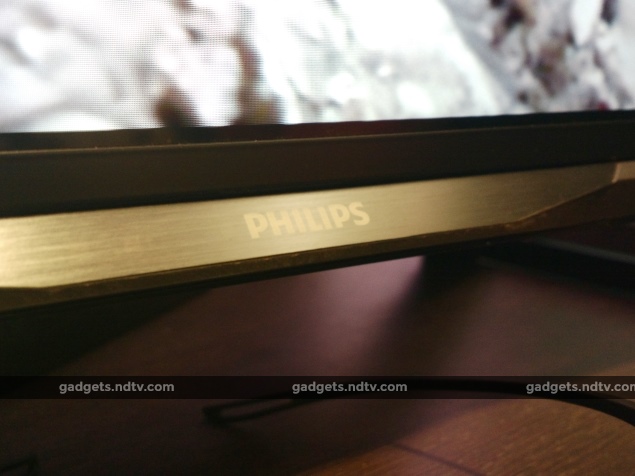 Philips has been promoting its Ambilight technology since the early 2000s, and the technology makes an appearance on this 58-inch 4K TV. It really is a fantastic idea, using small LED lights on the back of the TV to project a glow onto the space behind it. The lights quickly adapt to the whatever is on screen, and project corresponding colours onto the background. This gives the picture a glowing halo which looks impressive, especially when you're watching TV in a dark room. Philips claims that Ambilight technology can enhance the on-screen picture by somewhat extending the colours, but we won't go as far as to say that's the case. Still, it's a nice touch.
The Philips 58PUT8509/98 4K TV has one of the most interesting remotes we've ever used. There are buttons on both sides, with a standard set on the front and a full QWERTY keypad on the back. The front has video/audio control keys, quick-access buttons for the smart interface and main menu, and a directional pad for navigation,in addition to the usual controls. The most unique feature of the remote is that it features IR emitters on all four edges, so it's possible to use the remote at any angle and the TV will almost always receive commands. It's a smart piece of design that makes the system a lot easier to use.
Like most other high-end sets today, the Philips 4K TV is a smart TV. It runs a proprietary interface designed for Philips and supports a handful of apps and on-demand content sources. There are nowhere close to as many apps as Android-based TVs such as the Micromax 4K TV can support. A couple of the preinstalled on-demand apps such as CNBC and Youtube work well. Unfortunately, the interface is a bit too clunky and is slow to navigate around, and you're better off using a computer or smartphone to browse the Internet and access social media. Browsing the contents of a USB device is also annoying, with the interface occasionally not responding to commands from the remote because it's still processing the previous command.
One of the key features of the TV is Ultra Motion Enhancement, which can boost the refresh rate to as high as 400Hz, even at when viewing Ultra-HD content. This can actually be seen in action with USB and HDMI content up to Full HD appearing smooth and devoid of judder. This helps enhance the viewing experience considerably, especially with SD content. It's as clean an image as you can get on a big screen.
Picture Performance
We used a long list of content and equipment to properly review the Philips 4K TV. This included the satellite 4K content from a Videocon 4K set-top box, a Full-HD print of Interstellar, a Full-HD 3D print of X-Men: Days of Future Past and assorted SD content in the form of regular TV channels and video clips that we played off a USB drive. We also watched a fair amount of YouTube content through the TV's own app.
We started with 4K, with Videocon's dedicated 4K channel providing us the content. Unfortunately, like a couple of other TVs we've reviewed before, 4K content over HDMI has its refresh rate limited to 30Hz. Like those TVs, this causes serious framerate issues than make the picture below-par when you're watching busy, motion-heavy scenes. One of the shows on Videocon's channel is a particularly stunning tour of Rome's historic landmarks in 4K. It features slow-motion videography, which looks excellent because it remains within the low refresh rate capabilities of the TV. However, colour reproduction is magnificent and this TV produces truly vibrant images. Combined with the Ambilight, it's a real spectacle that rivals even a Holi party. We tried to run some of our 4K clips on the TV through USB, but codec issues meant that the TV couldn't read the content.
Full-HD content tends to perform best on large TVs, and the Philips 58PUT8509/98 was no different. The picture produced was smooth, lifelike and free of judder. Colour reproduction too was fantastic, with the exception of black levels. This is an inherent flaw of LED-LCD displays, but the Philips was worse than a lot of TVs we've seen when it came to reproducing blacks. Small dark patches usually translate well, but larger ones are susceptible to serious pixel blotting. The TV isn't able to achieve a true black or anything close to it, usually settling on a shade of dark grey with heavy blotting. This doesn't happen too often, and is obviously more likely to be apparant in dark movies such as Interstellar.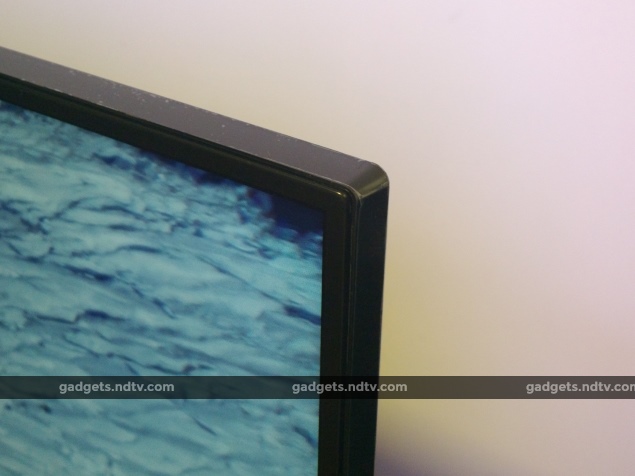 However, the rest of the picture, especially the sharpness, clarity, smooth motion and vibrant colour reproduction make the poor blacks entirely forgivable. The scene in Interstellar where the lander arrives on the tidal-wave planet was reproduced with a hypnotic and immersive beauty.
Standard definition content usually tends to look poor on large screen TVs. Poor upscaling abilities become apparent, especially when the TV needs to convert 480p or 576p content into a 2160p feed to match the screen resolution. Fortunately in this case, the Philips not only does an excellent job with upscaling, but is also helped along by its motion processing feature. This ensures a smooth, clean image with low-definition content as well. Although you're much more likely to get a better picture at SD when you're using a 32-inch TV, this is quite possibly the best performance you can achieve from a large screen. You are however encouraged to stick to content that is HD and above when you have a large TV like this one.
The Philips 58PUT8509/98 4K TV is also 3D-capable, and uses active 3D technology. In terms of comfort and practicality, we'd rather have had passive 3D, which uses lighter polarised glasses that are easier to wear for long periods and don't need batteries. However, active 3D produces a more engaging three-dimensional effect, and the Philips does an excellent job with it. We used our Full-HD 3D print of X-Men: Days of Future Past and were immediately treated to a visual spectacle. One particular scene during the beginning with rainfall and ash-flakes floating across the screen was incredibly immersive. There's also a real sense of depth, as if you're looking out of a window and watching the events of the movie unfold.
Sound Performance
With its speakers along the bottom edge, the Philips 4K TV has a better sound than most other TVs which have rear-firing speakers. Voices and background sounds tended to be better, while soundtracks and music were on the weaker side. The maximum volume is a bit too low, and at times you can't hear everything very well. Most of the time, it's an average sound performance that you can live with. Still, if you're spending Rs. 2,35,000 on a TV, a little bit extra on a good 5.1 set up or a soundbar won't hurt you too much and will be worth it in the long run.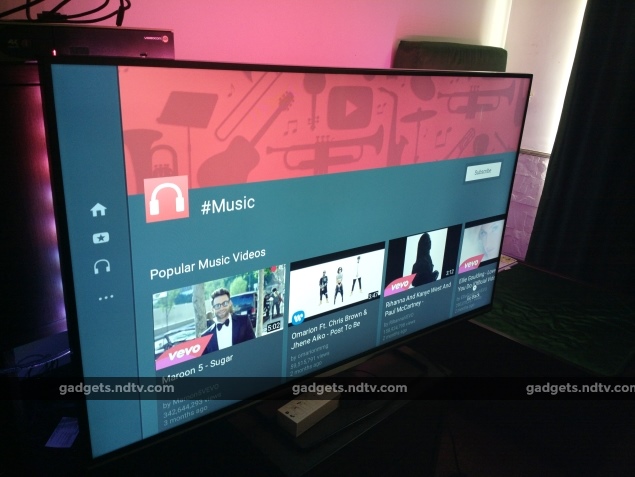 Verdict
Philips has been a trailing player in the Indian TV market for a while now, having lost market share to the current industry champions all though the 2000s and early 2010s. Even globally, Philips is considered to be behind the Korean and Japanese giants in terms of quality and performance. If the company is now hoping to change that impression, it has made a good start with the 58PUT8509/98.
In terms of motion and elimination of judder, it's hard to find a TV that performs better than this. The image is smooth, clean and lifelike most of the time. Colours are reproduced with precision and vibrance, with only small issues that are easy to ignore. The unique Ambilight also contributes in its own little way by livening up the room with visual effects.
If you're looking for a set that performs brilliantly with 4K, you may want to look elsewhere (Sony, Samsung and LG, perhaps). However, if you want a big, immersive and smooth viewing experience, and you stick to content that is Full-HD and below, you're unlikely to find a TV as good as this at this price. Occasional issues aside, it's a great TV that we've had a lot of fun reviewing and it earns a recommendation.
Price (MRP): Rs. 2,35,000

Pros
Excellent motion handling, elimination of judder

Sharp, vibrant image

Superb upscaling and performance with SD, HD and 3D content

Immensely useful and cool remote

Ambilight technology produces great light effects

Cons

Low refresh rate on 4K over HDMI

Poor black levels, occasional pixel blotting

Clunky user interface, not enough useful apps

Ratings (Out of 5)
Design: 4

Performance: 4

Value for money: 3

Overall: 4