China has established a formidable reputation for itself in the electronics sector. A large chunk of the world's audio products are made in the contract factories there. These original equipment manufacturers mass produce products as per the designs and specifications given to them by established brands. Sometimes, though, a factory might decide to use some of its capacity to create similar products of its own.
It is because of ambitious ideas like this that today we have big names like Fiio and Soundmagic. Products from both of these brands have won critical acclaim, and have shown just what China's consumer electronics industry is capable of. Another such brand is Ostry. It isn't quite up there with the big names yet, since it's just about starting on its solo journey.
Ostry started out as an OEM, producing acoustic diaphragms and driver units for LG, Samsung, Sony and others. The brand name Ostry came into being only two years ago, and the company now concentrates on its own line of products. The company's distributor in India, HiFiNage, sent us a review unit of the Rs. 4,372 KC06A in-ears, and we're keen to see if this upstart from China has what it takes to go the way of Fiio and Soundmagic.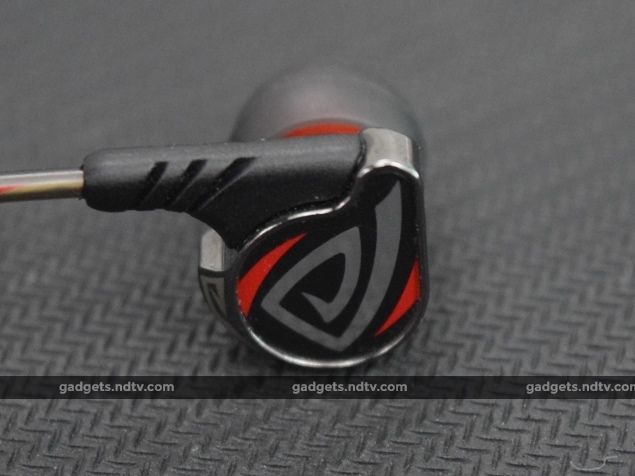 Specifications, Design and Fit
The Ostry KC06A in-ears are powered by 10mm CCAW double-cavity drivers (which Ostry claims to have patented), and have a sensitivity rating of 102dB. Impedance is on the low side at just 16 Ohms, which is a bit concerning as it can cause blow-out problems if you use these earphones with powerful equipment and turn them up too loud. This is also an explanation for why the KC06A can get really loud, and you might need to check the volume before every use to ensure you don't damage them (or for that matter your ears). The in-ears have a frequency response range of 20-20,000Hz and a 1.35m cable with no in-line microphone or controls.
Saying that the Ostry KC06A in-ears look unique is a bit of an understatement. These earphones are, in our opinion, the personal audio equivalent of having one of those funky tribal tattoos. There is branding on the top and more tribal print on the insides, while the stems are black plastic. There are also a couple of bass vents on the casing which can be covered to modify the sound. We tried this, and it made too little of a difference to bother with.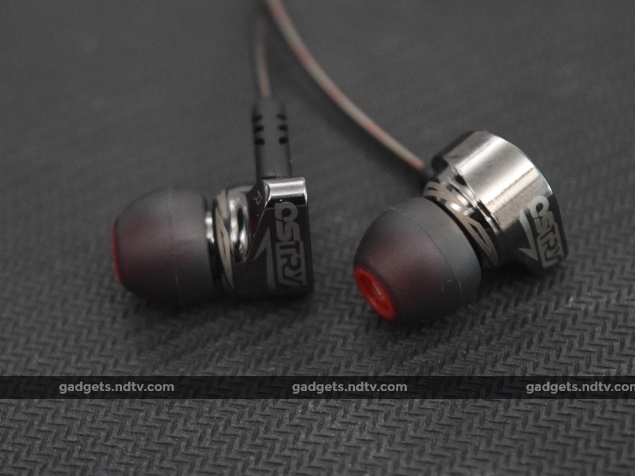 A total of seven ear-tips are included in the box, and the best, in our opinion, are the filtered ones. They give the sound a considerable boost and are comfortable as well, and we had no trouble keeping them on for hours at a stretch. The stem facing forward might look a little odd, but it didn't affect comfort in any way. Also included in the box are a carry-pouch and ear-hooks.

The cable is unlike anything we've seen before. It's very thin and very susceptible to tangling. The 3.5mm jack and the splitter are made of metal and match the colour of the driver casings, which is a very classy dull shade of silver. There are no in-line controls, so there's no question of using the Ostry KC06A for phone calls. These in-ears are built for music.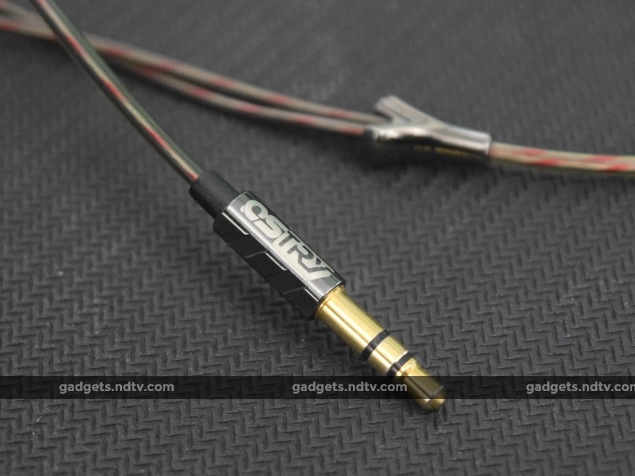 Performance
We used our reference Fiio X1 high-resolution audio player, an Android smartphone and a Windows laptop to review the Ostry KC06A in-ears. Focus tracks were Foster The People's Helena Beat, The Avalanches' Since I Left You and Simon and Garfunkel's Cecelia in 16-bit/44.1kHz FLAC; Sam Smith's Stay With Me in M4A; Croatia Squad's Get You Off and Postmodern Jukebox's beautiful Anglo-Spanish cover of Summer in MP3.
Stay With Me was the first of our focus tracks, and it revealed the biggest strength of the Ostry KC06A: imaging. The separation of elements, especially the cymbals and drums in the background, is sublime. Sam Smith's strong vocals translate beautifully as well, emanating from dead centre of the soundstage. Distant, softer elements feel like they're exactly where they need to be, and on the whole it's a neutral sound that favours frequencies across the range.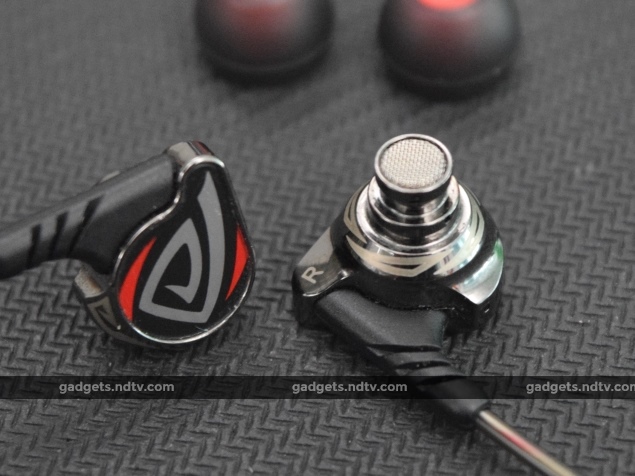 Helena Beat showed not only how loud these in-ears can go, but also how impressive they are with bass and treble response. There's a gentle thump to the bass, which is exactly as it should be. It's tight and lingers just as long as it needs to, which ensures that treble and mids are given due attention as well. There's a clear difference between the deep bass and mid-bass, which is impressive for earphones in this price range. Treble and bass response work well together without leaving out the mids, as was demonstrated when we played Get You Off. The treble is as gentle as the bass, with just a hint of sparkle; again, this is how it should be.
We usually don't expect to find impressive mid-range performance in ear-phones at this price level, so the Ostry KC06A in-ears surprised us once again when we listened to the cover of Summer. Mid notes are so clearly distinguishable, we couldn't help but compare the earphones to the excellent (and much more expensive) Logitech UE900 in-ears. There's a real sense of power to the female vocals as well.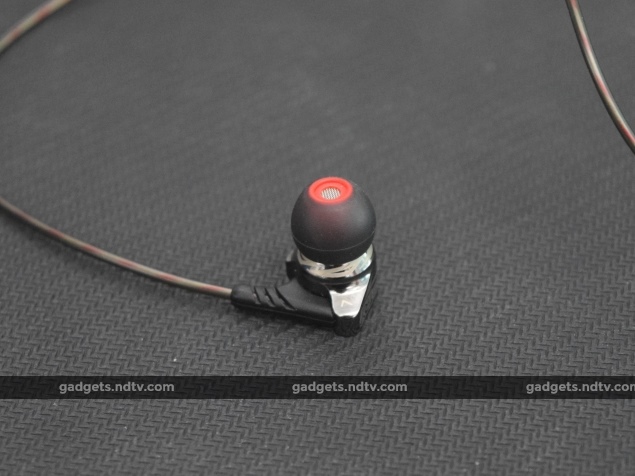 The softer, gentler tracks in our focus list showed just how immersive the KC06A can be. Cecelia has a lot of unique sonic elements to it, as does the sample-based Since I Left You. It's easy to get lost in all the detail, especially when the sonic frequencies play so well together. That's exactly what happened, and the tonal neutrality is absolutely spellbinding.
While listening to certain tracks, including Since I Left You, there was a bit of audible distortion in the right earpiece of our review sample. We believe we might have caused this by turning the volume up too high early in our review period; the low impedance might have led to a hint of damage to the drivers. This brings up a serious concern with low-impedance products like this,because people aren't used to checking the volume level when they plug earphones in. Not only can you accidentally cause blow-outs, but there is also the possibility of seriously damaging your ears. Careful use is recommended.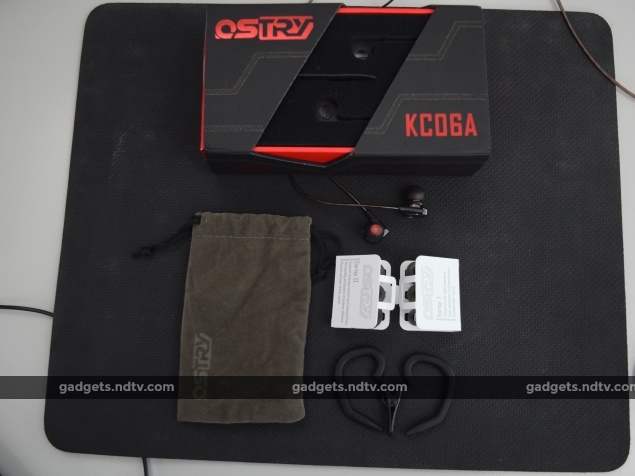 Verdict
There haven't been a lot of products that have managed to surprise us. Usually, we have an idea what to expect before we get to work on our reviews. However, the Ostry KC06A is one of those rare exceptions; a gem that managed to catch us completely off guard. This level of tonal neutrality and this kind of sonic excellence hasn't been seen in this price range for a while.
All frequency ranges work well together, bass and treble response is calculated and clean, and the overall sound is pleasing enough for everyone to enjoy. What makes it even more special is that this was achieved by an upstart that we've only just discovered. At this price, you're unlikely to find something as tonally solid and tight as the Ostry KC06A in-ears. They can be purchased at hifinage.com, and we highly recommend them.
Price (MRP): Rs. 4,372

Pros
Excellent tone, neutral signature

Tight, controlled bass and treble

Funky looks
Superb imaging
Good value

Cons

Low impedance/high volume combination is a risk

Cable tangles too easily

No in-line microphone or controls
Ratings (Out of 5)
Design: 4

Performance: 4.5

Value for money: 4.5

Overall: 4.5