That's right, the company best known for budget smartphones is producing TVs. After comfortably establishing itself as
one of India's leading smartphone vendors
, Micromax has everything going well for it. It's launching new products every month in the smartphone market, and has branched out into the tablet, data card and TV markets as well. Now, Micromax is targeting the next big thing: 4K TV.
In typical Micromax fashion, it has done this by undercutting the competition. The Micromax 50K2330UHD offers the benefits of large size and flagship-level features at a fraction of what other manufacturers are charging, and even makes the Rs. 90,000 Vu 50in 4K TV (which we praised for being affordable) look expensive.
The Micromax 4K TV has everything you could possibly want from a television, including Internet connectivity, smart functionality powered by an Android-based user interface, a long list of connectivity options and a screen that can handle 3840x2160 pixels. On paper, this should be the obvious choice for anyone in the market for a new TV. We review the Micromax 50K2330UHD to find out if this really is as impressive as it appears to be.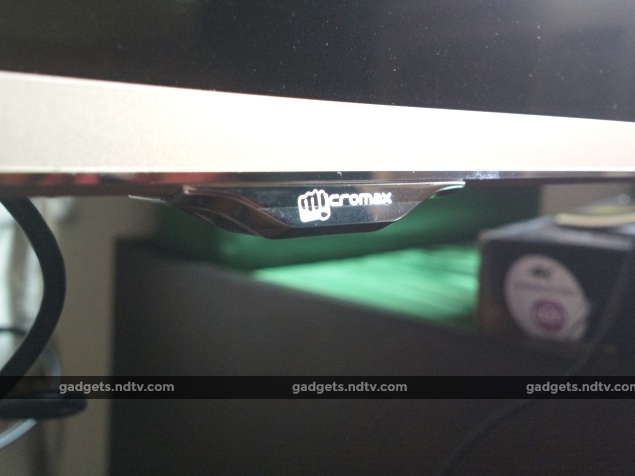 Design and Features
The model number 50K2330UHD is a bit misleading, because the Micromax 4K TV actually measures 49 inches diagonally. The screen resolution is 4K-standard at 3840x2160 pixels. Connectivity options include two HDMI ports, one Ethernet port, one VGA port, RCA outputs for audio, component/AV inputs, and a socket for an antenna along the bottom, as well as a total of three USB ports (one of which supports USB 3.0), an SD card slot, sockets for a microphone and headphones, a Video Out socket and an S/PDIF port. The only key feature missing from the list is 3D capability, but this isn't something that too many people will miss.
The TV is an Android 4.4 device with the ability to connect to the Internet using Wi-Fi or wired Ethernet, and is powered by a dual-core CPU with 1GB RAM and 2.5GB of user-available storage, which can be expanded by up to 32GB. A handful of apps are preloaded onto the TV, and access to the Google Play Store means that others can be downloaded as well. All of this is controlled by an RF-capable motion sensing remote, and you can use your Android smartphone as a touchscreen/tilt sensor as well. It isn't the smoothest experience and is far from polished, but it's nice to know that you can use your big screen for tablet-like functionality.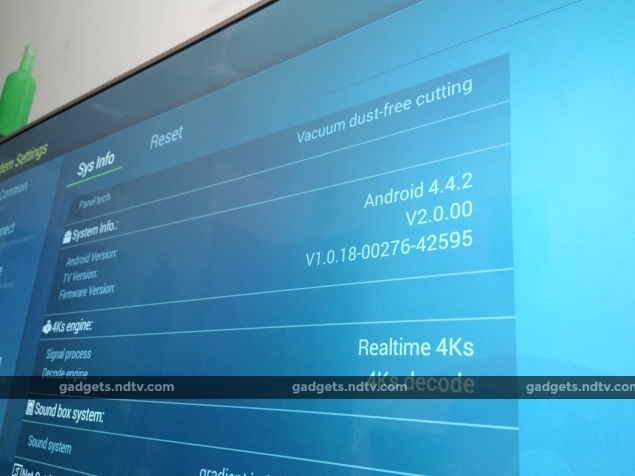 A major drawback of the user interface is that the TV takes too long to come on because the system must be booted up like any other Android device. This leads to long waiting times before you can access your content, especially if you have a set-top box or USB drive connected. Once it's up and running though, you can easily access apps and USB drives. The interface itself has some comical language (the reset function claims that it will return the TV to the factory), but this isn't a problem in any way.
A handful of preinstalled apps are present, of which MiScreenTV, a mirroring service, seemed the most useful. Unfortunately, the smartphone app needed to use screen mirroring is poorly designed and refused to cooperate despite repeated attempts, so we were unable to test this feature properly. We did manage to play Angry Birds and Doodle Jump on the TV using an Android smartphone as a touch and tilt controller, and it was surprisingly fun.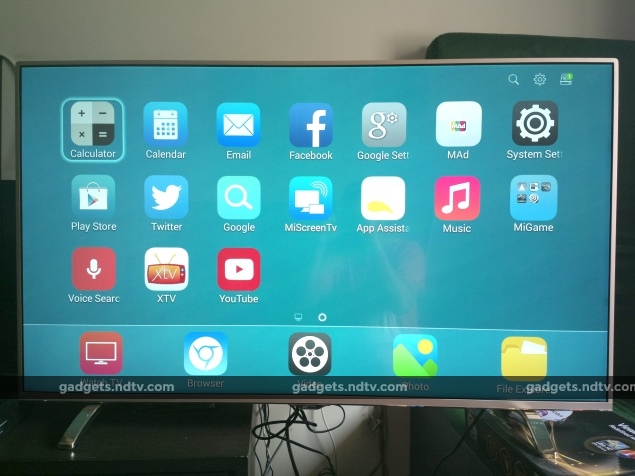 The remote is a simple, well-design affair. It's RF-capable, and a press of a button brings up a mouse cursor on screen, which can be controlled with motion. This makes moving around the interface easy and enjoyable. It also has all the key functions available at the press of a button. The remote also has a microphone, which is useful if you want to use the TV to make Skype calls.
The exterior of the Micromax 50K2330UHD 4K TV may be considered by some to be gaudy and needlessly flashy, but this is a matter of personal taste and a lot of people may like the gold finish along the bezel. The finish is excellent, however, and it will definitely catch the attention of your guests if you choose to buy this TV. We didn't like the stands at all though; they are spaced too far apart and can cause placement problems, as you need a very wide table (or a wall mount). A single, wide-footprint stand with a strong stem would have been a far better option, in our opinion.
Picture Performance
To review the picture performance of the Micromax 50K2330UHD 4K TV, we used an assortment of content ranging from standard definition to Ultra-HD. This included SD and 720p demo videos and TV shows running off a USB drive and a Videocon d2h connection, a 1080p print of Chris Nolan's Interstellar, and the content on Videocon's dedicated 4K channel. We also used the smart functionality to stream Youtube videos.
We started off with the 4K content, and were treated to a show on stunt skiing. While image clarity was stunning and showed no apparent pixelation, there was a major refresh rate issue. Although the refresh rate is stated to be 60Hz, it is limited to 30Hz when viewing 2160p content. Increasing the rate from the source caused the screen to blank out. At 30Hz, the image continuously skips frames. This makes video appear anything but smooth, as the TV simply cannot keep up with the signal being fed to it.

Colours appear brighter than usual, especially warm shades. Black levels are average, as are cool shades. It's safe to say that the performance of this TV with 4K content is sub-par, with only the sharpness of the image saving it from complete mediocrity.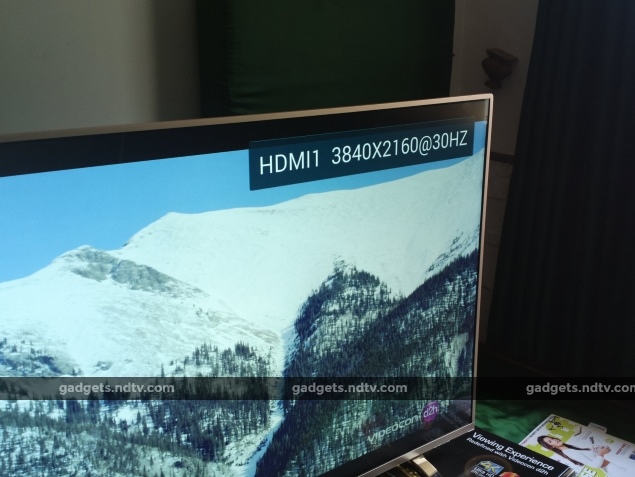 Standard definition content is also average at best. This can be blamed on the 50K2330UHD's poor upscaling abilities. Motion judder isn't really a problem, but there is a lack of real detail in the picture. The picture shouldn't be considered to be completely bad, and should be satisfactory for most users. This is a bit disappointing, since the vast majority of content available in India is still standard definition.

The only resolutions at which the Micromax 4K TV performs well are 720p and 1080i/1080p. Our print of Interstellar was reproduced with remarkable accuracy. The colour reproduction felt natural and there were no motion issues, since the TV can utilise its 60Hz refresh rate capability. HD channels running off the Videocon d2h service displayed well, with only occasional colour issues. Brightness and contrast too seemed at their best when used with HD. If you'rehave a lot of high-definition content to watch, the Micromax 4K TV will not disappoint.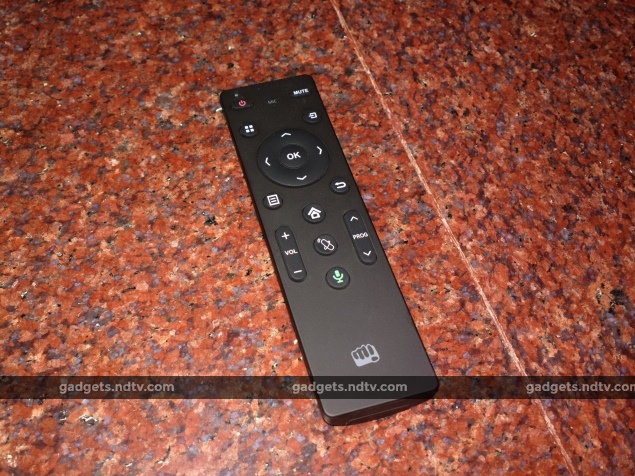 Sound Performance
We have long accepted that it's silly to expect more than average sound from a TV's in-built speakers. The Micromax 50K2330UHD's speakers deliver exactly that: average sound. It is acceptable for most TV shows, although it feels weaker than usual when listening to music. There are also volume issues when using the TV with content off a USB drive. A lack of uniformity means that a particular setting may be too loud with certain files and too soft with others. In our case, it was fine when using it with SD and 4K, but the dialogues in Interstellar could barely be heard unless the characters on screen were yelling. We would usually recommend a good soundbar or speaker set to go along with a big-screen TV, and you're better off with either of those options in this case as well.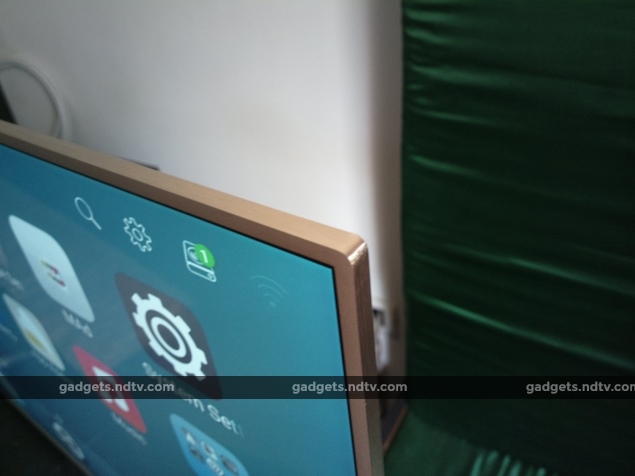 Verdict
The day has finally come when we can say that 4K content exists. Furthermore, with prices dropping to the Rs. 40,000 mark, 4K is now well and truly within the reach of everyone with big-screen aspirations. Unfortunately, as is the case with the Micromax 50K2330UHD, it is a crude form of 4K that doesn't perform as well as you would think.
Fortunately for Micromax, the TV is not as bad with standard definition and fairly good with HD content, so the vast majority of what you watch will still work well. There is no denying the value of this television set; Rs. 50,000 for a 49-inch LED TV is cheap even before you add 4K compatibility and smart features to the mix.
If 4K quality is important to you, you're better off sticking to models from established brands such as Sony, LG, Philips and Samsung, which can handlehigher refresh rates at Ultra-HD resolution. However, its sheer size, unique look, Android-based interface and decent picture quality with HD content make the Micromax 50K2330UHD 4K TV a good value purchase.
Price (MRP): Rs. 49,990

Pros
Interesting, eye-catching looks

Good with high definition content

Android-based UI and Play Store access

Immense value for money

Good remote

Cons

Low refresh rate and colour reproduction ruin the 4K experience

Poor upscaling of SD content

Slow start-up time
Inconvenient stand

Ratings (Out of 5)
Design: 3.5

Performance: 2.5

Value for money: 5

Overall: 3.5