Bob Marley has been gone for a long time. However, he is remembered even today for his impact and for popularising reggae. His music resonates with listeners who were born long after he died, and Marley can truly be considered one of the greatest artists of all time.
It's this immense popularity that is responsible for the House of Marley brand of products. Members of Bob Marley's family, including his son Rohan Marley, have been associated with the brand since its inception in early 2012. Primarily focused on audio products, House of Marley has been putting out some unique-looking headphones and speaker systems since breaking onto the scene.
The focus of this review is one of Marley's larger products, the Rs. 36,000 Bluetooth-enabled Get Up Stand Up home audio speaker. Named after a famous Bob Marley song, this speaker combines eccentric styling with a very clearly bass-oriented sonic signature. It's an attention-grabbing product even at first glance, and we're keen to get into the details.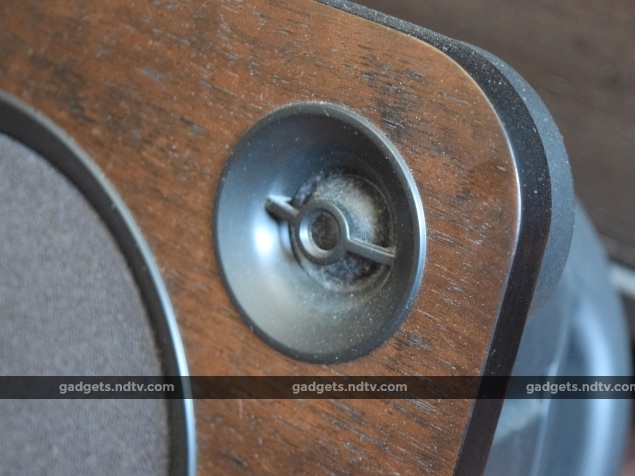 Design and Specifications
The House of Marley Get Up Stand Up is a powered speaker system, with an in-built amplifier, dual 4.5-inch speaker drivers and dual 1-inch tweeters. It is not a portable device with a battery; it must be plugged in to a power source to run, which restricts it to home use. The system is large and bulky, so you will likely want to find a good spot for it in your home and leave it there permanently. Connectivity options include Bluetooth and Auxiliary inputs, with sockets for both 3.5mm jacks and RCA connectors. There is a USB port on the back, but it can't be used to connect USB drives; you can only use it to charge other devices.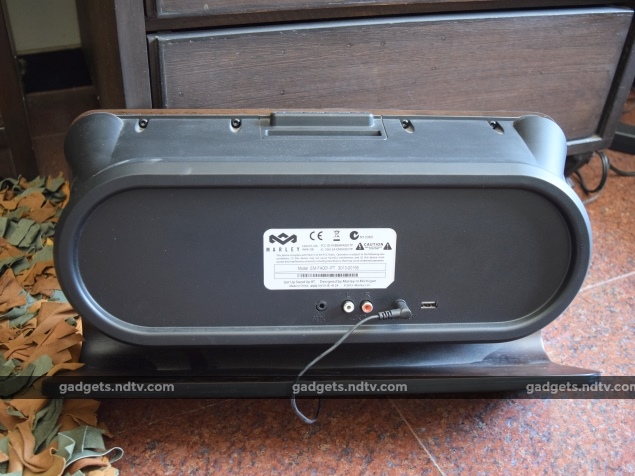 The speaker itself is absolutely stunning to look at, at least head-on. It has an entirely wood-finished front, with fabric covering the two main drivers and oddly shaped plastic grilles on the tweeters. The texture and colour of the wood finish is excellent, and the fabric driver covers only add to the attractive look and feel of the speaker. The top and back are plastic, but feel solid and sturdy nonetheless. The rear doesn't look anywhere near as good as the front, but we don't expect anyone to have to look at it much. When properly positioned, only the front of the speaker was visible to us. Furthermore, if you keep your cables attached and stick to using the remote, you won't ever have to lay a finger on the unit itself.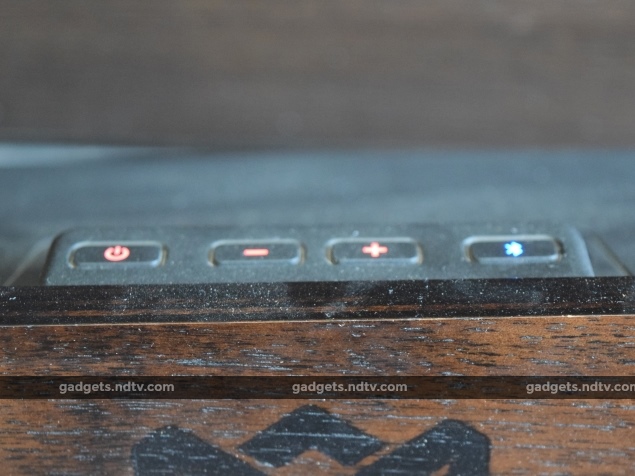 The four buttons (power, volume up, volume down and Bluetooth) are located on the top, near the front of the Get Up Stand Up. The rear has the auxiliary inputs, power input and USB port for charging other devices. On the whole, this shows that House of Marley has gone for a minimalistic approach, which feels in the tune with the general styling of the device. It also helps in keeping it simple to use, with a focus on its key functions.
The remote of the House of Marley Get Up Stand Up is small and simple, much like the rest of the device. Apart from duplicating the four buttons on the speaker, it adds play/pause, next and previous to the button list. An annoying aspect of using the remote is that it only works when pointed directly at the speaker at a particular angle. If, like us, you primarily use a Bluetooth device such as a smartphone or a tablet to stream music to the speaker, you'll find it a lot easier to control music and volume from the device itself. You will then need the remote only to power the device on or off, or occasionally pair another device.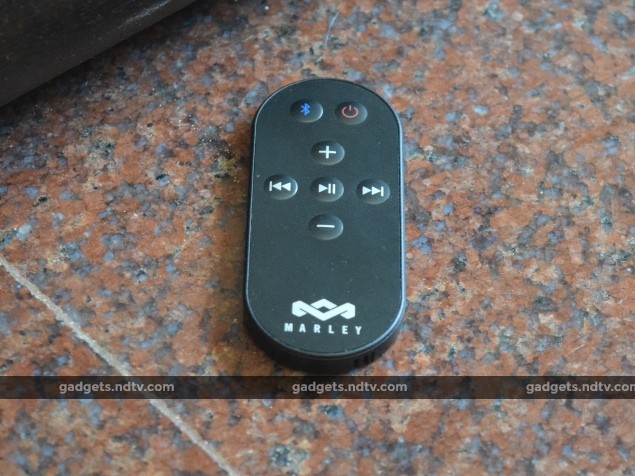 Performance
Since the key feature of the House of Marley Get Up Stand Up was effortless Bluetooth audio streaming, we used an Android smartphone to test the device. Focus tracks were Trentemoller's You and I and Mylo's In My Arms in 16/44.1 FLAC, and Dinka's Meaningful Story and Bill Withers' Lovely Day in 320kbps MP3. Bluetooth paired quickly and we were ready to go in less than a minute.
We started with Mylo's In My Arms, and it was immediately evident that the sonic signature of the Get Up Stand Up has been tuned to aggressively favour bass and low frequencies. The track starts with low-end drone along with high frequency twinkle. In this case it felt as if the low frequencies were completely overpowering the highs and mids. There's a powerful thump to the sound, which might be nice in a dance club but feels excessively punchy for home use. If you are planning to throw a lot of parties at home or simply like a generous helping of bass, this kind of sound will work well. The speaker will get loud without any audible distortion as well, so you can quite easily turn your living room into a dance floor if you choose to.
You and I is an immensely detailed electronica track, and one we've used to audition high-end speakers in the past. It has strong low notes which resonate well with the Get Up Stand Up, but the introduction of the mids and highs once again completely threw the system off. There was very little soundstaging or imaging to speak of, with whatever you hear from the high and mid-ranges simply being the elements of the track that are too defined and significant to suppress.
Of the two MP3s in our focus list, Meaningful Story is a progressive house track that is loaded with thump and low-frequency notes. It's a track that needs a system like the Get Up Stand Up to bring out its excitement and drive, and the system does that well. If you keep your listening primarily within the electronica genre, you can get used to the punchy and attacking sound, and even grow to enjoy it.
Lovely Day, on the other hand, lost most of its magic. Bill Withers' soulful voice is diminished amidst the amplification of whatever low-frequencies this track has to offer. The Get Up Stand Up clearly has no flexibility, loyally sticking to its sonic signature whether it's needed or not.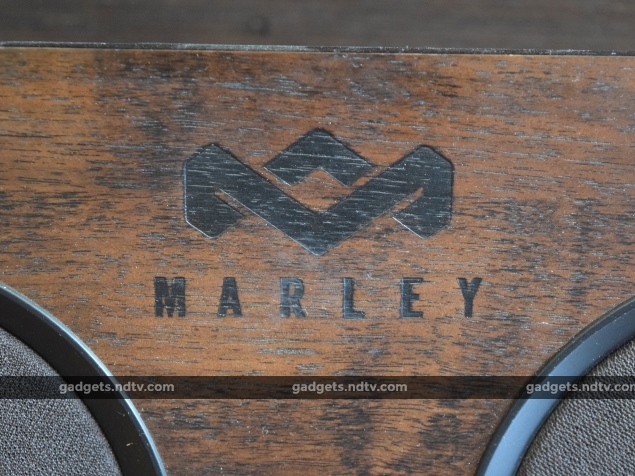 Verdict
If you're looking for a neutral sound, definition, and a bit of high-frequency sparkle, the House of Marley Get Up Stand Up is not for you. If you aren't too concerned about those things and like your music bass-heavy, it's worth giving the speaker an audition. Furthermore, if aesthetics and ease of use are the main priorities, it's quite easy to recommend this product. It's beautiful to look at and is sure to attract glances thanks to its unique wood finish.
However, there's also the price. At Rs. 36,000, this is not a cheap speaker. Systems such as the Onkyo SBX-200 and Denon CEOL N5 might not look as good, but they definitely offer more in the way of sound and features at around the same price or less. We recommend the House of Marley Get Up Stand Up only if you're a bass-head and want a speaker that looks good in your living room.
Price (MRP): Rs. 36,000

Pros
Aesthetically pleasing, well designed

Punchy bass, powerful lows

Easy to connect to and use

Cons

No definition, soundstaging or imaging to speak of

Highs and mids are lost to the overbearing lows
Vocals are suppressed

Remote doesn't work properly every time

Expensive

Ratings (Out of 5)
Design: 4.5

Performance: 2.5

Value for money: 2

Overall: 3