Harman Kardon is one of the signature brands of Harman International, an American Company with years of experience in manufacturing high-end audio equipment. Today, it is one of the leading brands in the home and car audio segments, and its products are well regarded the world over.
Harman Kardon recently launched the Esquire Mini portable speaker in India, which is a smaller version of the full-sized Esquire speaker that was launched last year. Both are being promoted as ideal travel speakers, thanks to their hands-free telephony abilities. We are reviewing both today.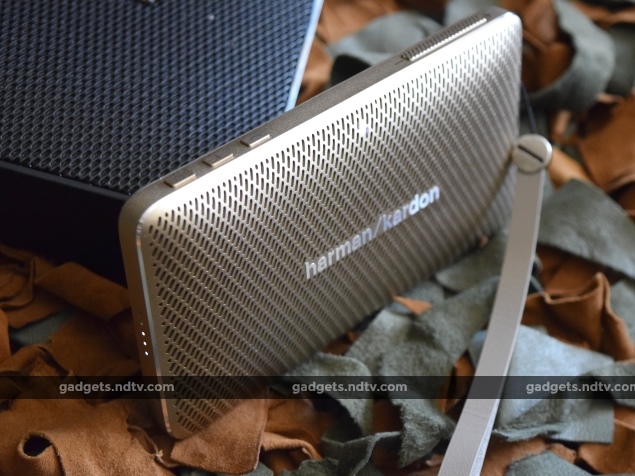 Design, Specifications and Features
The Harman Kardon Esquire measures 147x147x46.5mm and has a frequency response range of 80-22,000Hz. The speaker features two 45mm transducers and has a 4,000mAh battery. The Esquire Mini measures 140x75.4x244mm with a frequency response range of 180-20,000Hz. Two 27mm transducers drive the speaker, and the device is powered by a 2,000mAh battery. Connectivity for both devices is through an auxiliary cable or Bluetooth.
The larger Esquire is square-shaped, while the Esquire Mini is smaller and more rectangular. Both are metallic along the front and sides, with Harman Kardon branding in the centre. The back of the Esquire has a leather-like material, and it can be placed either flat with the transducers facing upwards or upright with the transducers firing forwards. The Esquire Mini has a small kickstand to keep it upright, but can also be used flat on its belly. Both speakers look and feel excellent, with solid buttons along the tops. They also feature LED battery indicators and microUSB charging ports.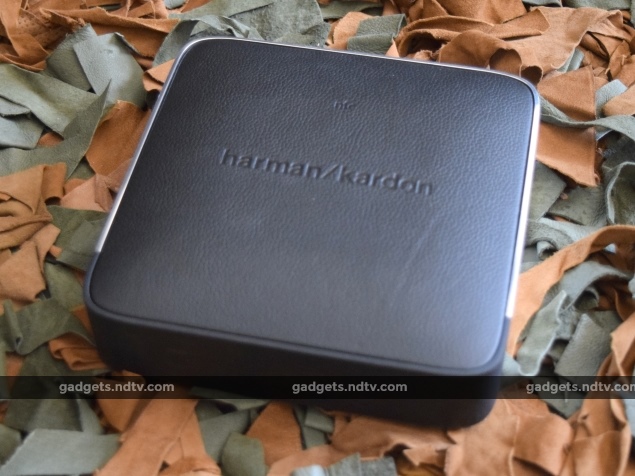 The Esquire Mini uses ordinary Bluetooth pairing to connect to your devices, but the Esquire is NFC-enabled to allow for quicker pairing. Both speakers could be paired easily and quickly with our test devices. The Esquire comes with a three-port charger, which will allow you to charge your smartphone and tablet alongside the speaker. This is incredibly useful and charges devices quickly and efficiently from a single power outlet. A large carry case for the speaker is also included. The Esquire Mini only comes with a USB Cable for charging and a leather strap that can be attached to the speaker.
Both devices feature dual-microphone conferencing systems, so they are particularly useful for hands-free conference calling, where multiple people need to use the same phone on a call. Some of these features are sure to make the Esquire and Esquire Mini instant hits with business travelers and corporate professionals.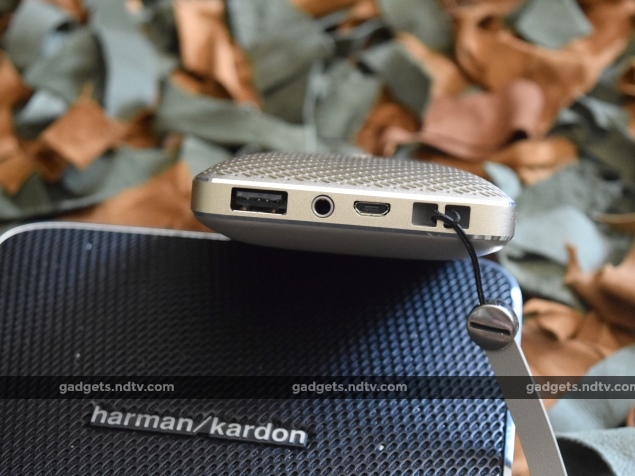 Performance
We used an Android smartphone as the primary source with which to review the Harman Kardon Esquire and Esquire Mini. Audio and phone calls were streamed to the devices over Bluetooth. Focus tracks in the review were Empire Ants by Gorillaz and Drifting Away by Faithless in 16/44.1 FLAC; as well as QED by Dave Horne and Jetlag Funk by Netsky in 320kbps MP3.
We started with the larger Esquire. We were particularly pleased with its microphone and calling functions. It's possible to answer calls using the dedicated call button, and sound output is loud and clear. With most speakers, you need to speak up and project your voice into the microphone to be heard, but the Esquire is able to pick up and isolate your voice even if you aren't close to it.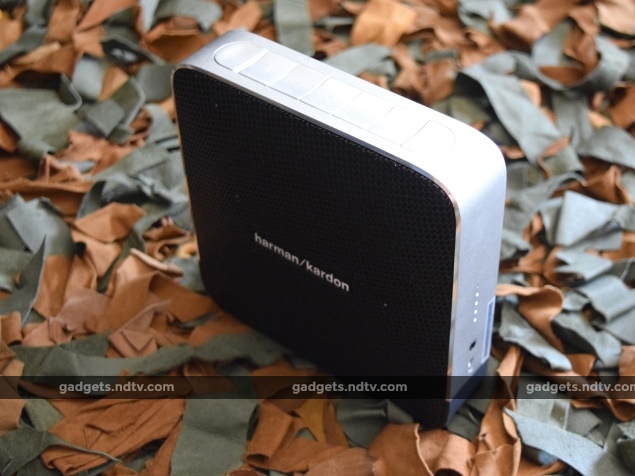 Unfortunately, the focus is on enhancing voice capabilities and not on playing music. Bass response is limited and weak, with absolutely no punch. QED, an exciting track with lots of strong low notes, did manage to get a bit of bass thump out of the speaker, but most other tracks sounded boring and lacked drive.
The speaker is tonally decent, however. Highs and lows are well translated, and there is even a hint of treble response. The speaker did a decent job with Drifting Away, picking out some of the finer details comfortably. Mids are poor, however, so we were not completely pleased. We also found that the sound got worse at higher volumes. It sounded satisfactory only as long as the volume stayed under 50 percent.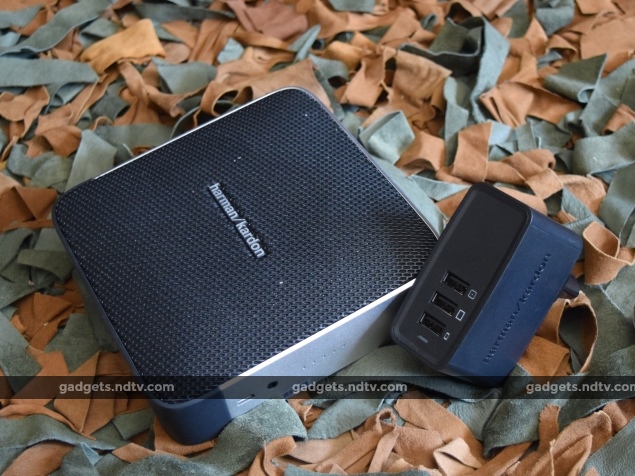 The Harman Kardon Esquire Mini is a lot smaller than the Esquire but seems to be able to get almost as loud as the latter. There is a slight attempt by the speaker to add a bit of punch to the bass, but this usually doesn't translate well. Bass thump ended up sounding a bit warped and odd, and we preferred some of the lighter, more neutral tracks simply to avoid listening to the bass thump. Treble response is good though, with a bit of sparkle at the top.
Like the Esquire, the Esquire Mini is also tuned and built primarily for voice calls. This tuning shows in its performance with vocals, whether it is videos or music. Voices are defined and clear, occasionally even overpowering the music. Another area where the Mini impressed us is stereo imaging. For a speaker of this size, imaging is decent and gives a sense of depth and width to the sound. Although the speaker doesn't sound good at the highest volumes, you can go push it more than the Esquire without it distorting too much.
Battery life on both devices is decent. The Esquire delivered a little over 10 hours on a full charge, while the Esquire Mini returned a figure of 7 hours 45 minutes. Both devices also work as portable batteries to charge your phone or tablet, although the Esquire Mini won't be able to deliver a lot of juice since it has only a 2,000mAh battery.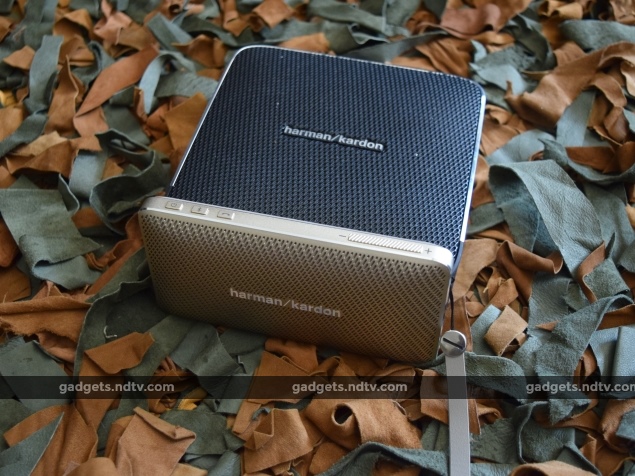 Verdict: Harman Kardon Esquire
The Harman Kardon Esquire is a dual-driver wireless stereo system, but has been tuned to work well with voice calls and vocals in general. This might be particularly useful to business travelers and corporate users who intend to use it primarily as a conferencing system and infrequently for music or presentations. The speakers sound acceptable enough for those occasional listening sessions. The excellent multi-port charger that comes with it is an added advantage.
However, this is an expensive device and doesn't quite offer enough value considering that audio performance is only satisfactory. Other speakers such as the Creative SoundBlaster Roar and Bose Soundlink Mini are much better, and can also be used as hands-free systems thanks to their built-in microphones. However, if you're looking for a stylish option with excellent voice performance, the Esquire will also suit your needs.

Price (MRP): Rs. 19,990

Pros
Excellent with voice calls

Tonally decent

Useful multi-port charger included in the box

Cons

Average, unexciting overall sound.

Expensive

Ratings (Out of 5)
Design: 4

Performance: 2.5

Value for money: 2.5

Overall: 3
Verdict: Harman Kardon Esquire Mini
Although smaller than the Esquire, the Mini can get nearly as loud. It's more stylish as well, and a much more convenient size and shape. While it does try to improve bass response, it ends up doing a poor job with the bass sounding strange. However, the Mini shares the Esquire's abilities with voice calls and vocals.
It can also be used as a portable charger in a pinch, and will give you a reasonable boost thanks to its 2,000mAh battery. So, like the Esquire, if you need a portable hands-free speaker for calls and will only occasionally for music, the Esquire Mini will serve you well. Unfortunately, it's also expensive for such a small speaker. The Bose Soundlink Mini offers a much better sound for around the same price.

Price (MRP): Rs. 14,990

Pros
Great with voice calling

Loud for such a small speaker

Looks fantastic

Cons

Bass is distorted

Average sound
Expensive

Ratings (Out of 5)
Design: 4.5

Performance: 2

Value for money: 2.5

Overall: 3