People will argue against this, but the advantages of using a dedicated audio-focused high-resolution player are real. These devices are created with quality audio reproduction in mind, and have the innards needed to bring out the best in your music. One brand that has been committed to producing quality hardware is Fiio.
As a personal audio manufacturer that makes everything but headphones, Fiio has carved out a niche for itself. The X-series of portable music players is gaining popularity among audiophiles; we reviewed the Fiio X1 and loved it. We now give its big brother, the X5, an audition and we're excited to see if it lives up to our expectations.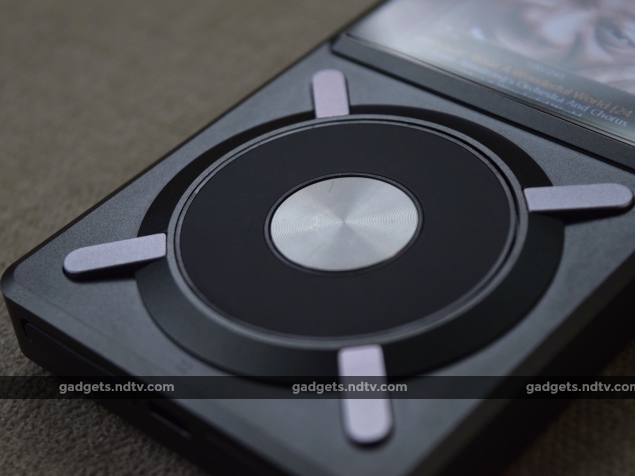 Specifications and Design
The Fiio X5 boasts of an impressive specifications list. Apart from being a portable player, the device can also serve as a 24-bit/192kHz-capable digital-to-analog converter when connected to a computer. The internal DAC is a Texas Instruments PCM1792 chip. There is no internal storage, but the X5 has two microSD slots which each support cards of up to 128GB. This makes it possible to have a substantial 256GB of storage space on the device.
There is a 2.4-inch IPS LCD screen; USB 2.0 connectivity for data transfer and charging; 3.5mm headphones out, coaxial out and line out sockets; a 3700mAh battery and a 16-300 Ohm impedance range, which is useful to drive high-end headphones. The device supports USB-OTG connectivity, and the box contains an OTG adapter as well as a USB microSD card reader and a USB cable. File format support is extensive on the Fiio X5. APE, FLAC, WAV, WMA Lossless and Apple Lossless are the high-resolution formats supported, while the device is also capable of playing compressed formats such as MP2, MP3, AAC, ALAC, WMA and OGG.
The all-metal Fiio X5 looks similar to the Apple iPod Classic, although less so than the X1. This is because of sharper lines and a raised screen and buttons. It retains the five-button-and-navigation dial layout of the X1, although the buttons are not labelled on the device itself. This can be confusing at first, but we got used to it soon enough. The rest of the controls are well laid out, and some of the gripes we had with the X1 have been improved upon. The microSD slots now have rubber flaps that seal them, which is a helpful addition. Unfortunately, the navigation dial is poor and feels cheap, just like on the X1.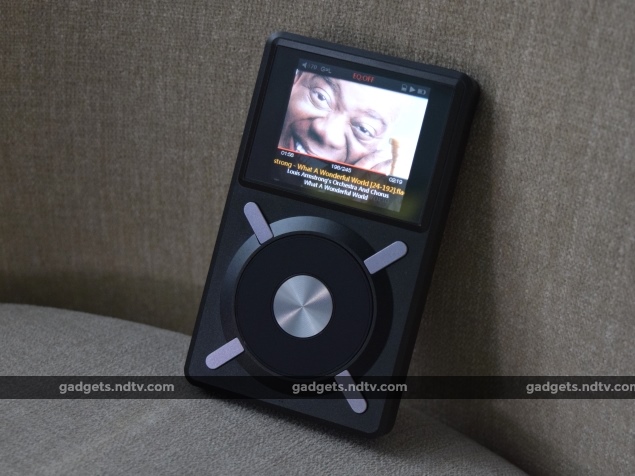 Performance
To test the Fiio X5, we loaded it with a long list of audio tracks in the MP3, FLAC, WAV and M4A formats. Focus tracks were Linkin Park's Points Of Authority, Queen's Another One Bites The Dust and Mountains from the Interstellar OST in 16/44.1 FLAC, London Grammar's Hey Now in M4A, and Redbone's Come And Get Your Love and Mark Ronson's Uptown Funk in 320kbps MP3. We also used a range of headphones and earphones, including B&W P3 on-ears, RHA T10i in-ears and Xiaomi Piston in-ears. In order to test its standalone DAC capabilities, we also connected it to an HP Windows laptop using USB.
We loved the sound of the Fiio X1, especially because of how much the device was capable of for so little money. The Fiio X5 manages to improve upon this by a fair amount. Not only does it manage to dig out way more detail, but it also gave us the same feelings of excitement and immersiveness while doing its work.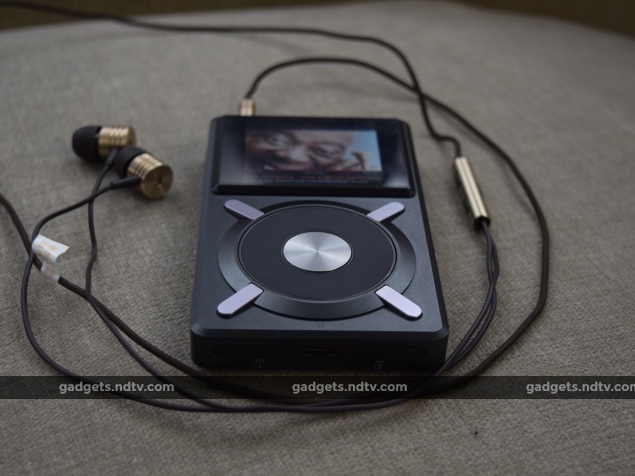 We first listened to the haunting Mountains from the Interstellar soundtrack using the RHA T10i in-ears. These earphones are known for their immersiveness and openness, and combined with the X5, created such a fantastically captivating experience that we couldn't help but repeat the track multiple times to keep the feeling from fading. London Grammar's Hey Now, a high-quality M4A track and one of the best audio files in our bank, surprised us by sounding completely different to what we've heard before. New elements of the song were coming to the fore thanks to the Fiio X5.
The excitement and drive of Mark Ronson's Uptown Funk and Linkin Park's Points Of Authority had us break out the Xiaomi Piston in-ears and B&W P3 on-ears. The Xiaomis are budget in-ears, so it was also interesting to see how the Fiio would drive an entry-level product. The X5 did not disappoint, and made them feel like they were worth a lot more than they are. Bass was tight, responsive and clean with both pairs of headphones. It's also clear that the X5 is perfectly capable of handling any frequency with poise and control, and even push the best out of the headphones it's driving in this department.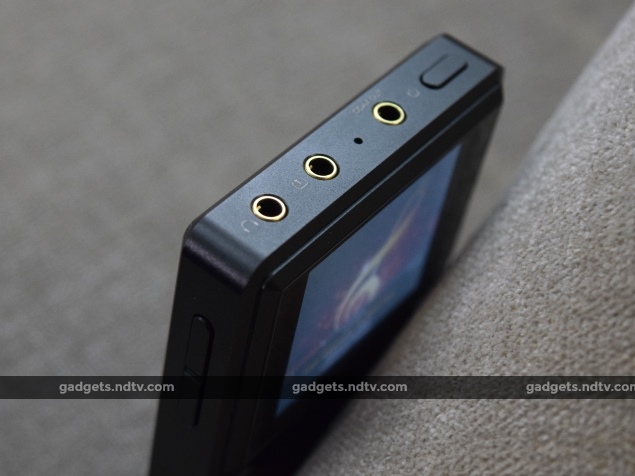 The two retro tracks in our focus list were the softest, and let us crank up the volume on the Fiio X5. This device can get loud and strong, not showing any signs of distortion or cracking even at these high volumes. Freddy Mercury's vocals in Another One Bites The Dust felt like they were right there in our head. Every breath, every scream and every bit of his voice sounded eerily present.
Despite the massive 3,700mAh battery powering the Fiio X5, battery life is still average. Fiio claims that with its current firmware, the X5 will run for about 10 hours on a full battery. Our battery test returned a figure of 9 hours, 25 minutes. A future firmware update is expected to boost battery life on a full charge to about 15 hours, but it is unclear when this will be available.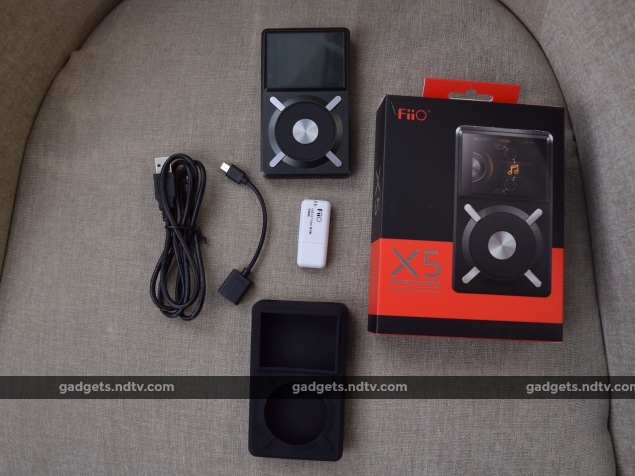 Verdict
Fiio has created a masterpiece with the X5. This is the kind of device that can make you fall in love with music all over again. It can take old tracks that you've grown tired of, remind you what you loved about them, and have you listening to them again for hours at a stretch.
While the X5 costs much more than the X1, it doesn't necessarily sound all that much better. Whether this difference is worth the price is up to you. If budget is no bar, then we wholeheartedly recommend that you buy the X5. It will give you an all-round musical experience that cannot be matched. If you think Rs. 22,999 is too much to spend on a portable audio player, we suggest you go for the Fiio X1 instead. It's nearly as good at a fraction of the price.
Price (MRP): Rs. 22,999

Pros
Sturdy metal casing

All-round sound that excels in every way

Brings out the best out of any headphones

Extensive file format support

Cons

Expensive

Navigation dial feels cheap
Average battery life

Ratings (Out of 5)
Design: 4.5

Performance: 4.5

Value for money: 2.5

Overall: 4