It's getting easier than ever to get high quality content on our mobile devices, but watching a full HD movie on a 4-inch screen doesn't really have the same impact as watching this content on a large screen television. It's possible to have your content on a portable device and stream it to a TV screen with the right accessories.
One of the cheapest ways to do this is using Google's Chromecast, which launched in the US at just $35 (approximately Rs. 2,100). However, the Chromecast was not launched in India, and importers have been selling it at Rs. 3,500.
Earlier this month, we reviewed the Teewe, an Indian Chromecast alternative, and we thought that it was a good option available at just Rs. 1,999. Since then, we've spent some time with another Indian product, the Esycast, which is very similar, but comes with a few extra features. It's also got a higher price - the Esycast has an MRP of Rs. 3,595, although you can buy it online for Rs. 2,870. The device comes with a one year warranty - a reassuring thing considering that it comes from an unknown company.
The Esycast appears to be a rebranding of a device called an EZCast, made in China - the box notes that the device was manufactured for ESY Technology Corporation in Mong Kok, Hong Kong. Using the dongle also requires an app called EZCast, which is the name of a Chinese dongle which has similar functions, though the body has a different design.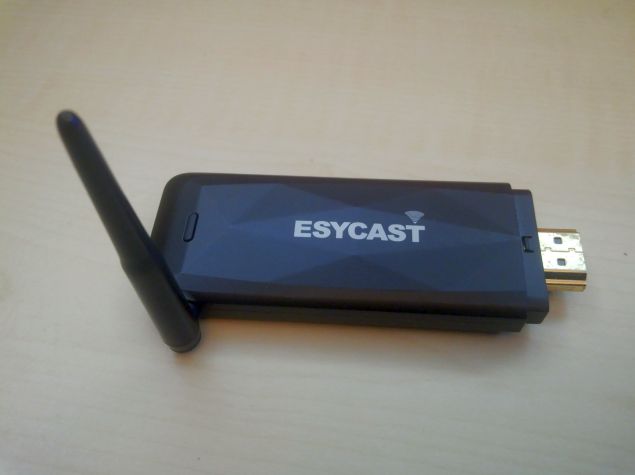 You can use the Esycast to stream videos to the TV using your phone or laptop. For the purposes of this review, we used the EZCast portable client for Windows on a Dell laptop running Windows 8, and used the EZCast apps on an iPad Air and a Moto E. We used it to play different games, watch 420p AVI videos and 1080p MKV videos, browse the Web, and view PDF and PPT files. We'll get to the performance in a second, but first, let's quickly talk about design.
The Esycast has a rather plain, plastic body, and a small antenna to one side. The Micro-USB charging port is on the other side. The HDMI jack is covered with a plastic cap that you have to remove to attach the dongle to your TV. This cap could be lost pretty easily, but that's not a big problem. The Esycast looks like a portable 3G dongle, and while it won't impress anyone in terms of style, it's quite portable.
The interface design on the other hand could definitely stand for a refresh. The Chromecast's start screen looks good, and even the Teewe interface looked simple and accessible. The Esycast interface on your screen looks extremely technical and intimidating. The whole screen is filled with text and icons, and at first, you might not even pick out the relevant information among all the visual clutter.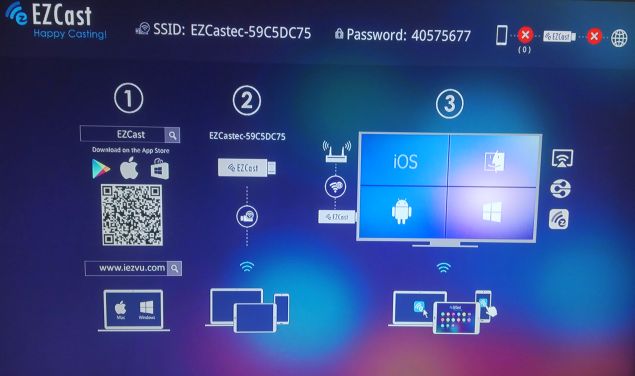 There is no wall adaptor given in the box for the Esycast (the Chromecast doesn't include one either, thought the Teewe ships with this) but you can use any standard adapter with a USB out like your phone's charger.
Getting the device up and running is straightforward. Plug in the dongle, and it creates a Wi-Fi hotspot. Download the app on your device, and then connect to the Wi-Fi hotspot. Start the app and set up the device to connect to your home Wi-Fi. That's it, setup is complete. To connect a second device is even simpler - just start the app, tap the connect button, and select the dongle in the popup menu.
There are several options available at this point. Photo lets you browse the pictures on your device; music, video and document are similarly self-explanatory. Camera opens the camera app and sends a live feed to the Esycast, while Web opens a browser window.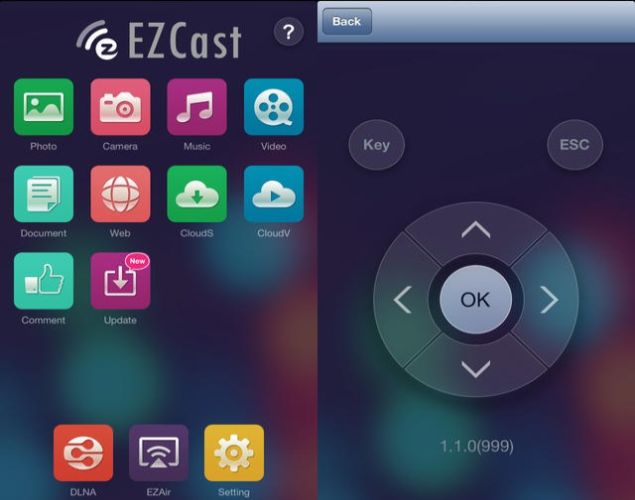 We tried these different functions and found that the Esycast works suitably well, but there is a fair amount of lag. Once a video starts playing there is usually no problem, but there is noticeable delay when loading anything. In the Web browser, for example, we could see a page load fully, tap on a link, and have the next page start loading before the first page showed up on the screen. If you scroll through photos in the app, it usually took a full second to show the next image. Since the actual stream is smooth, the delay doesn't really affect usage, but it can be a little disorienting.
The video playback - which is why most people would want to buy this - is reasonably smooth, though it includes the same lag we discussed earlier. Watching videos in 720p was perfectly smooth, though there was a slight stutter when loading the video. We switched to watching a 1080p video, and that's where things slowed down a bit and the screen pixelated once in a while. It's not unwatchable, but frame drops are pretty common.
If your device supports Miracast or AirPlay, then the Esycast can also be used for screen mirroring. This is a very useful function that the Teewe does not have - you aren't restricted to only the content that the EZCast app can handle. If you want to see Android or iOS apps running on the big screen, you can do so easily.
The catch is that the delay is even more pronounced with screen mirroring; if you want to demonstrate Temple Run, you can definitely do that, but trying to play by looking at the big screen is completely impossible. Airplay support also meant that we could use our favourite video app to play the movies, and still watch them on the big screen.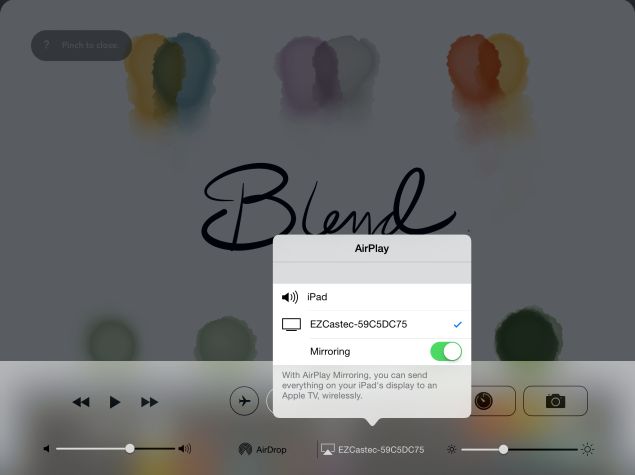 Setting up Miracast is a little more complicated than Airplay. First you need to install the Ezcast software on the device you want to connect with the Esycast. While the dongle will show up as an AirPlay device on your Mac or iOS device by default, to actually get AirPlay to work, you need to install the app on your Mac or iOS device. The experience on Android and Windows is similar. Once you have set it up though, screen mirroring on Android works as smoothly as AirPlay. It's perfectly usable for presentations and videos, but don't try to use it to play games, because of the delay.
One of the features we liked is that the EZcast software for the PC is available as a portable app - so you can load it on a USB drive and run it on anyone's computer, without any software installation required. The Mac app needs to be installed though, and it even requires you to reboot your machine.
Overall, though the Esycast is a pretty good option for sending content from your phone to a big screen - whether you're making a presentation or watching a movie, the dongle works well. However, if you're primarily buying this just to watch videos from your phone, then its price is a bit of a stumbling block. The Teewe lacks Airplay and Miracast support but it is also a fair bit cheaper so unless you really need screen mirroring, it's probably a better bet.