The appeal of Bluetooth headphones is that the user doesn't have to deal with cables that get tangled and messy as you use them. Creative, a popular audio products brand based out of Singapore, has more than a couple of Bluetooth gaming headsets in the Sound Blaster range and also a very capable Bluetooth speaker - the Sound Blaster Roar . Moreover, it recently introduced a Bluetooth edition of its highly praised Aurvana headphones and it is available in two variants - Aurvana Platinum and Aurvana Gold.
Leveraging its expertise, the company has launched an affordable Bluetooth headset for the masses - the Creative Sound Blaster Jam. The Sound Blaster Jam's USP is that it is very lightweight and won't burn a hole in your wallet. Here's what we think of it.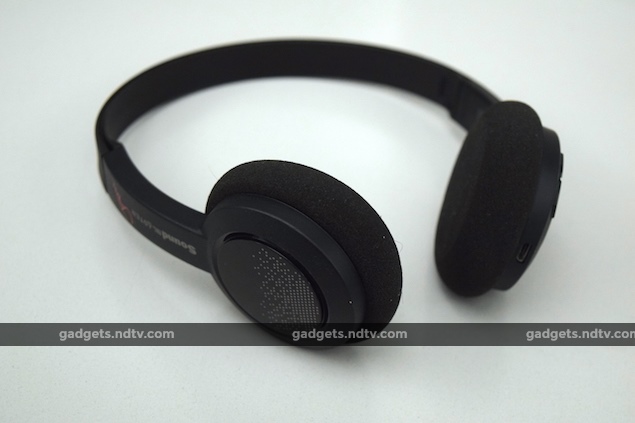 Design, fit and specifications
The design of the Sound Blaster Jam takes us back to the early 90s when Sony's Walkman cassette players used to come with on-ear headphones. These mostly black headphones were a fashion statement long before Beats and Skullcandy existed. This nostalgic trip makes us appreciate what Creative has tried to do with the look of the Sound Blaster Jam.
Creative wasn't kidding when it claimed that the headphones are lightweight. At 83g, the Sound Blaster Jam, made entirely of plastic, feels almost non-existent when worn on the head. The padding on the earcups is made of foam and doesn't inspire confidence, and there is no padding whatsoever on the headband. Thankfully, the treated plastic can bend to some extent which bodes well for the longevity of the headphones. The right earcup has all the controls - one button for play/pause/calls, a volume rocker, and a dedicated bass switch. It also has the Micro-USB port at the bottom and an LED indicator light.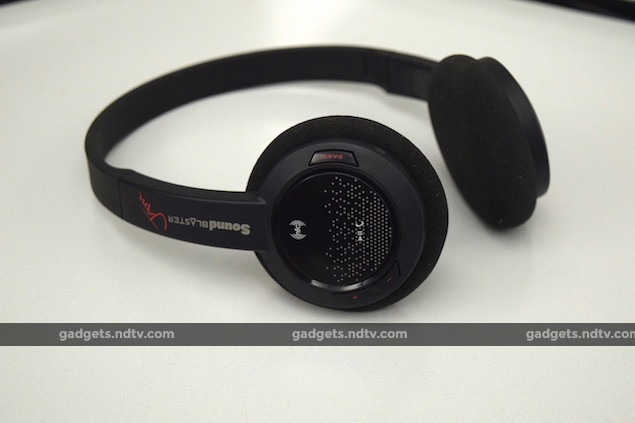 The Sound Blaster Jam can connect to audio sources through Bluetooth 4.1 and has support for the SBC codec. However, it would have been great if Creative had added support for high-quality AptX. If you have an NFC-capable device, you can use that to quickly pair the Sound Blaster Jam as well. The headphones have 32mm Neodymium drivers. Creative bundles a red USB cable in the box, and the headphones can be used with a computer via USB while charging, which is a great feature.
Performance
The Sound Blaster Jam is not great at blocking out ambient sounds, but since it can get really loud, one can crank up the volume to drown out one's surroundings. That said, these headphones leak a lot at the maximum volume. To test the sound quality we played SomethingFrom Nothing by Foo Fighters, Jai Paul's Jasmine, and Sam Paul's Stay With Me, and we also watched Pacific Rim on Blu Ray.
The first thing that we noticed when listening to any music on the Sound Blaster Jam was that the sound is tuned to please bassheads. Listening to Something From Nothing multiple times revealed that the mids aren't too powerful and even the treble is pretty thin. For example, the cymbals in the song, when they could be heard, were very tinny. At the highest volume the sound cracked a little as well.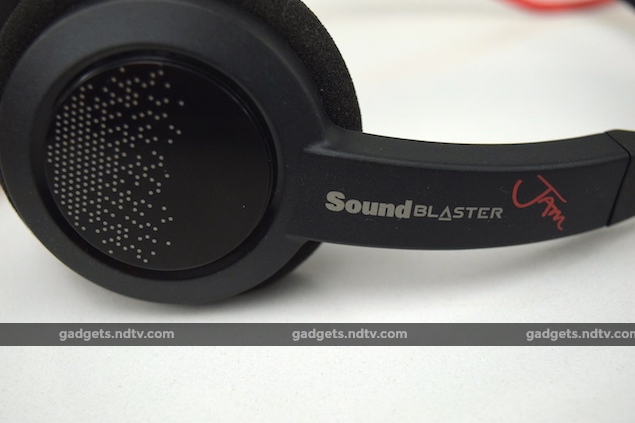 Fire up a bass-heavy song like Jasmine and the Sound Blaster Jam can handle it with aplomb. That said, the bass is so overwhelming that Jai Paul's highly autotuned vocals sounded distant; almost non-existent. This is precisely the reason we'd advise against switching on the bass boost function - it just distorts sound even further. Sam Smith's Grammy-award winning vocals in Stay With Me didn't sound great but the drum beats in the background did.
The sound signature of these headphones is not meant for clarity or precision audio but for fun, laidback listening. In Pacific Rim, the soundscape is filled with metal clanking, huge explosions and dialogue in between. The Sound Blaster Jam just made a mess of this complex set of sounds, and as expected, voices were overpowered at times. If you are planning on watching a lot of TV shows heavy on dialogue, the Sound Blaster Jam should be just fine.
One area where the Sound Blaster Jam leaves the competition in the dust is battery life. Creative claims that these headphones can last for 12 hours on a single charge but we actually got more than that. On a single charge, the Sound Blaster Jam lasted through around 14 hours of music playback before it died. This is really good.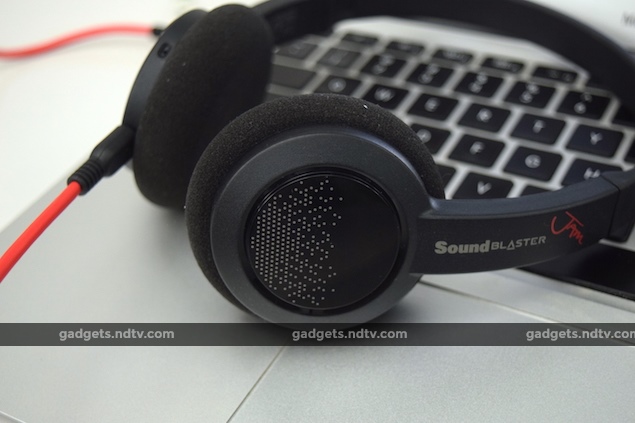 Verdict
Priced at Rs. 3,499, even tough critics like us are willing to forgive some of the Sound Blaster Jam's shortcomings because of the convenience it offers. Firstly, there is no cable tangling to worry about. Secondly, it fits like a glove without causing any sort of discomfort. Finally, it can last longer than any other pair of Bluetooth headphones we've tested in the past.

We might be finicky about sound quality, but for many people the loudness and the bass levels should be enough to make a purchase decision in favour of the Sound Blaster Jam. If you want something that sounds better but costs more, do take a look at the JBL Synchros E40BT.


Price: Rs. 3,499

Pros

Nostalgic design

Inexpensive

Super lightweight

Stupendous battery life

Cons

Mids are not tight

Subpar build quality
Ratings (Out of 5)

Design: 4
Performance: 3.5

Value For money: 5

Overall: 4