A true veteran of the audiophile industry, Bowers & Wilkins was founded in 1966 and has since established a formidable reputation for itself as one of the world's leading loudspeaker brands. It first earned fame back in 1974 when it patented the use of Kevlar fibre in speaker cones to provide controlled rigidity and internal damping, which minimised distortion significantly.
You would think that a traditionalist audiophile brand would stick to a product line it knows and is famous for, but the temptation of the growing headphones industry has been hard to resist. Bowers & Wilkins is no different, and recently launched its latest range of multimedia products in India. We have one of these new products for review, the Rs. 15,499 B&W C5 Series 2. Replacing the original C5, the new model promises a new, more refined sound.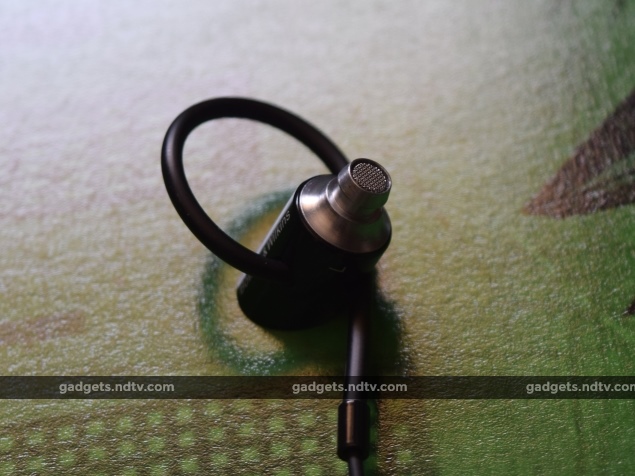 Specifications and Design
The Bowers & Wilkins C5 Series 2 features 9.2mm drivers, with a frequency range of 10-20,000Hz and a sensitivity of 115dB. Impedance is 32 Ohms, which is surprisingly high for in-ears. On-ears and over-ears with larger drivers usually need the added power to drive them and thus feature this level of impedance. Performance and volume levels are in line with those of similar products, so we're unsure why this additional amplification requirement exists. The cable length is a standard 1.2m, while the weight of the headset is a fairly standard 20g.
Like the original earphones, the C5 S2 features the Secure Loop, an innovative fitting mechanism. Once you've put the in-ears into your canals, you simply open up the loops so they press against the insides of the inner ridges of your ears. This keeps the earphones firmly in place and seals the canals for effective sound isolation by passively blocking out all noise. It's an effective solution and offers some of the best sound isolation we've heard through in-ears.

With music playing even at moderate volumes, it's hard to hear anything else. However, the fit itself might not be ideal for everyone. Even though the loops are soft, having them pushing against our inner ears got uncomfortable over time for us. This might not be the case for everyone, and you can always leave the Secure Loop loose, which only slightly affects isolation.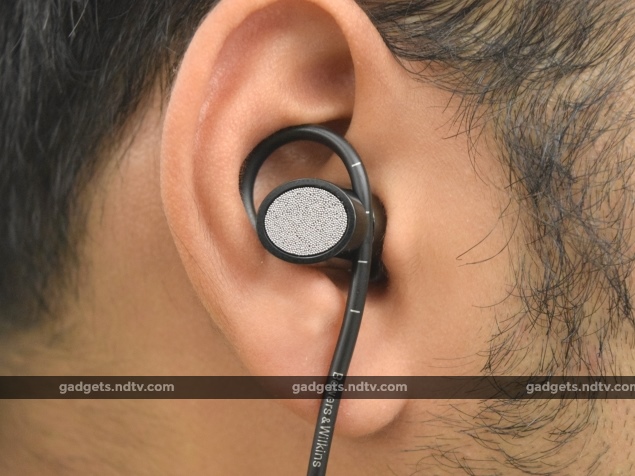 The earphones themselves are designed and built well. The casing has a glossy metallic finish with Bowers & Wilkins branding on the inside, while the Secure Loop (which doubles up as the cabling that connects into the earphones) also features branding. The outside of the casing is uniquely shaped and has an interesting rough silver finish. A beautiful semi-circular carry case and a total of four silicon ear tips are included in the box. The tips are all wide-bore; additional narrow bore and foam tips would have been nice to have, especially at this price.
The cable is standard tangle-prone rubber, while the in-line remote/microphone and straight 3.5mm pin are all plastic. This is disappointing, since we're used to braided cables and metal at this price. Furthermore, an L-shaped connector would have been helpful. The cable is sturdy, though, and on the whole it's a well-built, durable product.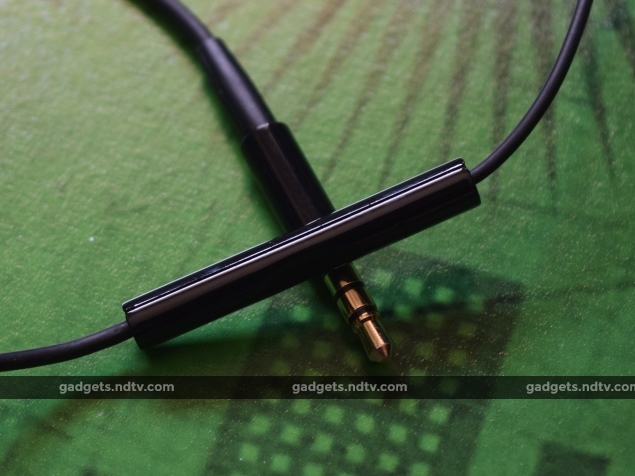 Performance
We used our reference Fiio X1 high-resolution audio player and an Android smartphone to test the Bowers & Wilkins C5 Series 2 in-ears. Focus tracks for the review were Michael Jackson's Bad and A.R. Rahman's Dil Se in 16/44.1 FLAC, and Phoenix's Fences and SOHN's Bloodflows in 320kbps MP3.
We started with Bad, and immediately noticed just how detailed the C5 S2 is. It's impressive how much detail it manages to dig out. Combined with excellent separation of elements, this creates a sound that is rich and refined. Sounds across the frequency range shone with a sense of purpose, and no part of the track was lost no matter how busy it got. The detailed beat was translated with absolute precision.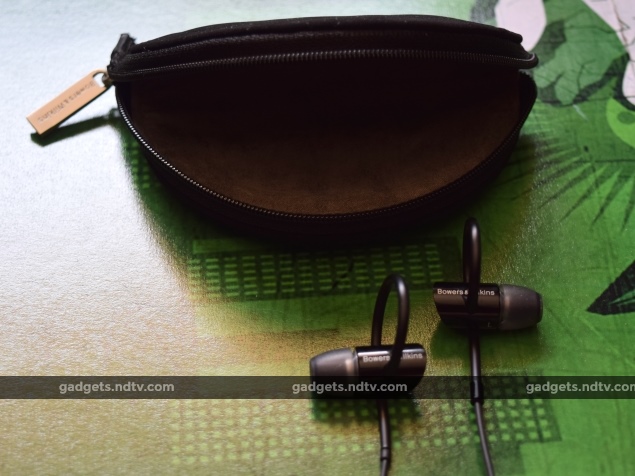 Something else we noticed with both Bad and Dil Se was the absolutely stunning soundstaging. Once again, it sounded particularly good when concentrating on the beat. Percussion instruments felt so real and present that we couldn't t help but imagine a virtual soundstage in our minds to go with the sound. The Bowers & Wilkins C5 Series 2 in-ears extend the soundstage far wider than you would expect from a pair of in-ears. There's also a beautiful fluidity to the way music is translated by the C5 S2. We could feel the beat move from left to right and resonate exactly where it needed to, while Rahman's soulful vocals felt like they were emanating from the perfect centre.
Fences and Bloodflows revealed the low-frequency capabilities and bass response of the earphones. Although highs and mids are present and clear, there is a definite tendency of the C5 S2 to favour lows and bass. There's a real sense of thump, but the marvelous detailing ensures that highs and mids aren't lost. The bass is just a bit exaggerated, but this gives the B&W C5 Series 2 a bit of character that we liked. There's even a hint of treble sparkle at the top of the response range, and it's a welcome addition to an otherwise bass-heavy pair of in-ears.
The Bowers & Wilkins C5 Series 2 is also excellent when watching video, because of its ability to dig out detail. Voices and background sounds are well defined and clean. Voice calls on the phone are decent as well, as is the performance of the microphone. The in-line remote works best with iOS devices which can recognise the volume keys, but the centre key can be used universally to pause/play music and answer calls.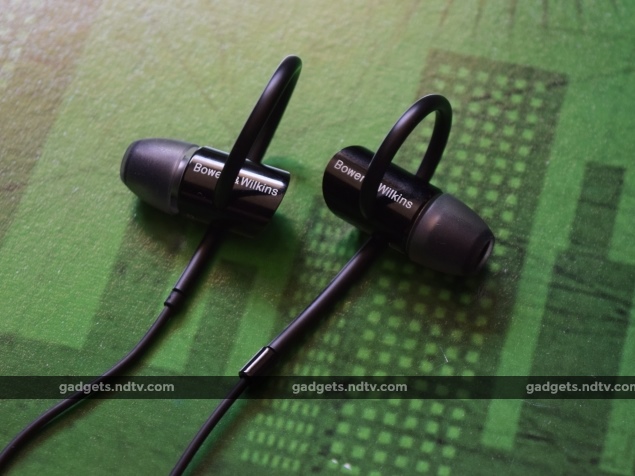 Verdict
Bowers & Wilkins has decades of expertise in producing loudspeaker drivers, and it appears that all of that experience has gone into producing a quality pair of earphones in the C5 Series 2. There's an incredible sense of detail and a well-defined sonic signature that favours strong bass without negatively affecting treble response, mids or highs. It has all the excitement and drive you want from a pair of in-ears, and is built well for the most part.
Unfortunately, having a famous and reputed brand name also drives the price up. At Rs. 15,499, the Bowers & Wilkins C5 Series 2 is expensive, to say the least. This would be fine if it had fewer flaws, so the lack of useful ear tips and cheap-looking cable and plastic parts don't exactly help its case. Furthermore, the Secure Loop is a hit-or-miss; it won't suit everyone and you'll either love it or hate it.

There are definite benefits in terms of sound performance, but it is possible to achieve a sound that is nearly as good for a fraction of the price, with the Ostry KC06A. Also at a similar price, the RHA T10i in-ears offer a better build, the advantages of interchangeable tuning filters, and plenty of ear tips. However, if you want an exciting, detailed and punchy sound, and if price is no bar, look no further.
Price (MRP): Rs. 15,499

Pros
Bass-oriented sonic signature has real character

Superb soundstaging and imaging

Detailed sound with superb fluidity

Well designed and built
Cons

Cable and in-line controls feel cheap for the price

Expensive
Secure Loop mechanism won't suit everyone

Ratings (Out of 5)
Design: 4

Performance: 4.5

Value for money: 2.5

Overall: 4