Unless you're wearing headphones all the time, our smartphones aren't ideal for listening to music. Which is ironic because it's getting to the point where all our music can be found on our handsets, whether it's stored locally or streaming from the cloud. This is why you see so many different Bluetooth speakers on the market now, and the Bose SoundLink Colour is the latest to join the fray.
The speaker was launched on Monday at a price of Rs. 11,138, and is available online and at retail. It's a portable Bluetooth speaker with no extra frills, and a great design. The asking price is a little steep for most people though, and we spent some time with the speaker to try and decide if it's a good pick.
Design
The SoundLink Colour is a compact speaker that you can carry around in one hand. Portable speakers in this price range tend to be a little bigger and bulkier, so the slim profile and small size of the SoundLink Colour definitely stands out. Weighing 500 grams, the speaker is five inches-wide, a little taller (5.27-inches) and 2.08-inches deep.
The model we were using was a cheerful blue, but the speaker is also available in black, white, red, and mint-green. The top of the unit has a black rubber panel with six buttons laid out in a row. This is a simple, uncluttered interface which lets you quickly play your music without any complication.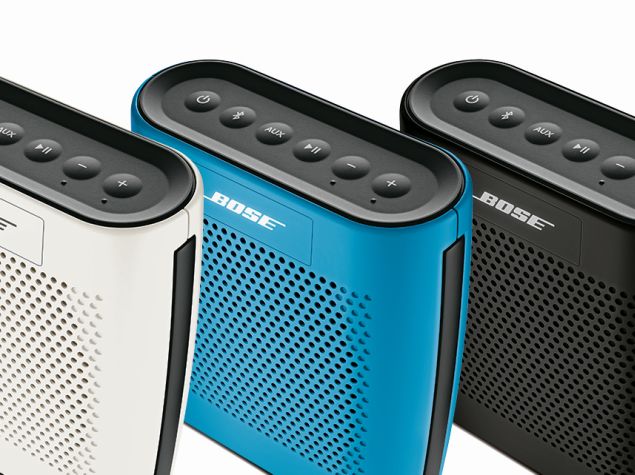 Aside from the power and volume buttons you see Bluetooth and Aux buttons to change the input source from the wireless connection to the 3.5mm-jack at the back of the speaker.
The front is plain, with a Bose logo near the top and a large speaker grille. The back has a smaller speaker grille near the top, and the Bose logo in the middle. On the bottom right corner you've got a recessed niche with a Micro-USB port for power, and a 3.5mm jack.
The standard ports mean that this speaker can easily be connected to your iPod or phone with a 3.5mm cable, and you can charge it with your phone's charger as well (unless you have an iPhone).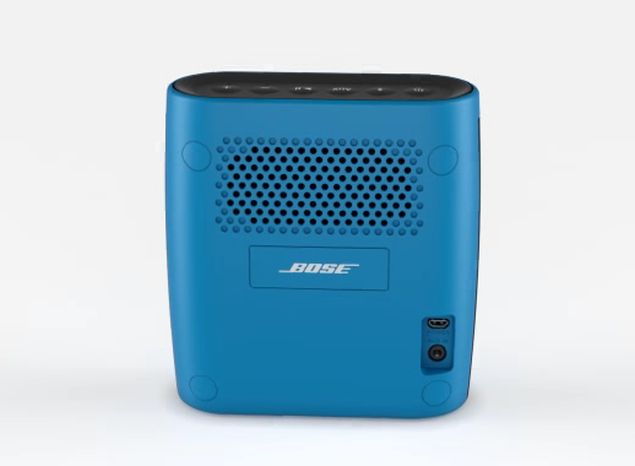 The speaker doesn't ship with a 3.5mm cable, but it does come with its own wall charger so you don't need to tie up your charger for the speaker.
Features and Setup
This is a fairly uncomplicated device without too many features to speak of. You can either connect it to play your music via a 3.5mm cable, or you can pair it using Bluetooth. If you've paired it to multiple devices using Bluetooth, then tapping the Bluetooth button on top of the speaker cycles through the connections. There are no other functions - no NFC for fast pairing and no mic to use this as a speakerphone to make calls.
The first thing you want to do is charge the battery. When the battery is completely drained, the included wall-charger takes a little under three hours to fully recharge the speaker. Non-stop Bluetooth playback at full volume lasted nearly eight hours.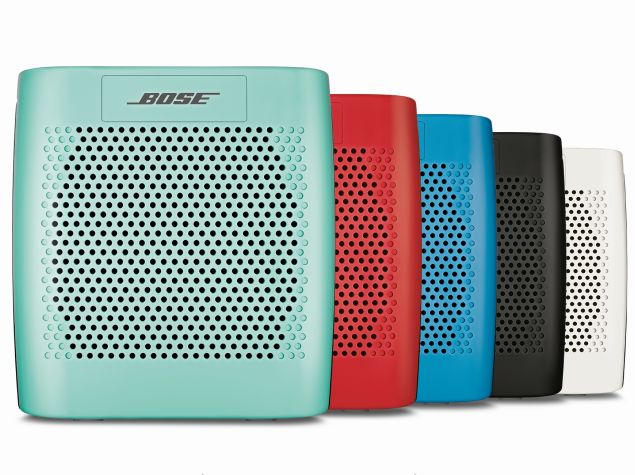 The music playback works smoothly and we were able to pair the speaker with a Macbook Air, an iPad, an iPod Touch, a BlackBerry Z10 and a Motorola Moto E with no issues. To pair, just switch on the speaker and hold the Bluetooth button.
A voice prompt then guides you through the pairing process and after pairing, it reads out the name of the device it is connected to. This setup is no different from connecting any reasonably designed Bluetooth speaker, although the voice guide can be a little difficult to understand at times.
Performance
There are two things to keep in mind when measuring the performance of the Bose SoundLink Colour. The first is obviously the audio. The SoundLink Colour is a relatively small speaker but Bose is able to get a lot of volume out of it. It won't fill a large hall with sound but it is more than loud enough for use in a house party. And if you want to listen to some music when you're moving around different rooms in your apartment, then the SoundLink Colour is definitely loud enough to use, and light enough to comfortably carry from room to room.
The bass reproduction on the speaker is particularly good. Listening to a song like Bohemian Rhapsody you can clearly hear the bass line without distorting the wide range of sound that the song has. The upper registers are not quite as crisp - it's still clear but if you compare it with audiophile gear, the SoundLink Colour starts to fall short.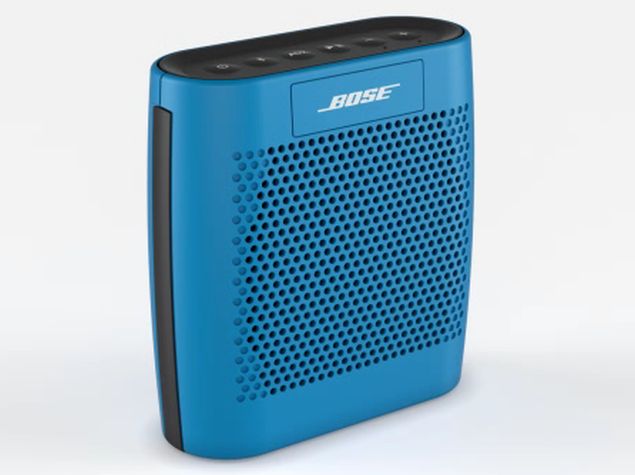 If you're not a purist who's hanging on to records as desperately as possible then you probably won't mind it but there is a slightly sibilant quality to the treble. This is present even at lower levels and at maximum volume it becomes even more noticeable. That's not to say that the SoundLink Colour sounds bad - but you shouldn't crank it up to full volume and expect to hear flawless audio.
The other thing that is important in a portable speaker is the battery life. The speaker takes a little while to charge, but it doesn't drain off rapidly in standby mode, and eight hours of non-stop playback is pretty good, considering most competing products last around five to six hours. As mentioned earlier, it uses a Micro-USB port for power so even if you forget to carry your charger when taking the speaker to work or to a friend's place, there shouldn't be any problem in keeping in powered up.
Add to that its small size and fairly rugged seeming design, and Bose has a portable speaker that you can actually keep with you at all times.
Verdict
There's a lot to like about the Bose SoundLink Colour - it is nice looking and fits into your bag without weighing it down too much. It sounds good for the most part, and it gets really loud too. There are no frills and extra features, but its battery will keep going for a long time and it uses a standard charger and audio cable so it will be compatible with a large range of devices. Bose has also priced this speaker competitively - it's more affordable than the SoundLink Air or the SoundLink Mini. The SoundLink Mini is still a better choice if audio is your only concern - but that's heavier, bulkier, and also significantly more expensive, at Rs. 16,875. With that said, we preferred the Colour, and felt it delivered more value for money, and we also really liked its design.