Cars have traditionally been a thing you use to get from one place to another. Some cars get you there more comfortably than others; some get you there faster. But why should you stop at that? Why can't your car entertain you and your passengers on the way? That's where the in-car entertainment system comes in, and the more it can do, the better.
Today, we're reviewing the feature-filled Rs. 49,990 Blaupunkt Cape Town 940. This highly-connected Android-based system promises to bring features to your car that you probably never imagined, making you want to spend time in it even if you didn't actually have to get anywhere. Find out all there is to know in our review of the Blaupunkt Cape Town 940.
Look and feel
There isn't much to say about the look of the Blaupunkt Cape Town 940. Once the Double DIN head unit has been installed in your car's console, almost the entire front face is the screen. There is a thin plastic border around the screen though, as well as four physical buttons and the CD slot at the top. The physical buttons are Home, Back, Menu, and a quick key to go straight to navigation. There's also a microphone to allow you to take calls while your phone remains in your pocket.
The screen is a 6.8-inch TFT capacitive touchscreen with a resolution of 480x800 pixels. Although it isn't quite as sharp as we'd have liked, the viewing distances are further than with typical tablets and smartphones, and you're likely not going to be looking at the screen a lot anyway. Under these conditions, we're not too disappointed as the screen still looks acceptable as it is.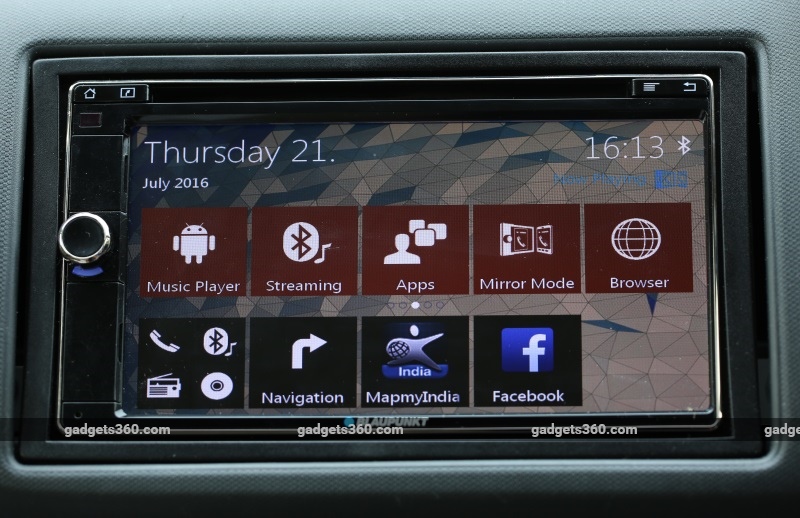 The unit has a USBport, a slot for an SD card, and an auxiliary socket for a stereo cable. The rear of the unit has room for three more USB ports, which will need extension cables attached at the time of installation if you intend to use them. On the whole, the Blaupunkt Cape Town 940 doesn't try too hard to look fancy, instead covering almost the entire front with screen space for a better experience.
Specifications and software
As far as specifications go, the Blaupunkt Cape Town 940 is the equivalent of having a low-cost tablet in your car. It's powered by a 1GHz dual-core processor, with 1GB of RAM and 8GB of internal storage. The device has GPS and Wi-Fi, and you can also attach a USB dongle for cellular Internet access. The easiest way to get the Cape Town 940 online is using your smartphone as a Wi-Fi hotspot.
The Cape Town 940 runs on Android 4.1.1, with a proprietary custom user interface on top. Blaupunkt's explanation for choosing a dated version of Android is that it's the most stable release and works best with the company's custom interface and hardware. Indeed it is extremely stable. There is no Google Play store access, so apps you want to install have to be side-loaded manually onto the device, which is a bit convoluted. The company is seeking Google's certification however, so there is a possibility that the Play Store could be made available on the device in the future.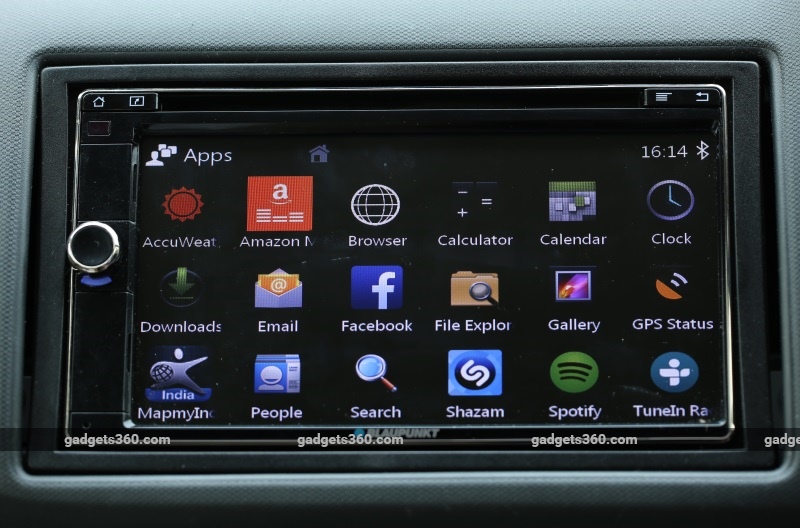 For now, you're limited to a handful of apps, including AccuWeather, Facebook, Shazam, TuneIn Radio, and Twitter. There is also Amazon Music and Spotify, but as these services are currently unavailable in India, you won't be able to access them without using methods that we wouldn't normally recommend. The navigation app on our review unit was powered by MapMyIndia, and the Indian mapping and GPS specialist's map set were loaded already. However, MapMyIndia's service doesn't include live traffic updates, which is one area where Google Maps support would have been particularly useful.

The user interface has been designed around ease of use while driving, with large icons and tabs that make it easy to control the system without paying too much attention to it. It scrolls horizontally, and apart from certain key apps, individual input modes also have their own tabs. You can set shortcuts for major apps anywhere. You can also access the full apps list, Settings menu and Web browser from here. There's even a full-fledged equaliser mode that gives you a lot of control over how you want to tune your music.
The Settings menu gives you access to basic tweaks for the system, as well as the ability to control Wi-Fi and Bluetooth. There's also an app to map your steering-mounted audio controls to the system and allow it to work as you want. Through the Settings menu, you can pair new Bluetooth devices or connect to the Internet. Any paired Bluetooth device can have its music and calling functionality controlled by the Cape Town 940.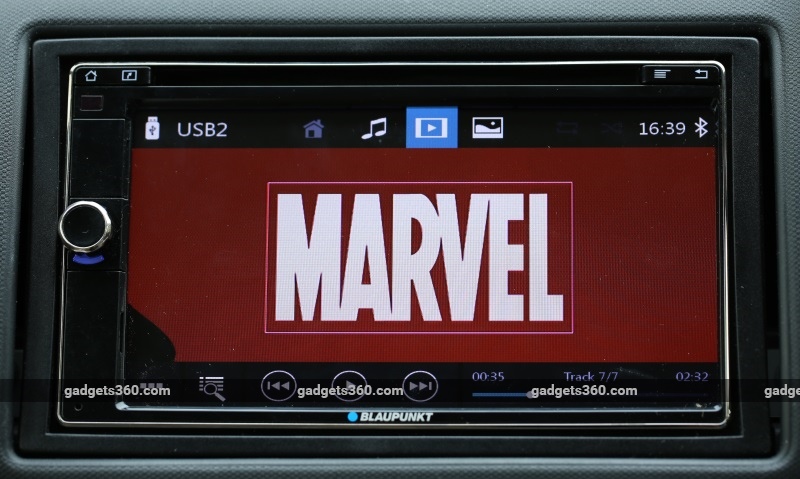 You can answer and place calls, although the Cape Town 940 won't be able to bypass any lock-screen security you've put in place (at least when it comes to Android devices). In such cases, you'll have to manually unlock your phone and leave it unlocked to allow outgoing calls. Music can of course be controlled easily, provided your music player app is able to bypass the lock-screen for easy access.
Also of note on the system is the Mirror Mode, which lets you mirror your smartphone's screen on the Cape Town 940, and Rear Camera mode. The former has a complicated setup procedure and requires cables to be useful, while the latter is automatically triggered when you put your car into reverse, provided you have a rear camera fitted and have connected it to the system, of course.
Performance
Our review vehicle had the Blaupunkt Cape Town 940 connected to Rockford Fosgate speakers, tweeters and a subwoofer. We used both CDs and a smartphone paired over Bluetooth to listen to music through the system. We also tried some video clips using a USB drive.
Apart from the aforementioned ease of switching between sources, the Blaupunkt Cape Town 940 also manages to provide a responsive and entertaining experience on its own. Even though a lot of the work was being done by the speakers and amplifiers (that are sold separately), the Cape Town 940 itself works as an excellent source device. The sound can get very loud, and can shake everything in the car from the rear-view mirror to objects on the dashboard.
The Cape Town 940 supports video playback, and you can of course use the browser to connect to streaming services such as YouTube to watch videos. Although the screen resolution isn't particularly high, it's still fun to watch movies in the car, and this could be a great way to kill time if you're waiting around.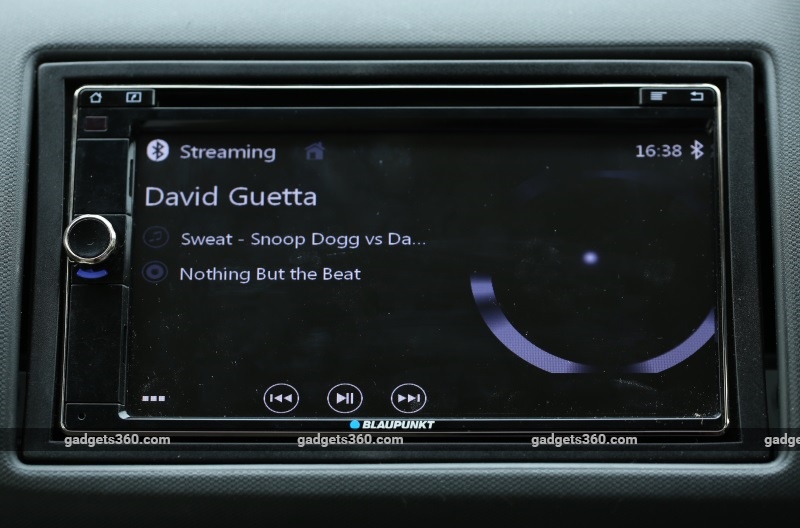 The Cape Town 940 also uses a proprietary tuner that offers better sound when listening to the radio. Provided you're listening to a station with a good signal where you are, you'll get crystal-clear sound and plenty of definition and excitement from the system. Although we didn't listen to the radio a lot during our time with the system, it's definitely a good addition for occasions when you just want to listen to something different.
Verdict
The Blaupunkt Cape Town 940 may not be perfect and certainly isn't as quick and snappy as we'd like, but its connectivity and its variety of capabilities make it one of the most feature-filled in-car entertainment systems we've come across. While access to the Google Play Store is sorely missed, the device does let you log in to Facebook, Twitter, and a few other useful services that could come in handy on the go, such as AccuWeather and TuneIn Radio.
It's worth noting that Blaupunkt isn't the only manufacturer in the Indian market with a connected in-car entertainment system. Pioneer has launched its Android Auto and Apple CarPlay capable systems at similar prices (such as the Rs. 51,990 AVIC-F80BT), which also boast of an enhanced level of connectivity on-the-go. However, Blaupunkt's approach to the system with its own UI and tablet-like feel.

Apart from media playback, the Internet connectivity, apps and browser make the Cape Town a fully-loaded entertainment package. Although it's expensive at Rs. 49,990, the Cape Town 940 is certainly worth considering if you're looking at setting up a full-fledged entertainment system in your car.
We reviewed the Cape Town 940 in a car loaned to us by Blaupunkt.
Price (MRP): Rs. 49,990

Pros
Big screen

Internet connectivity on the road

Excellent equaliser mode

Lots of ways to enjoy music and movies

Easy to use interface

Cons
A bit sluggish

No access to Google Play Store
Expensive


Ratings (Out of 5)
Design: 4

Performance: 4

Value for money: 3.5

Overall: 4