Audio reviewers like us are often asked for recommendations from friends and family. While our answers vary based on individual budgets and requirements, we often find ourselves thinking of good old Audio Technica. It's a brand that has won us over in the past with its excellent offerings, and it's for that reason that we've been looking forward to reviewing the ATH-MSR7 headphones. The ATH-MSR7s are said to be able to bring out the best in high-resolution audio thanks to their 'True Motion' high-res audio drivers.
The bar has already been set very high with the excellent Audio Technica ATH-M50x headphones, so the MSR7, priced at Rs. 16,299, puts some serious expectations on the table. With the growing popularity of high-resolution audio, Audio Technica's specialised 'True Motion' drivers are also in focus during this review.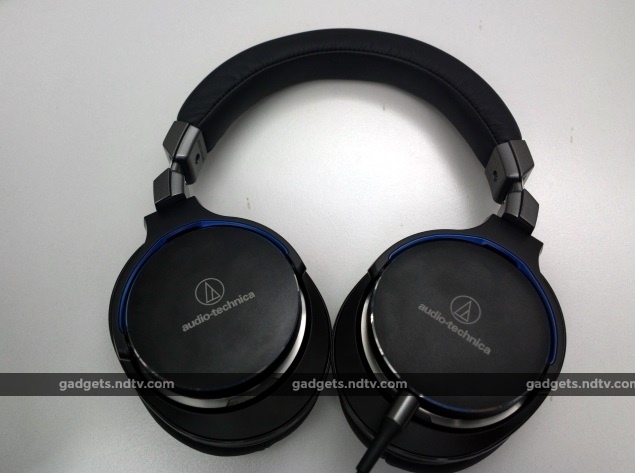 Design and Specifications
The use of metal in headphones is always a welcome touch, and liberal amounts of it were used on the ATH-MSR7. From the driver casing to the skeleton of the headband, these cans are solidly metallic in their build. They are properly around-ear in design, completely enveloping your ears within the padding.
The earcup and headband padding is soft, while the cables and plugs also indicate that no costs have been cut in the design and manufacture of this kit. There are three cable options in the box, two of which are 1.2m long (one has an in-line mic, the other doesn't) and the last is a home-friendly 3m option. A handy pouch is also included, although surprisingly, a 3.5mm to 6.3mm adapter is missing.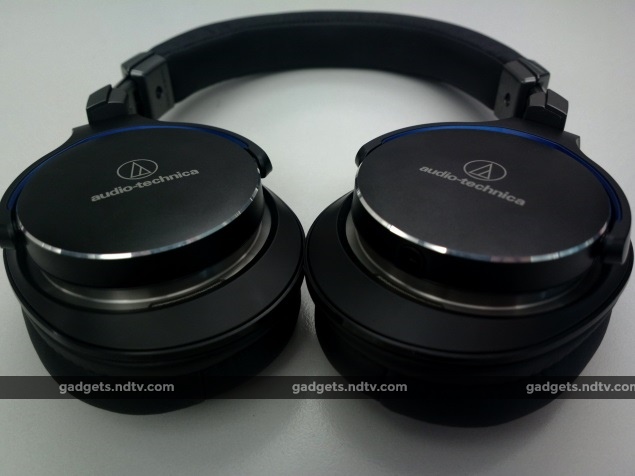 The 45mm 'True Motion' closed-back drivers produce 100db of output with 35ohms of impedance, which make these headphones great for portable and home use. The only real flaw is that they weigh 290g, but the increased weight is offset by their superior comfort levels to some extent.
One thing we particularly liked about the design is the fact that 'Left' and 'Right' labels are displayed prominently on the outside of the headband, just above the drivers. The blue accents on the connector clips also brighten up a pair of headphones that are otherwise completely black with only hints of silver along the edges.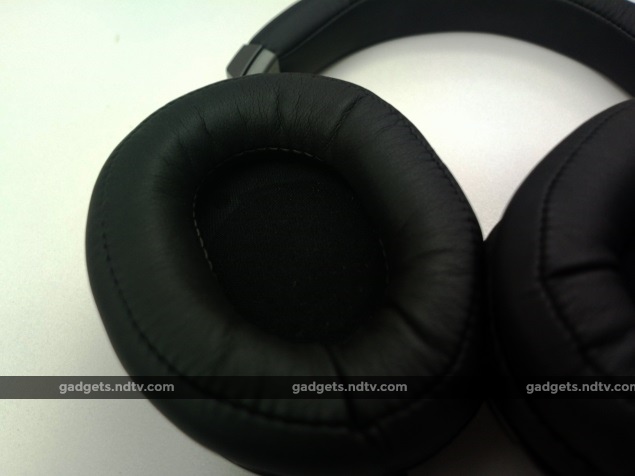 Fit and Comfort
We'd be hard pressed to find a more comfortable pair of headphones than the ATH-M50x in this price range. Despite a relatively high weight of 290g, the soft padding and around-ear design ensure that you're quite happy keeping the MSR7s on for long stretches. Your ears might start heating up after a while, but a simple cool-off for a few seconds worked for us.
For regular use, we recommend using the plain 1.2m cable without the in-line controls. You should only use the 3m cable when you absolutely need to (at home for night-time TV viewing, or by your computer). The cable isn't tangle free, so you'll want to wrap it up for storage.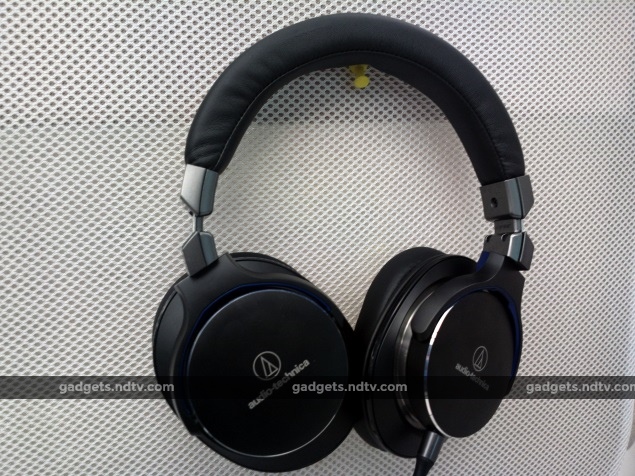 Performance
High-resolution audio files are not compressed in the way that ordinary MP3s are. This makes the sound feel more open and smooth, with superior separation of elements. The Audio Technica ATH-MSR7 headphones feature a sonic signature that suits high-res audio very well. We used a variety of 16/44.1 FLAC files including Jam by Michael Jackson, Mountains by Emelie Sande and Poor Leno by Royksopp. We also tried 320kbps MP3 files such as Pharrell Williams' Brand New, Marvin Gaye's Ain't No Mountain High Enough and Calvin Harris' Summer.
Jam and Summer, both busy tracks with a hint of sparkle, showed a strong handling of treble as is necessary to bring out the best in high-res audio. The separation of elements is clean, with instrumentals feeling realistic and three-dimensional. Vocals, too, had a sense of body to them. Calvin Harris' heavy voice seemed to boom through his song, overpowering the electronic synthesisers at times. On the other hand, bass seemed to be a bit weak, but any audiophile will tell you that's a good thing. Heavy bass tends to make a mess of openness, but even so, you're left feeling as though there could be more life to the bass. An otherwise light track with a distinctly strong beat, Brand New felt like it could have been a bit more exciting. Poor Leno did however prove the ATH-MSR7's mettle with mids. An otherwise punchy track with a powerful bass beat, some of the gentler, hidden elements showed themselves often enough.
That brings us our last two tracks, also the slowest and most soothing on the list. The Audio Technica ATH-MSR7 headphones are, in typical audiophile fashion, most at home with these vocally strong acoustic tracks. Whether it's Emelie Sande's haunting voice or Marvin Gaye's raspy crooning, the MSR7 felt at home with these sonic masterpieces. Bass levels were kept comfortable and the beauty in the instrumentals and vocals really did come out.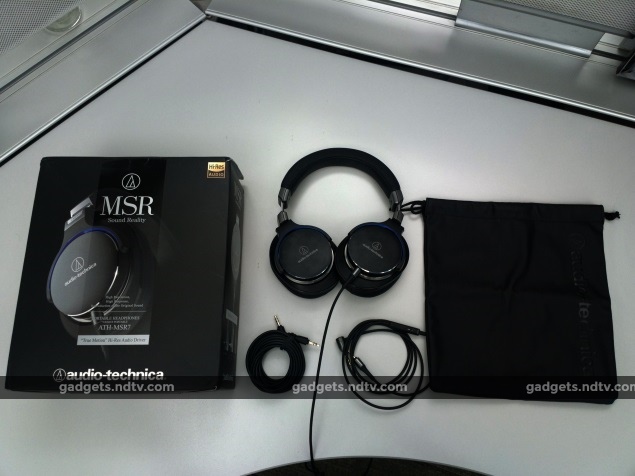 Verdict
The Audio Technica ATH-MSR7 isn't cheap, but no questions can be raised about the quality of these headphones. From the fantastic metal build to the openness, sense of separation and quality of mids and highs, the ATH-MSR7 headphones are truly a budget audiophile dream. You get a high-resolution experience for a fraction of what you would pay for most high-fidelity experiences. This pair might be too big to be truly portable, but it is perfectly usable at home or in the office. Its bass-light sonic signature might not meet the needs of the typical headphone user in this category, but the Audio Technica ATH-MSR7 is nonetheless an excellent option for the discerning listener.

Price (MRP):
Rs. 16,299
Pros
Solid Metal Build

Comfortable

Open, clean sound; live up to the high-resolution name

Useful cable options

Cons

Not portable enough for commuting or on-the-go use
Bass may be inadequate for some users
Ratings (Out of 5)
Design: 4.5
Performance: 4.5

Value for money: 4

Overall: 4.5