Listening to music is a very personal experience. A major deterrent to this experience is ambient sound that seeps in. A good solution for this is to invest in a pair of noise-cancelling headphones. Bose has been excelling in noise-cancelling headphones/earphones with its QuietComfort range.
Audio-Technica is a brand we have come to like thanks to its wonderful sounding products, and it also has a few noise-cancelling headphones in its QuietPoint range. They are much cheaper and could be a great alternative for someone who cannot shell a lot of money on a pair of Bose headphones. This is the first time we are reviewing one of Audio-Technica's QuietPoint headphones, the ATH-ANC7b.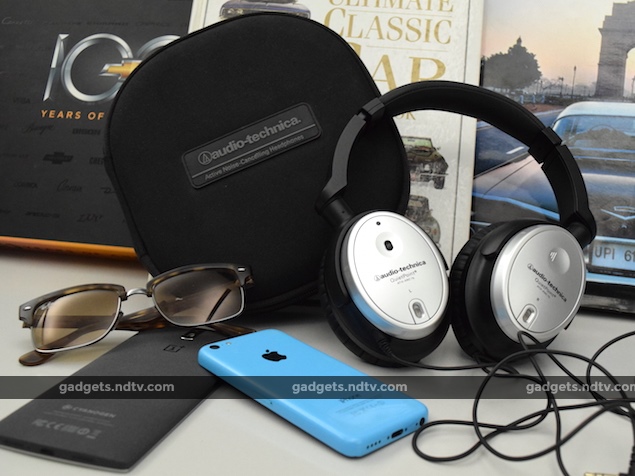 Design and specifications
Audio-Technica's headphone designs are typically sober and do not follow trends. True to this, the ATH-ANC7b is a black piece of plastic which looks nondescript. While the outer shell is plastic, the headband has a metal insert as the extension. Also, the tough plastic exterior should be able to withstand some amount of rough usage. Audio-Technica provides a nice carry case and also bundles a 1.6m cable, 1m cable and an airline adapter.
The earcups house the ANC circuitry for noise-cancellation. For this to work one needs to insert a AAA battery, the compartment for which is under the right earcup. There are two microphones, one on each earcup. These microphones capture ambient noise from traffic, air-conditioners, whirring engines and the like. The circuitry inside creates a noise-cancelling wave, which is essentially sound wave with the same amplitude as the sound captured by the mic but in an inverted phase instead. In layman's terms, this noise-cancelling wave negates the effect of the ambient noise to create a sort of a vacuum for you to listen to music in. The switch for the noise-cancellation circuitry is on the right earcup and an LED indicator turns blue when it is on.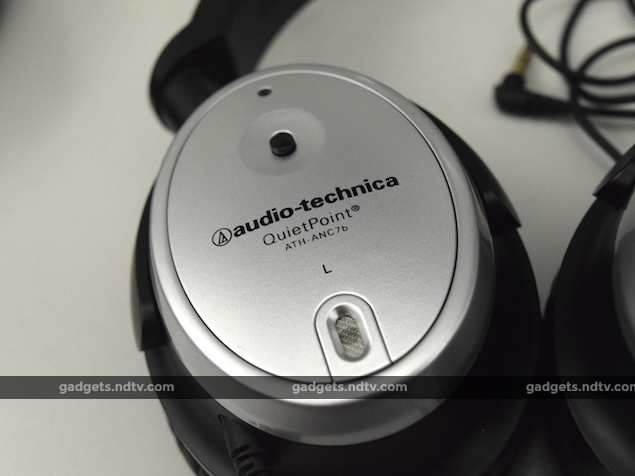 At 210g, the ATH-ANC7b is not too heavy and fairly stress free for longer listening sessions as well. The soft cushion padding on the earcups is also rather comfortable. The earcups can pivot 90 degrees around a hinge, which makes the headphones portable.
The ATH-ANC7b operates in the frequency range of 10Hz to 25,000KHz, which is more than what the human ear can hear. In active mode, the impedance of the headphones is as high as 300ohms. Don't worry about this high number because generally noise-cancelling headphones have an active amplifier inside them. The ATH-ANC7b has big 40mm drivers and a generous 109dB sensitivity.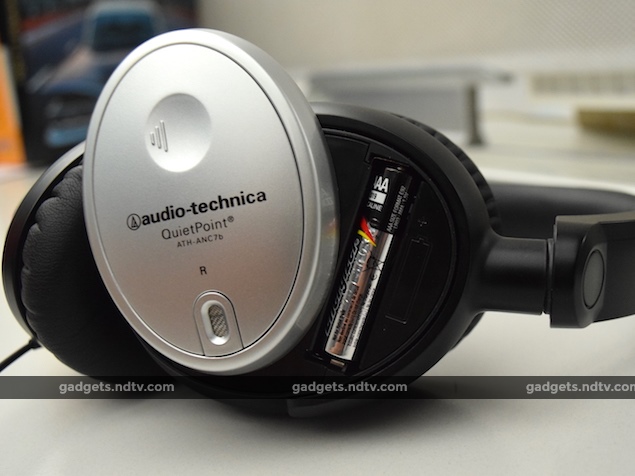 Performance
For a pair of headphones that costs as much as a budget Android smartphone, the fact that the ATH-ANC7b leaks an uncomfortable amount of sound is appalling. It can cause irritation for a co-passenger on a flight.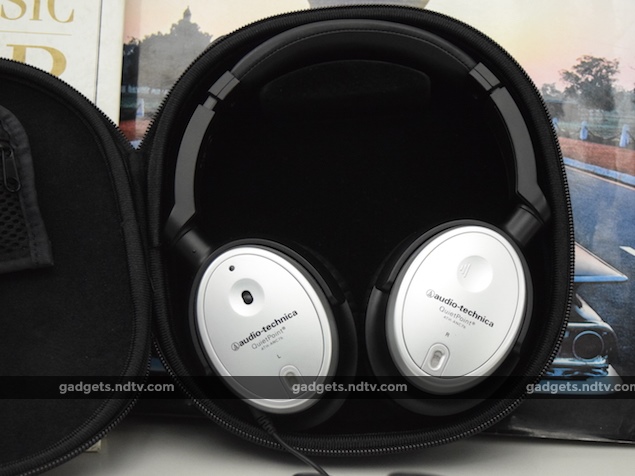 The noise-cancellation works adequately well but it is nowhere close to the power of Bose's proprietary technology. However, the ATH-ANC7b is a muchmore affordable product and this was expected. The ANC circuitry managed to effectively cancel the noise of a moving train and the buzz of an air-conditioner's compressor. Other noises, mostly of people chattering, was reduced to an extent by playing music above 60 percent volume. The ATH-ANC7b can also work in passive mode with noise cancellation switched off. We'd strongly suggest that you don't use this mode because the sound quality deteriorates drastically.
In active mode, the sound quality is much better but it is not as good what we've come to expect from Audio-Technica. The sound signature of the ATH-ANC7b is warm, as usual, which is great for people who listen to a lot of soulful music with emphasis on melodies. We listened to Sigur Ros' songs like Olsen Olsen and Hoppipola and they sounded as soulful as ever. At the lower end of the frequency spectrum, the ATH-ANC7b is not really thump heavy and sounds something like a hard object hitting a soft pillow. The bass response is not really tight and that might not satisfy lovers of EDM music. The mid-range, on the other hand, is open, expansive and fun. We loved watching TV shows using the ATH-ANC7b. Shrill sounds of cymbals and hi-hats don't realise their full potential.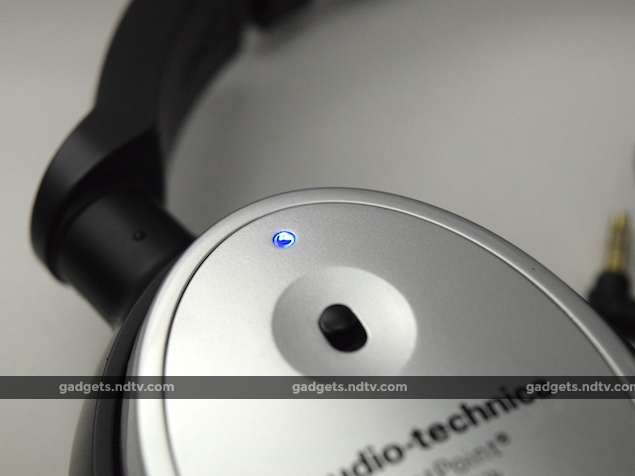 Verdict
The Audio-Technica ATH-ANC7b is available in India for a price of Rs. 10,400. We would recommend these headphones if they didn't leak so much sound and if the sound quality was slightly better. We think the Audio-Technica ATH-M50x and it's predecessor ATH-M50 are much better headphones albeit without noise-cancellation technology. However, if you must pick up a pair of headphones with active noise-cancellation built-in, we'd suggest you save some more money and pick up the Bose QC25 instead.

Price: Rs. 10,400

Pros

Comfortable fit

Works in passive mode as well
Cons

Sound quality is not that good

Leaks a lot of sound

Ratings (Out of 5)

Design: 3.5

Performance: 3

Value For money: 3

Overall: 3