Amkette is probably best known as a maker of PC peripherals, from storage to input devices. In 2012, the company launched its first Android set-top box, the Evo TV, and followed that up in 2013 with the Evo TV XL, which was essentially the same thing, but with more RAM.
Amkette has now launched the Evo TV MC, a much cheaper variant set-top box, with a UI that focuses on quick access to your videos, with support for apps like Facebook and Twitter, and a Web browser too. The new UI is a big departure from the endless scroll of the original Evo TV, and while that particular setup looked great, this new layout is much more user friendly. The remote on the other hand seems to have become even smaller than it used to be, which might be seen as negative for some users with large hands.
Let's take a look at some other aspects of the device.

Features
The Evo TV MC is designed to let you easily watch your digital content. It runs on a skinned version of Android 4.0.4, which has a tiled interface that might remind you of Windows 8, or the Xbox One. The bundled remote acts like an air mouse, as long as you keepyour finger on a touch sensitive panel at the back of the remote.
The touch panel is ridged so you can easily find it, and it's pretty large, so you can activate it no matter how you hold the remote. The Evo TV's home screen can be a little confusing at first, because the different icons in the dock are not labelled, but after you've used it for a few minutes, it becomes easy to remember which icon is Music, and which one is for Movies.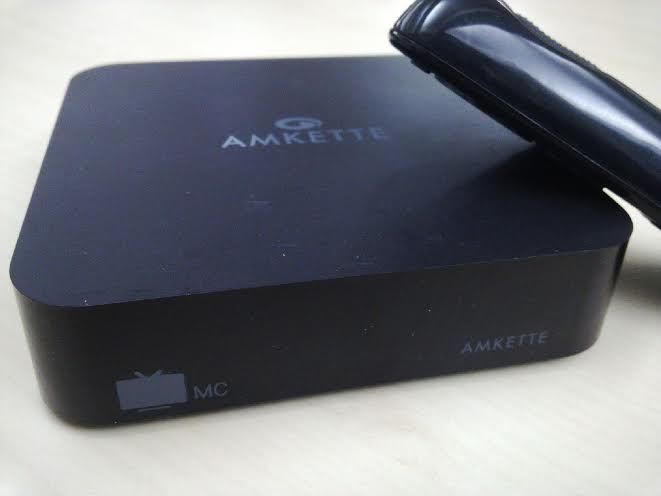 Tools like uTorrent and XBMC come pre-installed and prominently displayed on the home screen. This will undoubtedly be useful for some users, but others might find them too complicated to set up. The very user friendly PopCorn Time is not available for the Evo TV MC though - that app requires Android 4.2 or above, but the Evo TV MC is running on Android 4.0.4.
Also preloaded are various streaming services, including YouTube, and you also have access to the Google Play store, so you can install your favourite video players as well.
To play your movies, you can either connect the Evo TV to a pen drive or an external hard drive, or, if you have a NAS, you could stream them wirelessly to the set top box using DLNA. The former method is of course incredibly simple, and most media apps will automatically scan for connected storage. The latter can be a little more complicated, but if you've managed to set up a NAS in the first place, it won't be a challenge to access that content, particularly with tools like XBMC already installed.
Design
In terms of aesthetics, the Evo TV MC is not particularly different from the original Evo TV. It's a small, unobtrusive black box which won't look out of place under any TV. The LED is an incredibly bright blue colour, which is a little annoying at night or in a darkened room, but it's not a very major problem either.
The Evo TV MC has a lot of different connectivity options, which is definitely a big plus. On the side, you have three USB ports, and on the back, you'll find one more USB port, plus HDMI, RCA, SPDIF ports, along with an Ethernet port for wired connectivity, although the built in Wi-Fi works perfectly well. There's also a port for power, again at the back.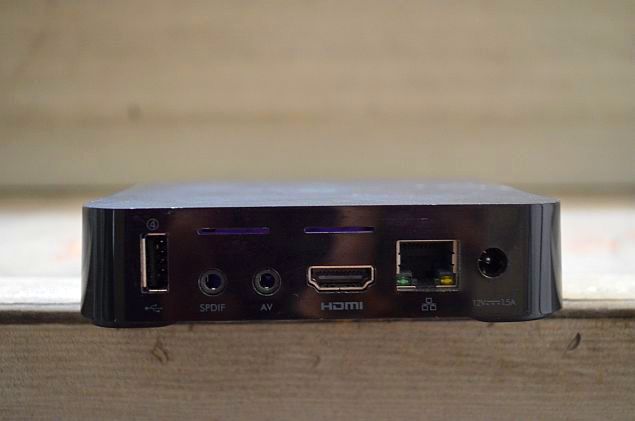 The design is basic, almost utilitarian, though still far better than some competing devices that are also in the market now. The all plastic body feels a little fragile, but that isn't something most users will have to worry about, as it will just rest on a shelf under the television.
The Evo TV MC ships with a small remote, under an inch wide and four inches long. It's small enough that you could conceivably lose it in the house pretty easily, so we'd urge you to be careful about where you store it when not in use. There are two dial shaped button clusters near the top and bottom - the top ring has up/ down/ left/ right controls, and an okay button in the centre. The bottom ring has your media controls - volume up and down, previous, next and play/ pause in the centre. Just above the bottom ring, you have the mute button, the power button, and the MOD button in one row.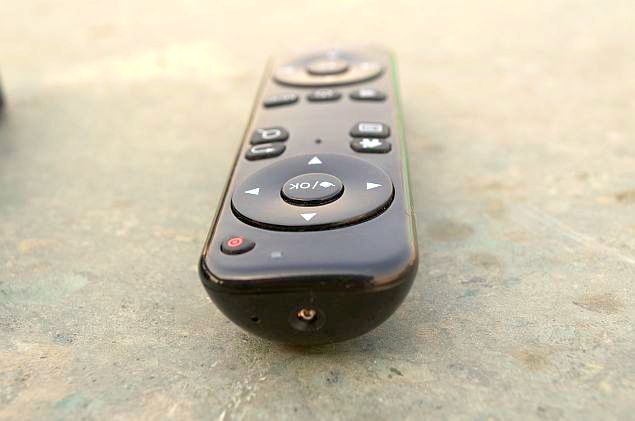 Above that, you have the home, menu, back and search buttons for Android. Near the top of the remote, there's a small button to power down the remote as well. You charge the remote with a bundled Micro-USB cable, and the battery life seems decent enough, because in one full week's normal usage of watching between two to three hours of video each day, we haven't drained the remote's battery yet. We received it with fully discharged, and charged it for nine hours plugged into the Evo TV overnight.
Usability
The Evo TV MC has a new interface that remedies some of the flaws of the older versions, and the simple point and click interface is not more complicated than using a touchscreen device. However, actually using theremote to make any useful inputs takes a little time to get used to. Also, the remote is incredibly light - this would be a plus if you were holding it continuously, but since you put it down once you're actually watching a video, a little extra weight might have actually been a good thing. That's because the remote is so light that holding it steadily, or moving it slowly, is next to impossible. This doesn't actually affectthe usability but it makes the overall experience feel less polished.
Anotherquibble is that the system lags. When you're playing videos or loading apps, this isn't a problem, but when you launch the Web browser, the lagbetween clicking on buttons in the virtual keyboard and actually seeingthe text appear becomes unbearable pretty quickly. Coupled with the slightly jittery remote control, typing is a pretty poor experience on the Evo TVMC.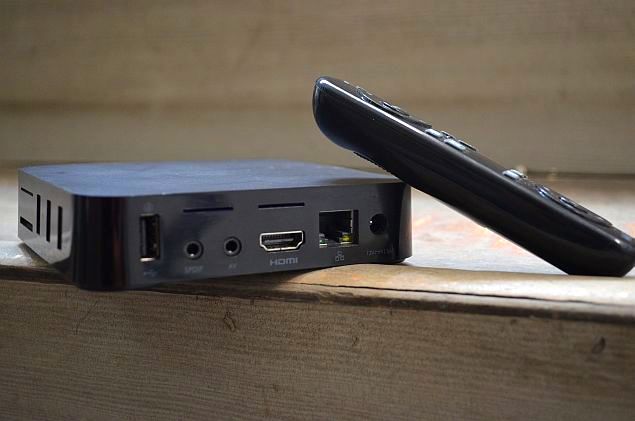 If you're focused on using it as a media controller to bring your digital content to the television though, then the Evo TV is actually pretty good. The media playback was smooth even for HD (720p) movies, and streaming on YouTube works great.
Verdict
The Evo TV MC is not the most polished hardware, and the UI also needs a fewtweaks to make it smoother and less laggy. Despite that, if you're looking at it mostly as a way to stream Internet video to your TV, and to watch movies you've stored on an external HDD, then the Evo TV is a great option, that's a lot simpler to use than putting together your ownHTPC. With the Evo TV MC priced at half the cost of the original Evo TV, it's also great value for money.
Price
Rs. 5,500
Specifications
Evo TV MC
Processor: 1GHz Arm Cortex/ 400 Mali
RAM: 1GB
Storage: 4GB
OS: Android 4.0.4 Media Centre