As is pretty obvious from its name, AmazonBasics is the in-house brand of American e-commerce giant Amazon.com. The company uses this brand to sell its own line of basic, affordable products, including cables, laptop sleeves, headphones, bags and portable speakers. The brand was recently launched in India, and a small line-up of products is already in place, including the two we are reviewing today; the AmazonBasics Micro Bluetooth Speaker (BTV4) and Mini Bluetooth Speaker (BTV2).
Priced at Rs. 999 for the Micro and Rs. 1,599 for the Mini, these are among the most affordable Bluetooth speakers you can buy today. As their names suggest, they're also compact and easy to carry around. We go into the details in our review.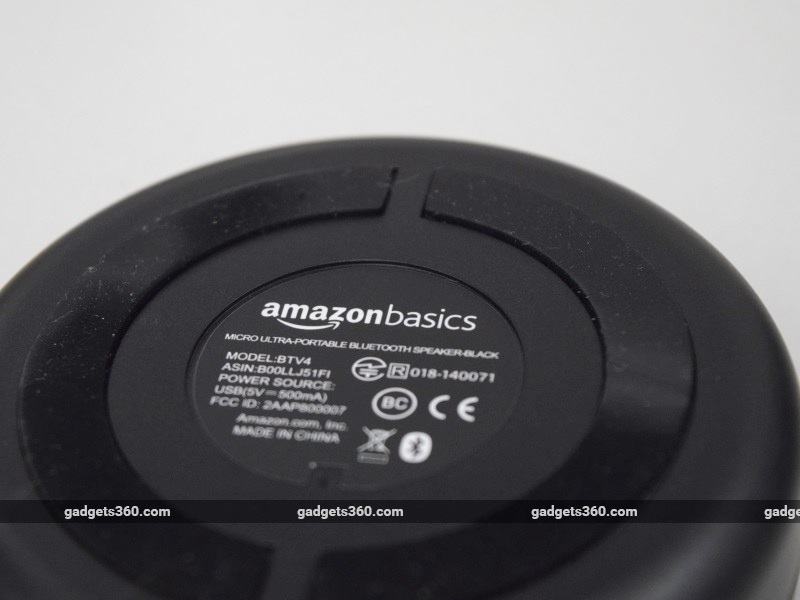 Design and specifications
The smaller of the two is the AmazonBasics Micro Bluetooth Speaker, which has a circular shape and an upward-firing speaker driver. The driver itself is visible under the grille, while the sides of the body have an auxiliary-in socket, Micro-USB port, Bluetooth indicator light, power/function button and volume buttons. The casing of the speaker is entirely plastic, and it's fairly basic to look at. The only branding is at the bottom, where the AmazonBasics logo can be found. The Micro also has rubber grips on the bottom which keep it firmly in place on a table top. The device has a single 3W speaker and a claimed battery life of 10 hours.
The slightly larger AmazonBasics Mini Bluetooth speaker has a box-like shape with a forward-firing driver. Connectivity is through Bluetooth or the auxiliary 3.5mm socket. The top has the Bluetooth indicator light, function and volume buttons. Key differences here are that power is controlled through a slider switch, and that the Mini also has a microphone that lets you use the speaker as a hands-free device with your smartphone. Like the Micro, there's no branding except at the bottom, and there are four small rubber feet for grip. The Mini also looks plain and basic. The output of the single speaker is 3W, and battery life is claimed to be the same as the Micro at about 10 hours.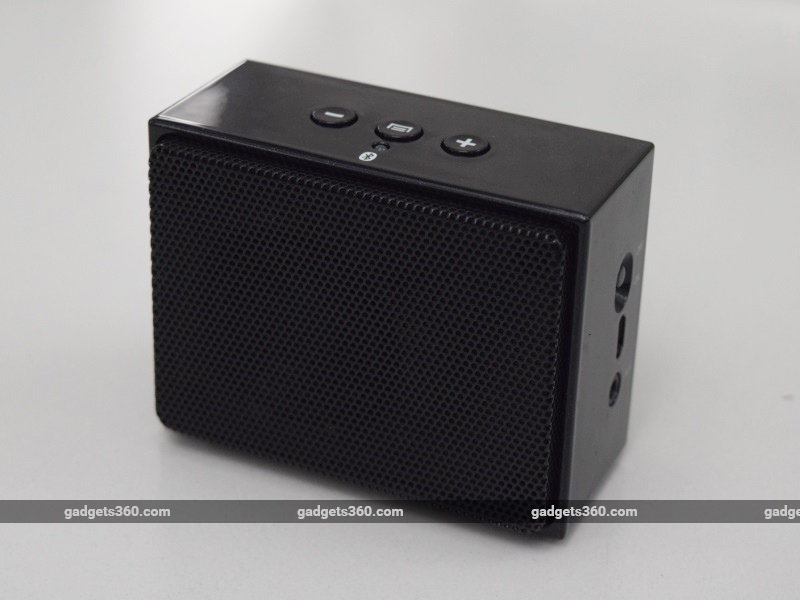 Both speakers are compact and very easy to take with you wherever you go, with the Micro Bluetooth speaker being small enough to slip into a pocket. They also come with small carry pouches and standard Micro-USB cables for charging, but no power adapter. While not as well designed as the more expensive JBL Go (Review), these speakers are built decently for the price.
Performance
We used the AmazonBasics Micro and Mini Speaker with an Android smartphone, using both Bluetooth and a 3.5mm cable for audio transmission. Focus tracks for the review were LeMaitre's Appreciate, Miguel Migs' So Far, and Los Muertos Vivos Estan from the Spectre soundtrack.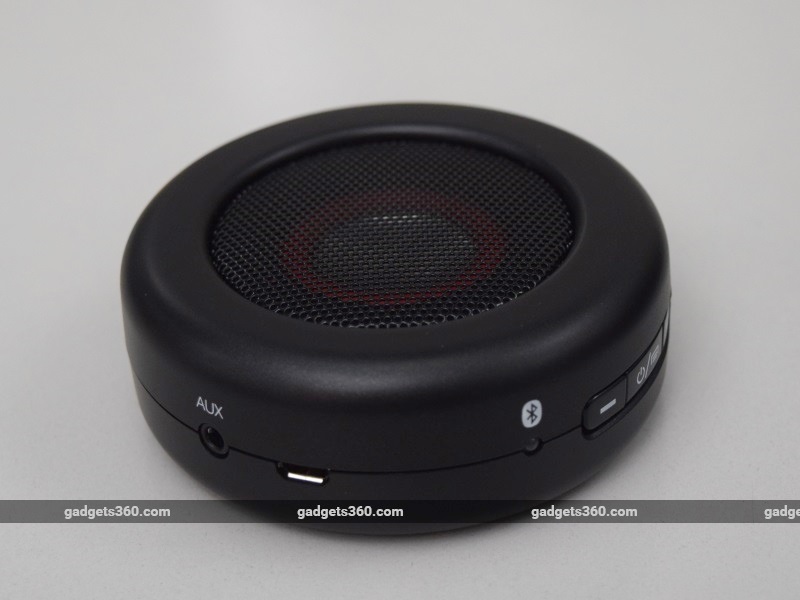 Starting with the Micro Bluetooth Speaker, we found that it was fairly loud despite its size, but not enough to fill a room. If you intend to use it for personal listening at home, it will be more than adequate. With Appreciate, we could barely hear any thump or bass response, but sound across the sonic range was decent and the low end could be heard well. The sonic signature is V-shaped, with sensitivity spikes in the lows and highs.
Thetop-firing driver makes for some sense of dimension and a wide enough soundstage, and sound is acceptable. With So Far, we were fairly impressed with the imaging as well, but it remains a basic sound lacking in any real definition or drive. However, at this price, there's very little to complain about, and you're getting exactly what you're paying for.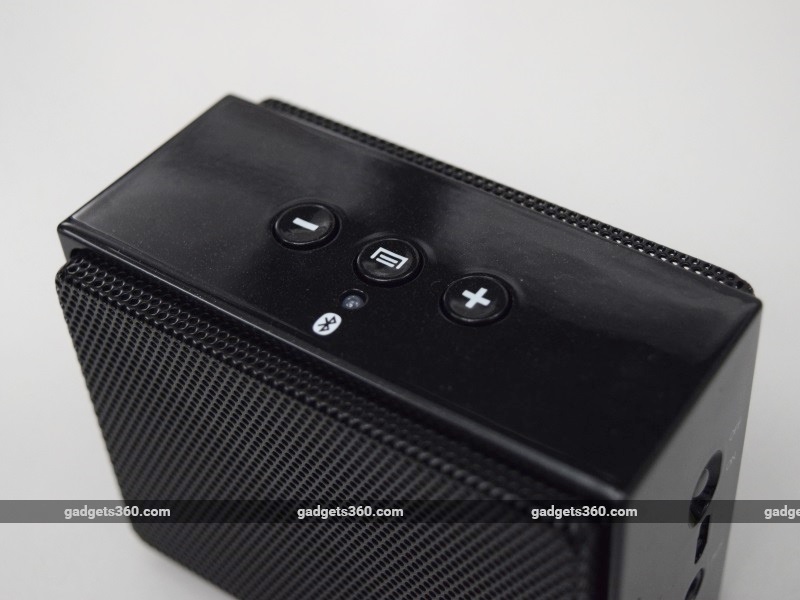 With the Mini Bluetooth Speaker, we found that while listening to Los Muertos Vivos Estan, the sound was a bit lacking in excitement. There's very little drive, but then again, the sound is not bad at all. Sonically, both speakers are practically the same, with clean responses through the range, but no thump or feeling.
We also tried out the speaker with a paired phone for calls. Sound is acceptable at close range, but not loud enough that you could consider this an option for conference or group calls. On the whole, sound through both AmazonBasics models is practically the same, and you're better off with the smaller Micro Bluetooth Speaker because of its lower price and smaller size, unless you really need a microphone.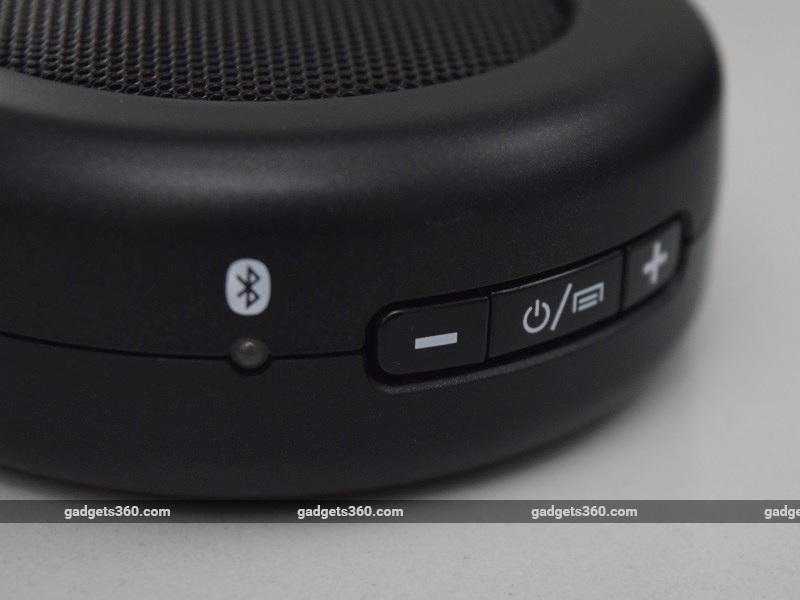 Verdict
The AmazonBasics range is known for its affordable, simple products, and the Micro and Mini Bluetooth Speaker are exactly that. These devices do exactly what you'd expect, with good build quality and decent enough performance for the price. Don't expect too much from them, and you won't be disappointed.
Either of these products will serve you well if all you need is simple wireless sound or basic hands-free calling. Both are available now through the AmazonBasics mini-store on Amazon.in.

Price (MRP): Micro Bluetooth Speaker: Rs. 999; Mini Bluetooth Speaker: Rs. 1,599

Pros
Compact and portable

Decent sound across the frequency range

Carry pouch and charging cable included
Good sound for the price

Cons
Not much thump or excitement

Plain looks


Ratings (Out of 5)
Design: 3

Performance: 3

Value for money: 5

Overall: 3.5

Affiliate links may be automatically generated - see our ethics statement for details.