In 1965's Thunderball - the fourth Bond film with Sean Connery - 007 is recuperating at a health clinic in the south of England.
He makes advances towards his physiotherapist Patricia Fearing (Molly Peters) who shows no interest and rebuffs him. Sometime later, after an accident at a traction table caused by one of Bond's antagonists, he proceeds to coerce Fearing by suggesting that he would tell her boss if she doesn't comply with his wishes.
Upon realising what he is implying, she hesitates before giving in. The two then enter the steam room, and Bond proceeds to take off her clothes. It's clearly not a consensual encounter. And yet in a later scene, a naked Fearing while receiving a back rub from Bond in his room is seemingly oblivious to her predicament.
But this is no isolated incident. The James Bond franchise has long shown a penchant for interpreting coercion as seduction, and the limitless effect of the eponymous character's charm. Consider Goldfinger in 1964, where the objectification starts with the name of the Bond girl: Pussy Galore. Or the fact that most of the women throughout the 54-year-run are referred to as "Bond girls" and not treated as individuals who operate with any agency.
Worse still was the turn of events, as Galore - portrayed by Honor Blackman - a lesbian in the novel and played "true to the books" by Blackman, gives in to Bond's charm after all. This in a film that had already stuffed a character in the fridge - by covering her in gold paint - in what is now termed an iconic scene. Despite all that, Goldfiner remains the highest-rated Bond film, and second-most loved by audiences.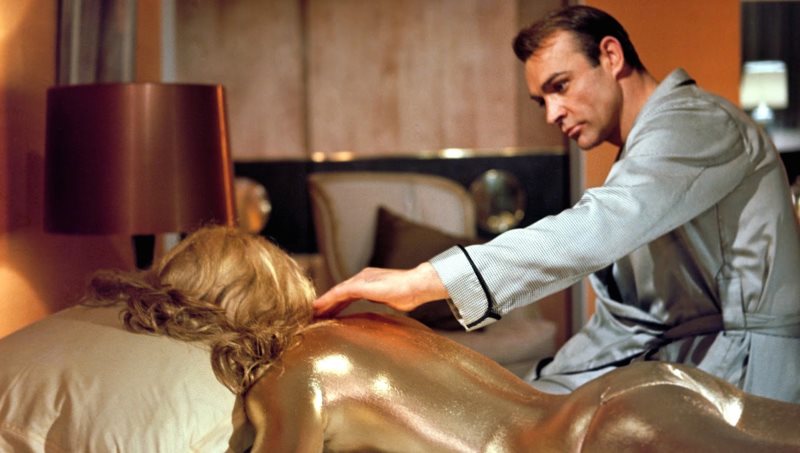 Shirley Eaton and Sean Connery in a still from Goldfinger.
A year earlier, in the second Bond entry - From Russia With Love - 007 is given two women with an implication of a threesome because he helped saved them from each other and agents of Spectre. This women-as-a-reward technique continued into the next decade with 1977's The Spy Who Loved Me, now with Roger Moore in the titular role. While on a visit to Cairo, Bond's friend offers him a young woman as a gift.
In the same film, Bond also manages to seduce a Russian KGB spy Anya Amasova aka Agent XXX towards the end, despite killing her lover in the beginning of the story. All these instances point to a regular problem with the spy franchise: no matter the turn of events and the nature of women - uninterested, lesbian or strong-willed - they all end up in his arms under the covers at some point.
In his book Phony Culture published in 1994, writer James E. Combs notes, that from the stories of Casanova to Hugh Hefner's Playboy, "the sexual pursuit of a beautiful young woman for its own sake [is] deemed a legitimate social enterprise, requiring the use of male guile to overcome her moral or personal restraints to casual and uncommitted sex".
Combs goes on to compare James Bond as "the most sophisticated version of the modern Casanova, the handsome virile man whose skill at social stealth as a secret agent is complemented by his skill at sexual stealth". That perfectly encapsulates nearly every 007 film ever - the women are always young and beautiful, Bond craves uncommitted sex save a couple of instances and the reason audiences admire his prowess as a spy has much to do with his ability to woo women who play hard to get.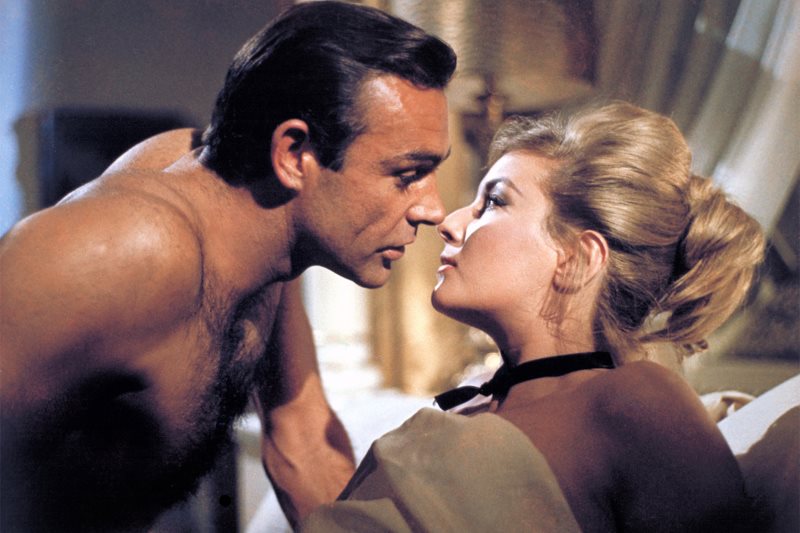 Sean Connery and Daniela Bianchi in a still from From Russia With Love.
According to Combs, these figures treat women as "a form of social conquest" and has "a great deal to do with the satisfaction of the male ego". And while society has clearly progressed over the last half century, the films' representations of women still seem to be stuck in the 60s.
Take the case of 2012's Skyfall, Daniel Craig's third outing as 007 and the most successful Bond film to date. When Séverine (Bérénice Lim Marlohe) - a former sex worker and now a captive of the villain Raoul Silva (Javier Bardem) - is in the shower, Bond enters naked and initiates sex though there have been no advances from her end.
Without any thought, Bond places his urge for sexual activity with the first woman in sight over the emotional state of a sexually abused trafficking victim who placed trust in him. While audiences might see this as seduction, it's in fact straight up exploitation, coercion, and abuse, all the more so considering Séverine is already undergoing trauma day in, day out.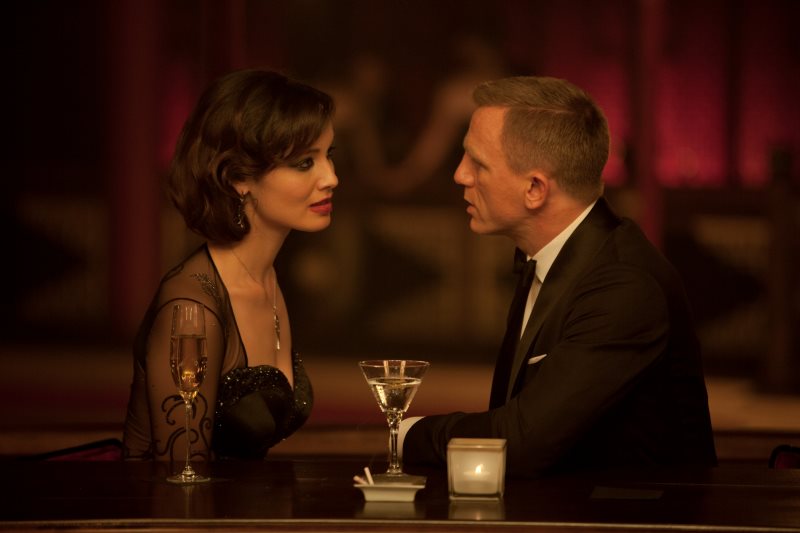 Bérénice Lim Marlohe and Daniel Craig in a still from Skyfall.
Taking stock
At a total gross of over $7 billion - roughly Rs. 47,529 crores - plus 26 films and counting, the James Bond franchise has survived the test of time. During this period, it's left a vast legacy and influenced countless others. The character's creator and author Ian Fleming himself contributed to one, bing the essence of Bond to television with The Man from U.N.C.L.E - that would then lead to last year's film of the same name.
Then there was Raiders of the Lost Ark in the 80s, which director Steven Spielberg called "a James Bond film without the hardware". The 90s would give us Austin Powers, possibly the best known parody of 007.
Christopher Nolan, a big fan of the series, used some of the elements in his Dark Knight trilogy as well - right from the nature of the relationship between Bruce Wayne and Lucius Fox, borrowed from that of James Bond and Q; to the Hong Kong scene in 2008's The Dark Knight that featured a sky hook-equipped plane - straight out of Thunderball.
And it's not just the industry. Be it his catch phrase ("Bond, James Bond") or the way he likes his Martinis ("shaken, not stirred), audiences have lapped up the lexicon making 007 a central figure in culture itself.
The Bond franchise has an established brand name, and hence it's no surprise that artists everywhere would love to be attached with the project. All of Idris Elba, Tom Hiddleston, and Damian Lewis have been linked to the role in various degrees. On the other end, growing calls for the character to be played by a woman has invited interest from the likes of Emilia Clarke and Gillian Anderson. It's not just the people in front of the screen, too. Danish director Susanne Bier said she would probably cut off her ear to land the job, in a recent interview.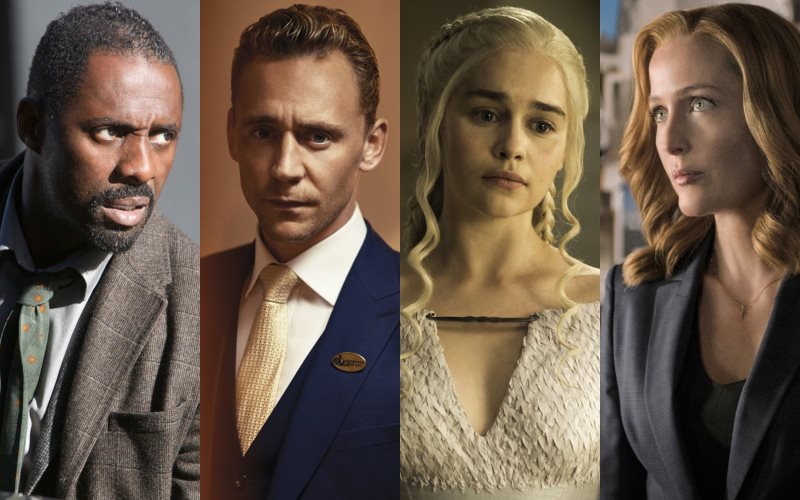 From L-R: Idris Elba, Tom Hiddleston, Emilia Clarke, and Gillian Anderson.
But these individuals don't need the Bond franchise to climb the industry ladder, but rather deserve their own franchises. Elba was fantastic as drug kingpin 'Stringer' Bell in one of all-time greats The Wire, and as the eponymous inspector in BBC series Luther. Reports of Hiddleston as the next 007 went up after his stand-out performance in the mini-series The Night Manager where he plays a British spy (ta-da!), and Lewis has had a storied career from WWII-series Band of Brothers to an army vet on Homeland. Clarke is currently in the role of a dragon-queen in fantasy epic Game of Thrones, Anderson spent years as a FBI agent in The X-Files, and Bier helmed The Night Manager.
As viewers, we shouldn't be admiring a misogynist character who defines an old-fashioned idea of masculinity that involves pursuing women for the sole reason of sexual conquest while avoiding any and all emotional attachment. There is no reason for Bond the character to exist if the franchise isn't interested in telling newer stories that don't treat women as an object of desire.
And it's not like Bond hasn't evolved earlier. The Bourne Identity - not a Bond film of course - arrived in theatres in June 2002 starring Matt Damon as the lead. Not only did The Bourne Identity have a focus on realism and authenticity, the film strayed away from objectifying its female characters. So when Die Another Day - Pierce Brosnan's last outing as Bond - was released months later, it seemed all wrong. Here was an NSA agent Jinx (Halle Berry) and an undercover MI6 operative Miranda Frost (Rosamund Pike), both sexualised for the male gaze. Apart from that, there was an invisible car in the mix, and the heavy use of CGI at the expense of storytelling didn't help.
Matt Damon and Julia Stiles in a still from The Bourne Supremacy.
Meanwhile, the Bourne series built on its success with 2004's The Bourne Supremacy, now helmed by Paul Greengrass who built on his experience working with docu-dramas. Greengrass brought in the "shaky cam" that changed how Hollywood audiences viewed action sequences, and the Bond franchise learnt from that. In Daniel Craig's debut as Bond in 2006, Casino Royale gave us a Bond film that was grounded, gritty, and more believable.
The franchise has continued to change since then - dealing with the prevalence of economic espionage and state-sponsored mass surveillance, albeit still placing the government agencies in the realm of being good. But in most other respects, Bond can come off as a Cold War relic. If the series can evolve in every other way, it can also update its antiquated attitude towards women. Because unless Bond can align itself with the shifting sands, the continued significance of the series might be an impossible mission, even for 007.