If you're a fan of English language television, then the new shows you're watching are mostly coming from America. The problem is that what's acceptable to a mainstream audience in the US is not necessarily the same in India, and over time, the distance between the two seems to have grown largely because our standards seem stuck in the 1950s.
Except even that's not true. While television in the US is being allowed to grow up and push the envelope - which has resulted in some of the best shows in recent memory, such as House of Cards, Breaking Bad, and Game of Thrones - the standards for what's acceptable on Indian television are actually regressing, which is probably the result of a decade and a half of saas-bahu serials. It might just be nostalgia, but it seems that late 80s-early 90s were the golden generation of television in India, and everything has been downhill since.
With Game of Thrones set to be simultaneously telecast around the world when the fifth season starts on April 12, HBO India's offices are probably very busily going over the first episode right now, to ensure that not a single frame has any offensive content. That should mean an episode that ends in just 22 minutes of the one hour slot, so maybe Indian viewers will see the climax of the episode before the rest of the world.
But why? Unlike films, television shows don't need to go through the censor board before being aired. If viewers are offended by the content, they can make a complaint, and the result of these complaints can be quite severe for channels. So, in 2011, the Indian Broadcasters Federation created a set of self-regulatory guidelines that all non-news channels would follow, so that they wouldn't draw run afoul of the government. Paranoid about their licenses, the channels decided to backtrack until every piece of content was as inoffensive as Spongebob Squarepants. Words like Hell, Jesus, sex and shit all are deemed offensive by one channel or the other, and while some will mute the word entirely, others just change it in subtitles. Just think about it for a second - no one asked TV channels to do all this, they definitely don't have to do this - they go through all the hoops in the odd chance that someone might be offended.
You can understand their paranoia though - in 2010 India suspended Fashion TV for 10 days for showing a clip of topless models, and just last year, some groups called for the ban of MTV's Splitsvilla.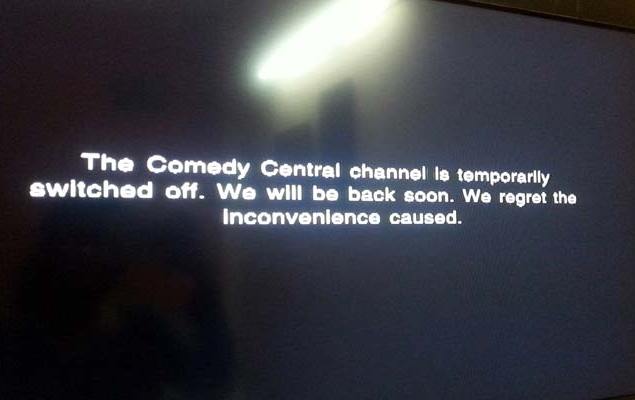 In 2014, Comedy Central was asked to go off air for six days after a viewer complained about two shows - Stand Up Club, and Popcorn - that aired on the channel in 2012. This short airing ban alone cost the channel around Rs. 60 lakh. For the channels, the stakes are too high to risk catching the government's eye.
The IBF guidelines are against showing nudity, and even the depiction of movements of sexual activity, unless the content is educational. This makes watching the early seasons of Game of Thrones on Indian television next to impossible.
The show that introduced the world to the term 'sexposition' makes use of its context in a fantasy mediaeval setting to have frequent sex scenes where much of the plot unfolds. Unfortunately, that means that following HBO's show in India requires frequent visits to the Internet to find out what actually happened in a scene. Of course, Game of Thrones is pushing the envelope of acceptability even in the West. But when a decade old show like the detective series Monk is censored because you can see some cleavage on a corpse, it's a little worrying.
On the other hand, internalised racism, misogyny and other things that are a part of Indian "culture" are of course allowed to stay, the concern was nasty Western notions, such as a character who might eat beef (frequently censored out, including in subtitles), or heavens, an ancient statue that has breasts.
Yes, this really happened. Two characters in Downton Abbey - aired on Star World - were having a conversation about traveling to Switzerland to cover up a pregnancy. In the background, there is a marble statue - a female nude. The statue is small, in the background, and bereft of detailing. But the channel decided to blur its chest and groin regions just to be safe, a move that did nothing but draw attention to the statue, and away from the rest of the scene.
There's another scene from the recent season of House of Cards that bears mention too, because a very short moment of censorship completely changes the meaning of the scene, and strips it of context. In the original scene, US President Frank Underwood is standing in a church alone, talking about his lack of faith. He spits at the statue of Jesus on the cross, and then reaches out to the statue with a handkerchief. This topples the statue forward, nearly hitting him, and shattering the statue in the process.
In the censored version of the scene, you see Underwood talking to the statue, and then you see it pitching violently forward. You don't see him spit, or touch the statue with his handkerchief. Instead of falling because of Underwood's actions, in the Indian version, it looks like an act of God, displeased with the President's lack of faith.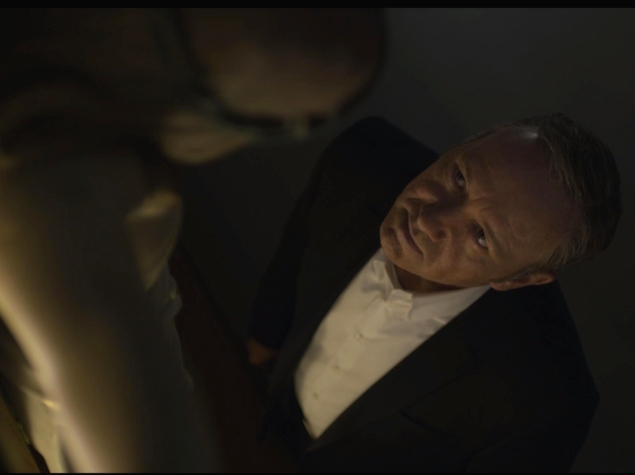 It's not just new shows that get this treatment, and that's what is more worrying. Television that was allowed to air 10, 15 years ago is now being chopped, blurred, muted and mangled. Shows like Friends and Seinfeld, which both aired in India with no real concern or outrage about their content, are now losing entire scenes that you might still remember if you watched the series on TV years ago.
There's a gag in Friends involving a pie that gets beef in it because the previous page of the cookbook was about a shepherd's pie. There's a woman who wears a bra as a top in Seinfeld. Guess what happens to both scenes when the episodes air today? Another scene from The Practice (a 90s courtroom drama) that censors the word Muslim. For what it's worth, Arab isn't censored, even though Muslim is.
Charlie's Angels (aired on Sony Pix) had a bizarre case of censorship where Cameron Diaz and Lucy Liu's characters are talking in the middle of a mission briefing. In the scene, both women are wearing cleavage baring outfits but for whatever reason, only Diaz's breasts are blurred out on screen while Liu went untouched. Maybe the channel thinks only Caucasian breasts can corrupt the Indian psyche?
These are just a few isolated examples. But as anyone with a television can see, the censorship is also happening very inconsistently. The work is carried out by the channels themselves, and as one channel executive who did not wish to be named explained the job of watching all the content being aired, and replacing objectionable material, comes down to a small team.
The first thing to do is cut objectionable scenes. If they're a part of the plot, then you blur out objectionable content within the frame. If the audio is not too offensive, then you can just change the subtitle, while at other times, you'll want to mute the word entirely. He wouldn't go into the specifics on how these judgements are made, but it's clearly not working too well.
Despite all this, as Game of Thrones fans, we've ponied up the extra 90 bucks for HBO, over all the various fees that we pay to Tata Sky. We'll be up first thing on Monday morning to watch the show along with the US audience watching on Sunday night. If we're getting a censored version though, then we promise to share spoilers for every scene we watch.