Marvel has given Hollywood the model for an ongoing mega-franchise that makes big bucks on the big screen with each iteration - 13 films in 8 years with over $10 billion in revenue. To achieve this kind of longevity, the producers and writers have had to maintain a status quo, especially across ensemble events such as the two Avengers movies, and this year's Captain America: Civil War. In essence, we're now dealing with a franchise that feels more like a television sitcom in some ways.
That's why Loki (Tom Hiddleston) cannot die in Thor: The Dark World, Ultron keeps sparring with the Avengers without consequences, and the events of so-called Civil War do not truly damage relations and friendship within the superhero group as they should have. By doing so, Marvel's biggest cinematic adventures have become more like chapters in a book headed towards Infinity and beyond. And so, to keep the machine chugging along, it has to keep throwing more characters into the mix.
Spider-Man (Tom Holland) and Black Panther (Chadwick Boseman) were introduced in Civil War and are on the path to get their standalone films. Before that, there will be Doctor Strange (Benedict Cumberbatch) this November, and Marvel also confirmed over the weekend that Brie Larson had been officially cast as Captain Marvel. But as easy as it is to be disappointed by the lack of risk Marvel takes, the four new properties do hold promise. Apart from bringing in freshness (and hopefully better storytelling), it has also brought in much needed diversity (Black Panther, Captain Marvel) even while the company is being criticised for just that in other places (Spider-Man, Doctor Strange).
A question of identity
Spider-Man: Homecoming director Jon Watts has said that his film will be a reflection of New York City high school experience. To some extent, that's reflecting in the casting choices too. But when it came to deciding on the identity of a third Spider-Man in less than fifteen years, Sony chose to stick with white guy Peter Parker, now being played by Tom Holland.
Doctor Strange has had to battle its own issues as well, with fans and celebrities too - including George Takei, of the original Star Trek - blasting the studio for casting Tilda Swinton (a white actress) to play the role of The Ancient One, a character that looks like the standard trope of wise Asian mystic.
But Marvel seems to be getting better at this now. Slated for a February 2018 release, Black Panther will be directed by Ryan Coogler, who announced himself with 2013's Fruitvale Station that won dozens of awards across the film festival circuit. After that, Coogler delivered a fascinating spin-off / sequel story in last year's Creed, following up on the life of the son of Rocky's rival, Apollo Creed.
And because of Coogler's presence, the as-yet announced cast of Black Panther - set in the fictional African nation of Wakanda - rightly involves people of colour, from Jordan himself, to Danai Gurira (The Walking Dead) and Lupita Nyong'o (Star Wars: The Force Awakens, 12 Years a Slave), in addition to Boseman. And to go with the diverse cast, Coogler is working with Joe Robert Cole on the script - who produced and wrote some episodes for FX's captivating courtroom drama The People vs OJ Simpson earlier this year. Things seem to be in good hands.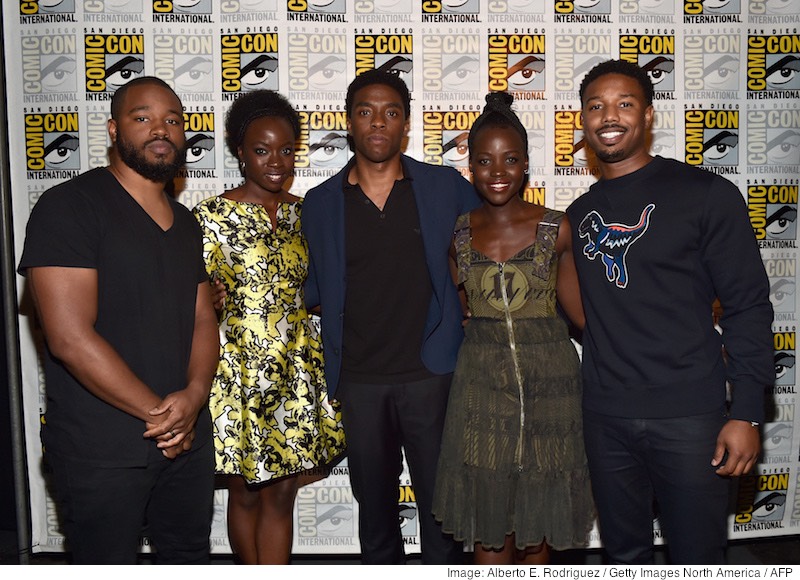 For Captain Marvel, while a director hasn't been confirmed, two female screenwriters have already been announced. Nicole Perlman - who also wrote Marvel's Guardians of the Galaxy - and Meg LeFauve - who penned the screenplay for Pixar's 2015 hit Inside Out - are working on the first female-led solo film in the Marvel Cinematic Universe. To add to that, we've got Brie Larson in the lead to portray Carol Danvers aka Captain Marvel.
Why Captain Marvel?
For those who are unaware, the character of Carol Danvers first appeared in a comic back in the 1960s as a love interest for then-male Captain Marvel. She returned in the late 70s with the alter ego of Ms. Marvel, with her prefix being symbolic of her support for the feminist movement. Danvers continued through the decades in that persona, descending into oblivion after an infamous storyline, and was subjugated to grade-B treatment for a long while. But she bounced back with the help of Brian Michael Bendis' work on the Avengers and Brian Reed bringing the Ms. Marvel series into the spotlight.
A big change came in July 2012, when writer Kelly Sue DeConnick took over Carol Danvers and gave her the identity of Captain Marvel. Danvers also got a new costume - a jumpsuit - that allowed the character to not be defined by her gender. Under DeConnick, Danvers flourished as Captain Marvel - and in turn, it helped generate a passionate fan base called the Carol Corps.
Marvel did have other options for a female superhero feature. The first of those, and possibly the most obvious, is Scarlett Johansson's Black Widow. She's already appeared in a number of MCU films and Johansson is one of the biggest stars in Hollywood, which is always a nice bonus. For what it's worth, Marvel president Kevin Feige has hinted that a standalone Black Widow feature is on the cards. Then there's Scarlet Witch (Elizabeth Olsen) who has now appeared in Age of Ultron and Civil War. But Marvel probably believes that a Scarlet Witch film wouldn't have the same draw. Plus, there's Peggy Carter, Jessica Jones, and Elektra in the MCU as well - though they all seem to be confined to TV productions.
Over and above that, the character is conveniently called Captain Marvel which ought to please the studio. And in Brie Larson, Marvel has found someone who is quickly rising through the ranks, especially with her Oscar-winning performance in 2015's acclaimed drama Room.
Before we are treated to Coogler's Black Panther and Larson's Captain Marvel though, the studio will release four other films as part of its film universe, while DC Comics comes with its own female-starrer in Gal Gadot's Wonder Woman next June, which showcased a promising trailer at Comic Con. It's all far from perfect - Disney and Warner Bros' superhero film rosters still lean heavily towards one sex and skin colour - but the realm of pop culture is more inclusive than ever.
Not everyone thinks this is a good thing - just look at the reaction to the trailer for the new Ghostbusters movie when it came out, and the response to the move itself.

But the fact is that movies aren't a zero sum game, and having more women, and more racially diverse stars in the limelight will not take away from the the heroes we already have. When you do include a diverse bunch of people in creating entertainment, you're opening up unnecessary borders and giving more audiences characters they now can relate with. If this in turn leads to a financial windfall for movie studios, it will cause a virtuous cycle that is as easily understood as "the more, the merrier". Now who here doesn't want that?