As announced by Google and Disney last week, the first of the multi-episode Star Wars virtual reality collaboration was released on Wednesday. Called Jakku Spy, the mini featurette has been developed by ILMxLAB - Industrial Light & Magic's new division - whose primary focus is on creating "interactive imagery".
The first of the series' experiences, which is going to link directly into the opening scenes of Episode VII: The Force Awakens, is everything we have come to expect from the franchise.
It doesn't hang around to kick in the nostalgia with the opening lines, instantly recognisable theme music and the famous text crawl. Even the Millennium Falcon makes an appearance.
The first bit is just over a minute in length and is set on the desert planet Jakku, which is the setting for Rey (Daisy Ridley) and Finn's (John Boyega) meeting in the film.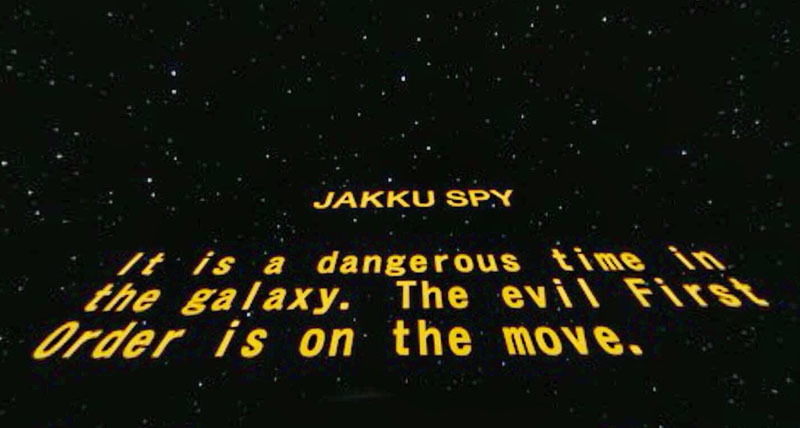 JJ Abrams was an advisor on the project throughout development, so it makes sense that the episode contains what his name has become synonymous with: lens flares. Also joining the party is a certain new droid in the shape of a football that is set to make its debut in The Force Awakens.
Rob Bredow, Lucasfilm's head of new media, hopes people will experience this new form of entertainment with the budget VR headset Google Cardboard, as you get to see it "in a completely new way", he told StarWars.com. A total of nine VR messages will be released in the run up to the film's worldwide release on December 25.
All of them can only be viewed via the official Star Wars app for iOS and Android, so you will need to download the app from Google Play or the App Store to get your VR Star Wars fix. You can enjoy the VR series without a headset if you like, by just moving your phone around.
But for the full experience of the desert planet, you should grab a Google Cardboard headset and strap while you're at it. As Disney said in its announcement, we've watched, read, and played Star Wars. "Now, we can step inside it."
According to the official site, Jakku Spy is the "first step into a larger (virtual reality) world for Lucasfilm and Star Wars". If you're interested in more hands-on action on Jakku though, there is new downloadable content for the Star Wars Battlefront game - appropriately titled The Battle of Jakku - that will be made available to everyone on Tuesday.