Electronics major Sony India plans to launch small screen Bravia brand TV sets with price starting from Rs. 15,000 to tap demand in small cities and towns across the country.
The company is expecting Tier 2 and Tier 3 cities to boost volume, while sales of high-end products in the big metro markets will push its revenue margins. It is also targeting 20 percent increase in revenue this fiscal.
"There is huge growth potential hidden in the smaller cities. For big metro, we are focusing on value strategy.
We are trying to sell high-end products in metros. We want to approach right customers with right products," Sony India Managing Director Kenichiro Hibi told PTI.
He added that the company would launch a new range of affordable and compact TV sets by the end of this year.
"We will launch affordable television sets for tier II and III cities this year and keep prices around Rs. 15,000," he said.
Sony Bravia Tuesday launched two new products in its high-end 4k technology series priced at Rs. 3.04 lakh and Rs. 4.04 lakh, targeting customers in the metros.
Bravia contributes 35 percent to Sony India sales, at present.
Sony India, which imports 100 percent of its products from Malaysia, is aiming to sell 13 lakh television sets in the current fiscal as against 11 lakh sold in previous financial year, an increase of 18 percent.
Sony India has also increased its marketing budget by 66 percent to Rs. 250 crore in 2013-14 from Rs. 150 crore a year ago.
Hibi said it expects Sony India's contribution to Sony's global revenue to go up in the coming future. At present, Sony India is the fourth largest for Sony globally, and contributes 10 percent to global sales. Its top three markets are the US, China and Japan.
"We are aiming to become third soon, which will not happen this year. But we will get to that position in the coming future. There is a slowdown, but India is still growing as compared to other countries," Hibi said.
The company will add 1,000 more sales channel counters this year to its distribution network of 6000 sales counters.
"We have to utilise the distributors to reach smaller towns. Our directions are to go more further and deeper to reach those tier 2 market as they have big potentials," he added.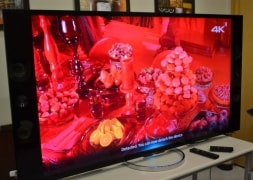 Sony's 65-inch 4K Ultra HD TV