While Samsung, Sony and LG have introduced various 4K and full-HD television sets (using display technologies like OLED and Quantum Dot, and based on platforms like Android TV, webOS, and Tizen) at the ongoing CES 2015 event, Sharp, Philips and Panasonic have also launched their 4K television sets in the market.
Panasonic has collaborated with Mozilla and has launched Firefox OS-based 4K TVs - the CX600, CX650, CX800 and CX850. The firm launched Firefox OS-based televisions last year also.
In the above mentioned Panasonic 4K TV models, users can run Firefox OS-compatible Web apps besides sending content from any device to the TV sets via the Firefox browser or a compatible app. As per the firm, users will also receive notifications from smart appliances when connected with the home network.
Panasonic's new Firefox OS-based TVs might prove to be a serious competitor LG's webOS TV sets and Samsung's Tizen OS-based television models, and even Sony's Android TV models. The price and availability details of the new Firefox OS-based television sets are not yet known.
Sharp has also announced its new range of 4K television sets at CES 2015, with most of them upgrades over previous versions. The Sharp 80-inch AQUOS Beyond 4K Ultra HD TV (seen above) features a unique Pixel Splitting technology that cuts each pixel in half vertically and also enables each pixel to produce colours - converting the television's 4K resolution to a near 8K (7,680x4,320 pixels) resolution. Sharp is also touting an improved LED backlight and a wider colour gamut in the model. The firm has not yet mentioned the price of the model but says it will arrive later this year.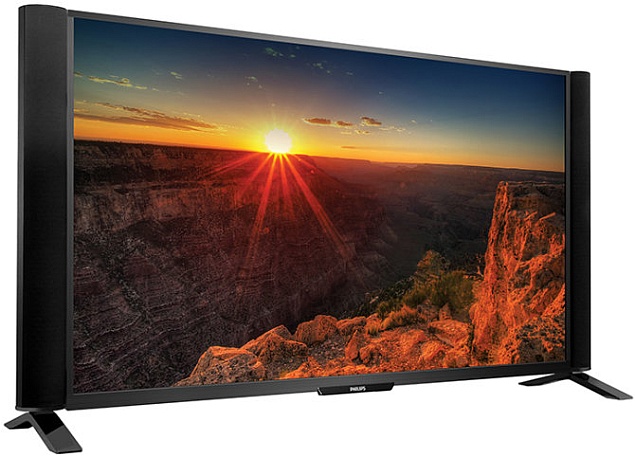 Users will have other options from Sharp if they want to go in for a 4K TV. Sharp has introduced its already available UB30 series of 4K TVs in new sizes - 43-inch and 65-inches along with a new upscaler. New versions of 60-inch to 80-inch UE30 TVs also feature Android TV, LED dimming and a 480Hz refresh rate. Furthermore, the new versions of 70-inch to 80-inch TVs in UH30 series now sport colour-enhancing backlight and a faster 960Hz refresh rate along with a touch remote. The prices of these three models start from $750 (roughly Rs. 47,500) for 43-inch UB30 TV up to $6,000 (roughly Rs. 3,80,000) for 80-inch UH30.
Lastly, Philips has launched its new range of 4K TVs at the ongoing CES 2015 event. The Philips Smart Laser Backlight Ultra HDTV models (seen above) - 58PFL8900 (58-inch) and 65PFL8900 (65-inch) - play with the colours of the television panel by adding cyan LEDs and a red laser in the backlighting source. The combination is said by Philips to deliver a more accurate range of colours.
The Philips Smart Laser Backlight Ultra HDTV models also incorporate full-range vertical speakers, which can be mounted on both sides of the TV or can be detached and placed away from the TV sets. Miracast feature along with number of apps including YouTube, Vudu, Netflix and other are also included. Both the TV models will be available starting May and will be priced at $3,000 (roughly Rs. 1,90,000) for the 58-inch model and $3,500 (roughly Rs. 2,21,000) for 65-inch model.