Apple, parallel to iPhone 6s, iPhone 6s Plus and iPad Pro launch, unveiled its latest Apple TV model, starting at $149. The company's Apple TV specifications page revealed that the set-top box features an A8 SoC and will be available in 32GB and 64GB storage variants. Furthermore, the home entertainment system supports full-HD resolution displays, Wi-Fi 802.11a/b/g/n/ac, 10/100Mbps Ethernet, USB Type-C port, and HDMI v1.4 connectivity. However, there was no mention of the amount of RAM inside the new Apple TV.
As per the developer documentation (via 9to5Mac), the new Apple TV comes with 2GB of RAM. The upgraded RAM is likely to boost the overall performance of Apple TV, resulting in faster opening of apps, navigating the interface, and better gaming performance.
(Also see: The New Apple TV Comes With Old, Familiar Gaming Experiences)

Also, the updated device misses out on Gigabit Ethernet, supporting nothing more than 100Mbps on the wired front, but includes Gigabit Wi-Fi 802.11ac. Apple TV this time misses out on optical audio port as the audio is now only sent over the HDMI cable along with the video. As always, the USB port on the set-top box is only for diagnostics during servicing.
Apple TV includes the new Siri Remote, which features motion controls via the gyroscope and accelerometer, and also includes a touchpad, apart from enabling voice-based search, playback, and navigation via two microphones for Siri. The remote also includes an IR transmitter, and Lightning connector for charging. Users can also utilise the iPod touch and iPhone as controllers, as well as MFi-certified Bluetooth game controllers. The Apple TV gaming page currently shows Steelseries controllers as one of the supported accessories.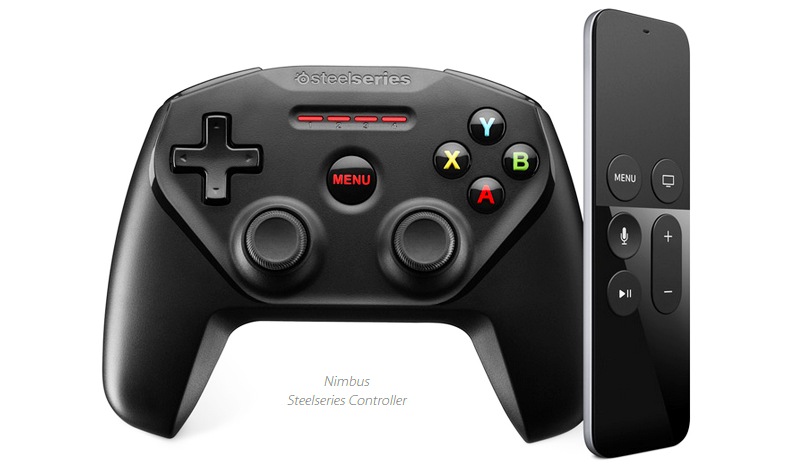 Developer Harmonix, best know for its Dance Central and Rock Band video-game franchises, also previewed Beat Sports for Apple TV at the Wednesday event. The game looked similar to Wii Sports, allowing users to swing the new motion sensitive Apple TV remote to hit the baseballs in the game. The title also comes with the support for up to four players, who can use compatible iPhone models and iPad Touch models as extra controllers.
The new Apple TV measures 98x98x35mm, weighs 425 grams. it is powered by tvOS, the iOS 9-based operating system that brings its own App Store.