LG Electronics on Tuesday has announced its first premium Curved OLED TV in partnership with Swarovski. The South Korean company will showcase the new television at the IFA 2014 consumer electronics fair in Berlin (from September 5 to 10), and roll it out to European customers in the fourth quarter of this year.
The LG Curved OLED TV features a 'streamlined stand studded with shimmering crystals' from Swarovski. The company says that it took approximately 460 luminescent Aurora Borealis crystals of three different sizes (SS8, 10 and 12) to create this stand.
The South Korean giant says the Swarovski crystal encrusted-Curved OLED TV is 4mm-thick and weighs 16kg. LG also says it has used its advanced pixel-dimming system and is touting Curved OLED TV to offer 'incredible realism of sharp, natural colours and infinite contrast ratio.'
"We are excited to showcase this one-of-a kind TV - our first collaboration with designers from Swarovski - to visitors at IFA," said Hyun-hwoi Ha, President and CEO of LG's Home Entertainment Company. "The epitome of luxury and refinement, Swarovski crystals and LG's premium OLED TV complement each other perfectly. The crystals help to create an aesthetic that is, quite simply, gorgeous, while our OLED technology ensures a level of picture quality that is every bit as stunning as one could imagine."
Meanwhile, Samsung on Tuesday announced the release of the Samsung Gear S Strap, in its existing 'Swarovski for Samsung' collection. The Samsung Gear S Strap is said to be made with a completely new Swarovski product, Crystal Fine Mesh, which is integrated directly into the Gear S Strap's metal mesh.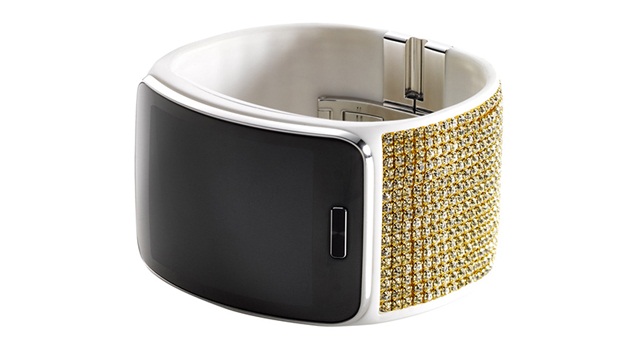 "One of the key aspects in wearable devices is providing diverse options for consumers to freely express their own taste and style," said Younghee Lee, Executive Vice President of Global Marketing, IT & Mobile Division at Samsung. "Our ongoing collaboration with Swarovski as demonstrated in the new Gear S Strap, allows us to stay ahead of trends and on the cutting-edge of design and style."
Previously, the company had released its 'Swarovski for Samsung' accessory collection for the Galaxy S5 (Review | Pictures) smartphone and Gear Fit fitness tracker, in May.
The collection included crystal-encrusted Galaxy S5 covers, as well as the Gear Fit 'Charm Sliders' that fit on the strap of fitness band and are available in a various styles, shapes and colours.