Chinese flat screen makers, once dismissed as second-class players in the global LCD market, are drawing envious looks from big names such as LG Display Co Ltd and Samsung.
While the Korean giants were busy developing next-generation organic light emitting diode (OLED) TVs, little-known Chinese companies have started selling a type of display that are sharper than the standard LCD and cheaper than OLED.
Say hello to ultra high-definition (UHD) displays.
Until last year, the UHD market had been almost non-existent, with just 33,000 sets sold in the 200 million-unit LCD TV market. Since then, shipments have soared around 20-fold, thanks to China, data from research firm IHS shows.
Chinese consumers who want brighter and sharper images but can't afford OLED screens made by LG and Samsung Display, a unit of Samsung Electronics Co Ltd, are turning to UHD.
The risk for OLED is that UHD may become mainstream and the long-awaited cheaper OLEDs arrive too late to displace it, analysts say.
OLED's long-term potential is huge: ultra-high resolution, screens thin enough that they could conceivably be curved or even rolled up, and so on.
But its slow introduction into the market and austere prices have thrown open a window of opportunity for UHD makers, in this case Chinese companies like BOE Technology Group Co Ltd and TCL Corp's LCD unit CSOT.
In China, 55-inch UHD models sell for around $1,800. By contrast, an OLED TV of similar dimensions sold by Samsung Electronics costs around $10,000.
"(I) have to admit that we hadn't fully appreciated the potential of the UHD market," LG Display's Chief Executive Han Sang-beom said recently.
"We assumed it'll be too early for this type of display to take off, and thus didn't think much of having diverse UHD product line-ups, especially in the low end. But I think we are not late just yet and we are working hard to lead the market here."
As Korean display makers work on their response to this growing menace, Chinese UHD makers are enjoying the fattest margins in the industry.
Even cross-strait rivals Innolux Corp and AU Optronics Corp have joined in the fray, drawn by promises of big profits.
In the second quarter ended June, Shenzhen-listed BOE Technology reported an 8.9 percent operating profit margin, while China Star Optoelectronics Technology (CSOT), a unit of China's biggest TV maker TCL Corp, posted a 9.6 percent margin.
By comparison, Japanese flat-screen pioneer Sharp Corp reported a razor-thin 0.5 percent margin. LG Display, the world's No.1 LCD maker, posted a 5.6 percent margin.
Samsung Display, a unit of Samsung Electronics, had a margin of 13 percent, the biggest in the industry. But excluding its fledging OLED business, its LCD margin is between 3 and 7 percent, according to a Bernstein forecast.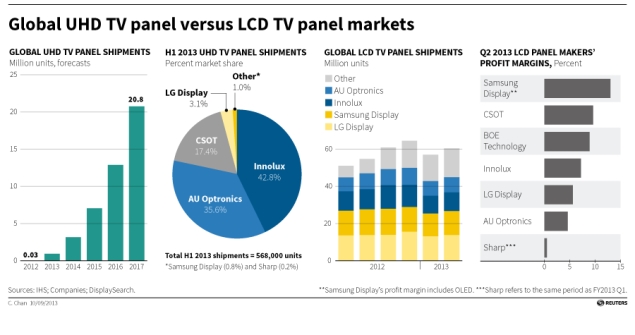 Deja vu?
Just as Korea overtook flat-screen pioneer Japan in the early 2000s, the surprise offensive by Chinese flat screen makers may be a taste of what's to come, analysts say.
Chinese UHD producers have steadily expanded their capacity. In terms of cost and technological know-how, UHD presents lower barriers to entry compared to OLED.
"The Chinese have done very well so far this year and their momentum is likely to continue at least for another year or so, as they have spotted the potential of this niche market well ahead of bigger rivals," said Nam Dae-jong, an analyst at Hana Daetoo Investment & Securities.
"They've got also strong captive customers - Chinese TV manufacturers and a booming China market. It will take quite a while for Samsung and LG, which made a strategic mistake by ignoring the potential of UHD, to overtake them," Nam said.
Jolted by the reality of a growing UHD market, Samsung Electronics unveiled a 110-inch UHD TV in January. Interestingly, the UHD displays were not made by Samsung Display, but were produced by Taiwan's AU Optronics.
"Even with some expansion of the Chinese panel suppliers we do expect Samsung and LG Display to stay dominant and continue production in LCD," said Sweta Dash, director at IHS.
While Samsung and LG Display are investing billions of dollars in OLED this year, the two giants are also broadening their product lineups to include more popular 50 to 60-inch UHD models.
BOE Technology is now planning to raise 46 billion yuan in the biggest Chinese equity offering this year, to build panel production lines and increase its stake in its LCD venture BOE Display Technology.
© Thomson Reuters 2013