LG, expanding its Ultra HD TV line-up, has announced a new premium line-up at the International Consumer Electronics Show (CES) in Las Vegas.
The South Korean electronics giant has revealed that the company will showcase the premium UB9800 series 4K Ultra HD TVs at CES 2014, consisting of 65-inch, 79-inch, 84-inch and 98-inch units. LG's new Ultra HD TV models feature 3840x2160 pixels resolution and equip Ultra IPS panels.
The latest LG UB9800 4K Ultra HD TV series equips a proprietary chip that the company claims enhances the Ultra HD resolution and also optimises the overall image quality. Further, the UB9800 4K Ultra HD TV series comes with an up-scaling function that LG claims to take the SD, HD and even full-HD content to near Ultra HD quality by rendering it in sharp.
The new UB9800 4K Ultra HD TVs come with the Tru-Ultra HD Engine Pro that supports a technique called 4K Motion Estimation Motion Compensation (MEMC), which the South Korean manufacturer claims makes the 4K Ultra HD content appear free of motion blur.
The new LG Ultra HD TVs also feature a built-in 4K HEVC 60p decoder. The 65-inch, 79-inch, 84-inch and 98-inch UB9800 4K Ultra HD TV series can decode broadcast signals in both H.264 and HEVC H.265 formats, in both 30p and 60p. Connectivity options include HDMI 2.0, USB and LAN ports. The new models also feature LG's Ultra HD Cinema 3D, that uses Film Patterned Retarder (FPR) technology to render 3D images with virtually no flicker or cross-talk.
Commenting on the announcement, In-kyu Lee, Senior Vice President and head of the TV Division at LG Electronics' Home Entertainment Company said, "Our newest Ultra HD TV offerings are going to turn a lot of heads at this year's CES. Image quality is simply outstanding, and consumers are recognizing LG as a trend setter in Ultra HD technology and a leader in moving the 4K medium forward."
In addition, the South Korean manufacturer also revealed new Curved Ultra HD TV (model 105UC9) featuring a 105-inch display with a 21:9 aspect ratio and 5120x2160 5K resolution. According to LG, the panel matches the cinematic aspect ratio that most movies are filmed in, thereby eliminating black bars commonly visible on conventional flat-panel TVs. It also features forward-facing 7.2 multi-channel sound system designed in collaboration with Harman Kardon.
Relevantly, LG had introduced its first 105-inch Curved Ultra HD TV in December, specifically, model 105UB9, alongside Samsung's unveiling of its own first 105-inch curved UHD TV.

Stay in touch with the latest from CES 2014, via our CES page.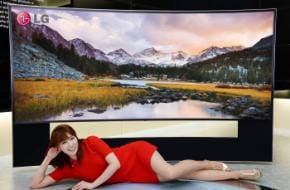 CES 2014 - World's biggest tech event in pics