Expanding its
smart home ecosystem
powered by the
HomeChat service
, LG has unveiled the Music Flow home-entertainment system, comprising Music Flow Speakers, Music Flow Sound Bar, Music Flow Network Bridge, and the Music Flow Player app that ties them together as a 'smart Hi-Fi audio eco-system'.
LG Music Flow Speaker models H7 (70W), H5 (40W) and the Network Bridge model R1 will be available in the UK starting this month and in other markets in Europe following IFA 2014 Berlin in early September. LG Music Flow Speaker model H3 (30W) and Sound Bar model HS6 (320W) will be rolled-out globally soon after. Pricing details have not been announced by
LG
as yet.
With the LG Music Flow Player app, users can centrally manage their entire digital music library (including on Internet-connected devices on the same Wi-Fi network), even if music is stored across multiple devices, and control all Music Flow units in the home. The app can also recommend songs and playlists, provide easy access to Internet radio stations and function as a smartphone music player when the user is on the go.
(
Also see:
LG Launches Smart Fridge, Oven and Washing Machine You Can Chat With
)
LG Music Flow incorporates LG HomeChat, enabling users to utilise the Line messaging app to communicate with LG Music Flow in natural English. LG is also touting the NFC tag function, supposedly a first in a wireless Hi-Fi audio system for the home, which brings one-touch pairing.
Other features of the LG Music Flow include Auto Music Play, with which users can listen to music outdoors on a smartphone and automatically switch to Music Flow when arriving home. LG says HomeChat integration also allows users to remotely ask LG Music Flow on the way home for song and playlist recommendations suitable for dinner guests arriving later that evening.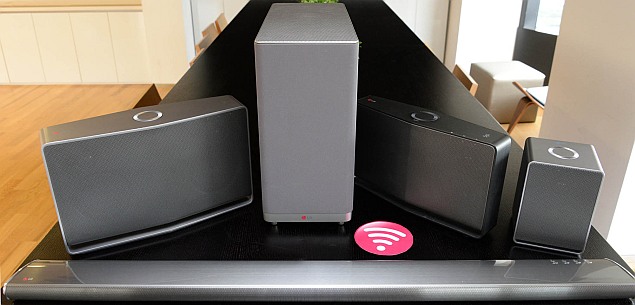 The LG Music Flow Player app also includes a Mood Station, which can provide recommendations or automatically create a playlist to create a certain ambience. The Audio Streaming Service on the Music Flow Player app also gives quick access to the user's Internet radio and music streaming accounts, such as Spotify, Deezer, Napster and TuneIn.
LG says the Music Flow smart Hi-Fi audio eco-system employs mesh network technology and dual band Wi-Fi to deliver "uninterrupted, crystal-clear HD music playback," contrasting it with competing systems "that rely on a single access point."
The South Korean giant says expand adding additional Music Flow speakers to the eco-system is easy, and users can then utilise Multi-room Mode to play the same song across all connected speakers, or a different song in each room. LG also recommends the L/R Stereo Mode for a listening experience, and Home Cinema Mode for a movie-viewing experience.
(Also see: CES 2014: Samsung and LG showcase their vision of 'smart' homes)
As for audio quality, LG says it is using proprietary Automatic Loudness Compensation Algorithm in to ensure audio strength and clarity across all frequencies. LG is also touting the 'advanced nano-fibre pulp and foam paper diaphragm' to enhance sound quality. Also being emphasised the HS6 Sound Bar model's Stereo Field Extension (SFX) Algorithm, which creates a "larger sweet spot and amplifies the surround sound effect."
LG also claims its Music Flow system is the first in its category to feature 24 bit/192kHz Hi-Fi playback across multiple inter-connectable devices.
"LG Music Flow takes the fast-growing concept of wireless multi-room audio systems to a new level with its smart convenience and superior sound quality," said Byung-hoon Min, senior vice president of the LG Home Entertainment Company audio-video division. "Our advanced system can create a personal soundtrack that not only follows the listener from room to room, but also when the user enters the home. LG engineers have set a whole new standard by introducing features and functions to the wireless audio system category that have never been available before on competing units."