LG Display Co Ltd reported a second consecutive quarterly profit, beating forecasts by far on a rebound in television sales during the year-end holiday season and solid sales of screens used in Apple Inc's iPad and iPhone.
But concerns about slower growth for Apple products have risen, particularly in the wake of disappointing earnings from the U.S. company on Wednesday, and analysts have forecast earnings for the South Korean screen maker to slide in the first quarter.
LG Display said it expected its LCD panel shipments to decline by around 15 percent in the first quarter from the previous quarter.
The company, which provides about 70 percent of Apple iPad screens and vies with Samsung Electronics Co Ltd's panel unit for the top position in liquid crystal display flat screens globally, reported 587 billion won in operating profit for the October-December quarter.
That beat an average prediction for a 441 billion won profit in a poll of eight analysts by Thomson Reuters and was up from an operating loss of 155 billion won for the same period a year earlier.
It also marks its highest quarterly profit since the second quarter of 2010 and a continuation of a turnaround that began in July-September after seven straight quarters of losses, mainly due to an industry oversupply of TV panels. Sales rose to 8.7 trillion won in the quarter, a quarterly record.
Apple sold 18 million more iPhones in the December quarter from the previous quarter, as it expanded iPhone 5 sales. The introducion of the iPad mini also boosted LG's panel shipments.
But hit by growing worries about demand for Apple products, LG Display's shares have lost about 17 percent since December after gaining 40 percent in the first 11 months of 2012. Prior to the results, they closed down 1.2 percent, underperforming a 0.8 percent decline in the broader market.
Apple's iPhone sales were, however, weaker than expected, fanning fears that its dominance of the mobile industry was slipping.
In forecasts made prior to Apple and LG Display's reuslts, analysts expect LG Display's first-quarter operating profit to tumble to around 123 billion won.
CLSA analyst Matt Evans estimated this week that LG's iPad panel shipments could tumble to as few as 2 million units in the first quarter, from the fourth-quarter's 12 million, partly due to increased inventory following weak sales in December.
Two industry sources told Reuters last week that rival Sharp Corp of Japan has nearly halted production of 9.7-inch screens for iPad, possibly as demand shifts to the iPad mini.
Sharp supplies around 17 percent of Apple's iPad screens while Samsung provides 12 percent, according to research firm DisplaySearch.
Apple's Chief Financial Officer Peter Oppenheimer said iPad sales are expected to fall in the first-quarter, as they normally do after the year-end holiday season.
© Thomson Reuters 2012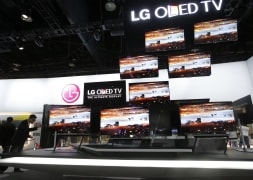 LG at CES 2013