LeEco on Tuesday launched its entertainment streaming and on demand services in India, ranging from music to sitcoms, and movies to sports. Called the LeEco Membership, it is said to bring "content, service, and experience" in a single package.
Detailing the content part of LeEco Membership, the company spoke of its Le Vidi app, which is available on its smartphones and is an open syndication platform that aggregates popular videos from across the Internet. The company has partnered with Eros Now, and with the distributor, aims to bring over 2,000 movies on demand, new blockbusters, and films across 10 languages. It will also offer exclusive Eros Now content.
We spent a few minutes with the Le Vidi app at the launch, and while for now the company is only pulling content from YouTube, it will offer a wider range of content by the app's launch later this month. For now, there is no option to choose video quality - something that the company may change in a later update, it said.
Talking about live channels on Le Live, LeEco announced users will have access to up to 9 live streamed channels simultaneously - as long as users have the bandwidth. The company has also partnered with Yupp TV, and will offer over 100 premium TV channels, apart from exclusive Yupp TV content.

Le Music is powered by Hungama Music, and offers over 3.5 million songs in 22 languages alongside full-HD music videos, and scheduled access to over 50 live concerts. The streaming service is ad-free, and offers 320Kbps audio. Users will be able to save content offline as well, while LeEco is also touting mood-based discovery for songs and videos.

The LeEco Drive mobile backup on the other hand gives users access to a whopping 5TB of cloud storage.
Priced at Rs. 490 a month, or Rs. 4,900 a year, the LeEco Membership is said to be worth Rs. 32,000 as per the company. It includes Le Vidi, Le Live, Le Music, and LeEco Drive. The services will be made available to the already launched Le 1s and Le Max smartphones via over-the-air updates.
While Le Vidi and Le Live will launch on May 24, Le Music and LeEco Drive will be made available in Q3 2016. While all users will have access to most of the apps that are part of the LeEco Membership, subscribers will get premium features over and above.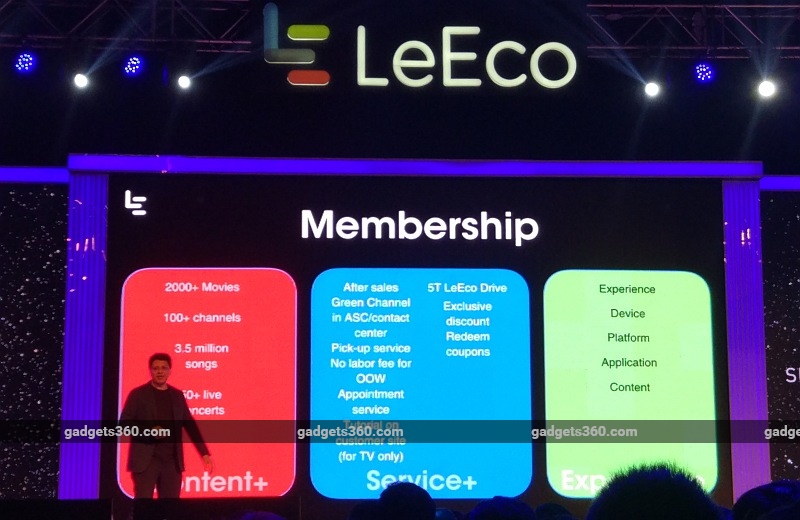 The LeEco Membership will also give users a pickup service for repairs, green channels at customer care, exclusive discounts, and redeemable coupons.

While for now the LeEco Membership is exclusive to LeEco phone users, the company said it will make it available to users of other smartphones in the future. It also announced that it will bring its smart TVs to India in the next two months.
LeEco also launched its own online store in India, LeMall.com. It is currently in its 'beta' phase. Currently only selling smartphone accessories, the company has also revealed it will sell its smartphones on its site soon - with 'notify me when [the smartphone] is available on LeMall' listed against the Le Max and Le 1s.