Google on Wednesday
revealed
its new Nexus line of products including the new
Nexus 6
smartphone and
Nexus 9
tablet running the brand new Android 5.0 Lollipop. The company also introduced the Nexus Player, a set-top streaming box.
Built by Asus in partnership with Google, the Nexus Player is Google's first Android TV device and is also accompanied by a gamepad controller that will be sold separately and has been engineered for fine-tuned control of Android games. Nexus Player comes with a voice-activated remote.
The search engine giant has confirmed that the Nexus Player will be available for pre-order starting October 17 without officially revealing the price of the product.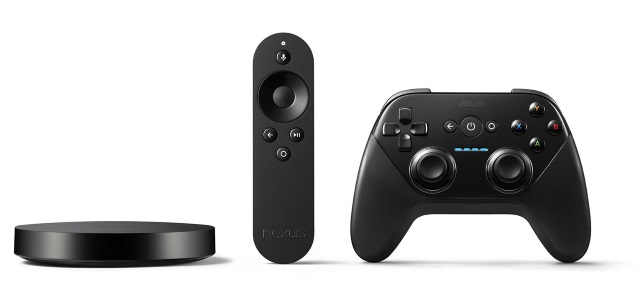 However, Re/Code reports that the new Nexus Player has been priced at $99 (roughly Rs. 6,000) while the gamepad controller will be available at $39 (roughly Rs. 2,400). A Bluetooth-controlled remote will also be bundled. The report also claims that the new set-top streaming box from Google will go on sale starting November 3, much like the Google Nexus 9.
Google touts the device is a "streaming media player for movies, music and videos." Notably, the Nexus Player is not the first Nexus device that's not a smartphone or tablet - that honour falls to Google's limited release Nexus Q "social-streaming device", introduced at Google I/O 2012 alongside the Nexus 7 and Android 4.1 Jelly Bean.
Sundar Pichai, SVP, Android, Chrome and Apps in a blog post said, "Nexus Player is Google Cast ready so you can cast your favorite entertainment from almost any Chromebook or Android or iOS phone or tablet to your TV."
With the Google Cast or Chromecast feature built-in, users will not need a separate Chromecast dongle. Google for the Nexus Player's content has tied up with many partners such as Netflix, Hulu, Pandora, Bloomberg TV, Food Network, Vevo, tune in, Travel Channel, TED, and Plex among others.
The Nexus Player is powered by a 64-bit 1.8GHz quad-core Intel Atom 'Silvermont' processor alongside the Imagination PowerVR Series 6 Graphics (2D/3D) Engine and 1GB of RAM. Intel says the chipset is capable of console-like graphics, and 1080p video streaming.
The Google Nexus Player includes 8GB of inbuilt storage and comes with HDMI and Micro-USB connectivity options. The device also supports Wi-Fi 802.11ac 2x2 (MIMO) and Bluetooth 4.1. It weighs 235 grams and comes with dimensions 120x120x20mm.
For those unaware, Google at its I/O 2014 keynote address had announced the refreshed Android TV operating system, which has been optimised for TV-watching. Notably, Google's first Google TV that was announced back in 2010 did not take off because of its complex user interface and limited devices.
The price point of the Google Nexus Player pegs it in direct opposition to the Amazon Fire TV (Review) , unveiled earlier this year as a media-streaming set-top box with gaming capabilities. The differing value propositions of content services and app/ game ecosystems will probably decide this battle, as well as customers wanting to stick with the ecosystem they've already invested in.