At CES 2016, JBL has announced the Everest Elite 100 wireless Bluetooth headphones that come with customisable active noise cancellation. It has also launched the JBL Clip 2 and JBL Charge 3 waterproof Bluetooth speakers, that have both been updated to offer longer playback time, and in partnership with Under Armour, the heart-rate sensing UA Headphones Wireless Heart Rate.
The JBL Everest Elite 100 are neckphones - they have a rigid loop that can slip under your collar, and the front is open - which is a very convenient design if you don't want to keep your Bluetooth headset in your ears all the time, but don't want to waste time sticking it into a pocket and then trying to dig it out when needed.
Active noise cancellation is not very common on wireless headsets, usually due to battery constraints, but the neckband design also means better battery life for such headsets and on its website, JBL is claiming a 6-hour battery life for the Everest Elite 100 between recharges.
The JBL Everest Elite 100 headphones, which were just announced at CES, will be available in black or white models will be available for $199 (approximately Rs. 13,000) by March 2016.
Active noise cancellation uses a mic to pick up ambient sounds, and then the headset plays an opposite frequency that is meant to cancel out the noise that you're hearing. These noise cancellation systems will usually take a little time to react to changes in the incoming audio, so sudden noises will come through, but any steady noise that is going on - like the background chatter in an office, or the aircraft noises on a flight - get cut out very effectively. In theory anyway, though some manufacturers do a much better job of this than others.
JBL's active noise cancelling takes this to the next level, as it comes with a companion app to let you filter out sound by frequency as well. The accompanying app allows you to tune out specific frequencies, or to allow in sounds from only particular frequencies. This way, for example, you could cut out annoying high pitched noises (so you won't hear a crying baby on your flight), while letting everything else in.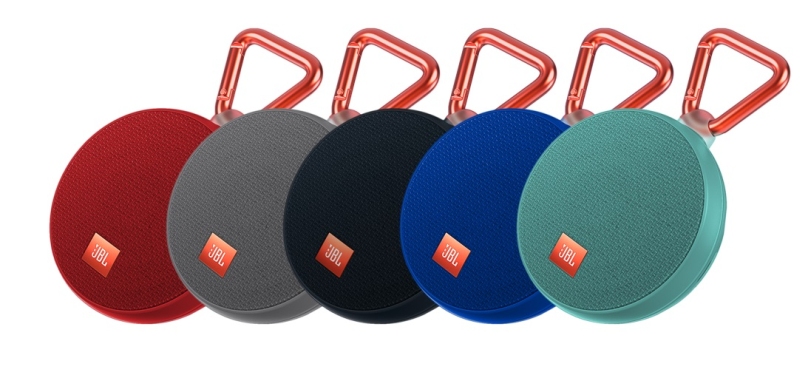 The new JBL Clip 2 (seen above) is a hockey-puck shaped speaker with a carabiner attached to allow you to fix it safely to your bike or backpack, and it's waterproofed and covered in a durable fabric casing, making it good for outdoor activities. You can pair two Clip 2s together as a dual speaker, and the Clip 2, which costs $59.95 (approximately Rs. 4,000) offers eight hours of playtime.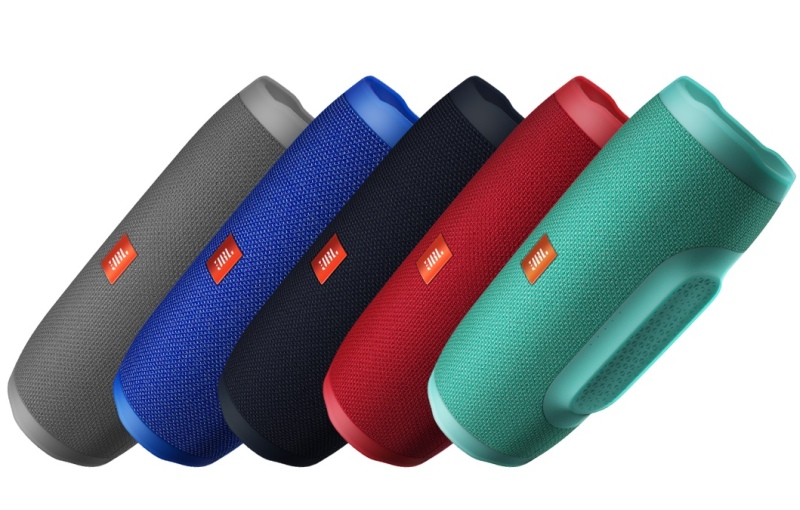 Meanwhile, the JBL Charge 3 (seen above) is the third generation battery pack/ speaker combination from JBL, and it's able to link to multiple JBL Connect enabled speakers, including JBL Xtreme, JBL Flip 3, and the JBL Pulse 2. It comes with a 6,000mAh powerbank, and if you use it only for playback, then JBL claims it will last for 15 hours. Like the Clip 2, the Charge 3, which costs $149.95 (approximately Rs. 10,000) is also waterproof.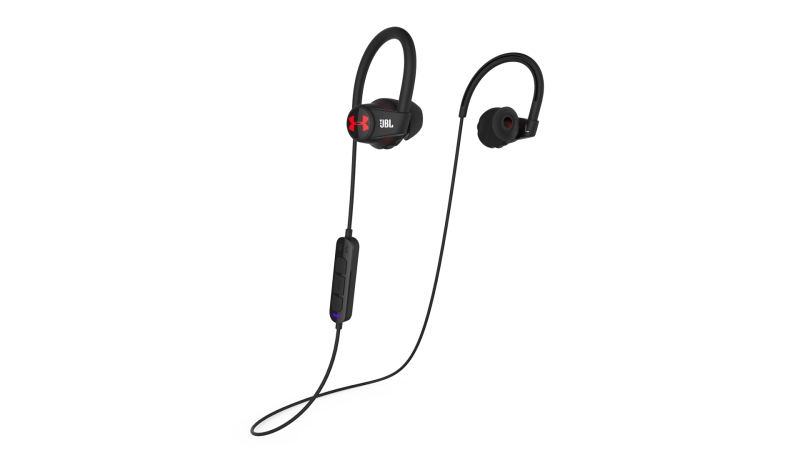 The UA Headphones Wireless Heart Rate (seen above), made in partnership with Under Armour, lives up to the name and is a pair of wireless headphones that are made for visits to the gym, with a design meant to keep them from falling out of your ears, a sweatproof IPX 5 rating, and a heart rate monitor that's built in. The headphones, which offer 5-hours of playback time, come with a 12-month MapMyFitness premium membership valued at $29.99 (approximately Rs. 2,000) and will cost you $250 (approximately Rs. 16,500). The company also released the UA Headphones Wireless, which has the same technology and bundled membership, but does not come with a heart rate monitor, and is available for $180 (approximately Rs. 12,000). All the headphones and speakers are expected be be available from March 2016.