The Korean consumer electronics maker, LG has unveiled its 55-inch OLED TV at CES 2013. This TV will be available in United States starting March and is price at a jaw dropping $11,999.
This is the same OLED TV for which the company starting taking pre-orders in South Korea a few days back and is promising a February delivery in that region.
LG 55-inch OLED is 4 millimetres thin and weighs less than 10 kilograms. The company claims that its produces vivid and realistic pictures thanks to its superior WRGB technology.
LG also showcased a 65-inch OLED model at the CES but did not reveal the pricing or availability date for that model. The company also indicated that there might be a third size, perhaps even larger than the existing models that it plans to launch a little later in the year.
"OLED TV will usher in a whole new era of home entertainment," said Jay Vandenbree , Senior Vice President, LG Electronics USA Inc. "With its lifelike colour, infinite contrast ratio and slim profile, LG OLED delivers an outstanding viewing experience; it's undoubtedly a premium product worthy of its premium price."
Havis Kwon, Global President of the LG Home Entertainment Company, said: "Not since colour TV was first introduced 60 years ago has there been a more transformational moment. When high definition TV was first introduced 15 years ago, the public's reaction was 'wow!' Now, when customers see our razor-thin OLED TV for the first time, they're left speechless. That's a clear indicator as any that OLED TV is much more than just an incremental improvement to current television technology."
Given that most companies have already started showing off their 4K TVs, $12,000 for a 55-inch OLED TV seems ambitious.
LG also announced that the company has chalked out plans to launch at least 47 new HDTVs this year. Furthermore, the company announced that it's only going to be using LEDs for its LCD HDTVs from now on rather than CCFLs. The south Korean company also plans to continue manufacturing Plasma TVs in 2013.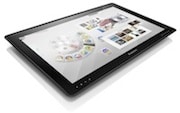 In pics: Best of CES 2013