Bose has long been one of the most well-known names in high-end audio, and some of the company's offerings certainly do justify this. Bose isn't an audiophile brand though - it's a consumer audio product, and that means that the company's offerings have to keep up with the latest in technology. And that's an area where Bose has perhaps been a little behind the curve - when we reviewed the Bose SoundTouch 30 last year, our editors were surprised that this Rs. 52,763 Wi-Fi speaker didn't let you connect via Bluetooth to stream your local content wirelessly.
Bose is making up for past sins by including Bluetooth in all of its new SoundTouch speakers. On Tuesday at a Gurgaon hotel, Bose showed off its third-generation SoundTouch products, including the new Bose SoundTouch 10 which it launched now, priced at Rs. 19,013. The refreshed SoundTouch 20 and SoundTouch 30 are both also available in India, at Rs. 33,638 and Rs. 57,263 respectively. Bose also refreshed its SoundTouch home theatre system and SoundTouch 130 soundbar, which are priced at Rs. 1,10,138 and Rs. 1,47,263 respectively.
The new SoundTouch 10 is the smallest of the SoundTouch speakers, and with a 8.3-inch height, 5.5-inch width, and 3.4-inch depth, it's actually much closer in size to Bose's portable SoundLink Bluetooth speakers.
The small speaker is nonetheless quite loud - we listened to it in a crowded dining room and it filled up the space quite well. If you're looking for a nice bedroom speaker, this one could well be what you need. That said, the audio output of the Bose speaker is middling at best, when you consider the price - we spent very little time listening to just part of one song, but the first impression was that the bass is limited, and the mids aren't as crisp as we've heard on a number of other similarly priced products. Hopefully the issue is just with the track played, and not the speaker itself. If you're considering buying the SoundTouch 10, make sure you listen to it first.
The big advantage of the SoundTouch 10, at first glance, appears to be its compact design and room filling sound. If you want to just listen to some music streamed from the Internet or from your phone, then the SoundTouch 10 sounds fine.
All the speakers in Bose's new SoundTouch line also include Wi-Fi - you can set the speaker up to connect with your home Wi-Fi network by either connecting it to a computer, or your phone or tablet using Bluetooth, and once it's set up, the speaker can stream music from your NAS, your iTunes library, or through Internet radio stations. Supported services include Spotify, Pandora, iHeartRadio, and Deezer, but these are yet to launch in India. You could, of course, play music using Gaana or Wynk on your phone, and stream that to your speaker via Bluetooth, but it's not nearly as convenient as saving your favourite Internet radio stations as presets, and then playing them by just pressing the channel button on top of the speaker.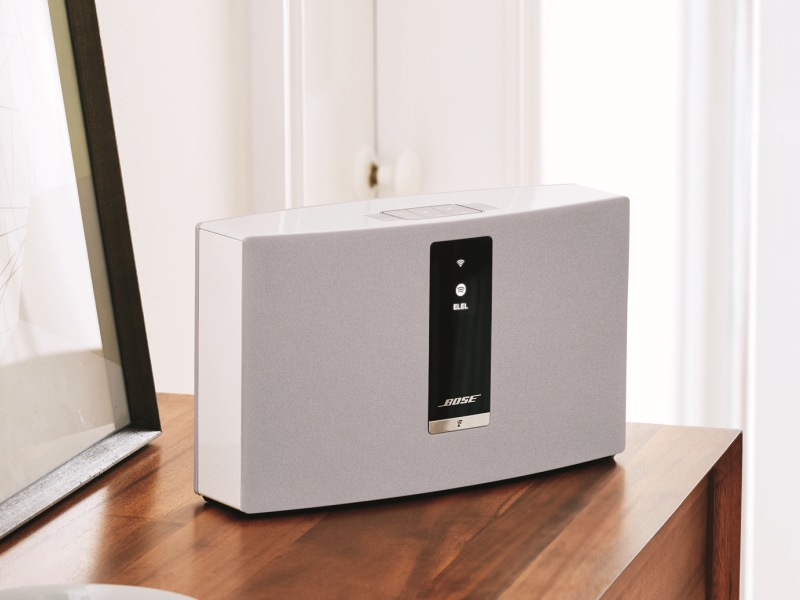 The SoundTouch home theatre sounded much better, with good depth, and pretty decent sound, though the price definitely a little higher than many will be comfortable with. The soundbar was promising, but although Bose talks about a phased guide radiator technology to help project the sound in a room, it seemed to lack depth compared to some similarly priced devices we've come across.
Aside from bringing Bluetooth support to the SoundTouch line, Bose has also introduced a feature it calls Bluetooth rebroadcasting. Essentially, you can play music from your phone or other device to one of the new SoundTouch speakers, and this speaker can then use your home Wi-Fi connection to play the same music any other SoundTouch speakers you have on the same Wi-Fi network. It's a neat feature, though from a technology perspective, Bose falls short when compared to newer players such as Sonos, whose speakers can deploy a mesh network and connect to each other even without a local Wi-Fi network.
That's the problem that Bose needs to address, and address quickly. It's built up a great reputation over the years as a high-end consumer audio product, but a slew of new companies are chipping away at this pedestal, and quite successfully too.