On Monday, Apple at its annual developers conference WWDC announced the much-anticipated Apple Music service, which will have its global launch on June 30, and will be free for the first three months. Aside from the paid Apple Music subscription, the company also announced the Beats 1 radio station, which will be free for all users signed in with an Apple ID. The service will work on your iPhone, iPad, iPod touch, Mac, and Windows PC, from June 30, and on Apple TV and Android phones "this fall", but Android users will only get to use the paid subscription, as the free Beats 1 radio station is only for people using Apple's hardware.

Starting on June 30, users around the world in 100 countries will be able to try out the Apple Music service without paying for the first three months, after which a $9.99 (approximately Rs. 640)/ month subscription fee will apply. To access Apple Music, you'll have to sign up initially, and the membership will automatically renew and your payment method will automatically be charged until you manually turn off the auto-renewal. The company is also offering a family pack for up to six users, for $14.99 (approximately Rs. 958), which requires iCloud Family Sharing to be enabled. Apple stated that local pricing will be announced closer to the launch, but Indian users of the iOS 9 beta have been able to confirm that the pricing here will be Rs. 120 for individuals, and Rs. 180 190 for a family pack. Beats 1, Apple's first live radio station, will be broadcasted live to over 100 countries.
The Apple Music and Beats 1 are accessible via iTunes on Mac and Windows, while separate apps will be available for Android and iOS devices. Notably, the Apple India site also mentions the three months free trial, clearly indicating a launch in the country.
Apple also launched Connect, a social network for musicians to share their latest songs with fans. Apple's music page however lists "Play and save Connect content" as a paid feature, so free users probably won't be able to listen to the music shared on Connect directly.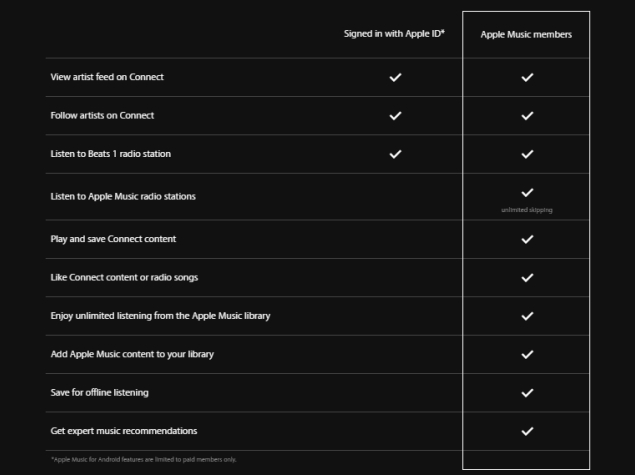 "Apple Music is really going to move the needle for fans and artists," said Jimmy Iovine. "Online music has become a complicated mess of apps, services and websites. Apple Music brings the best features together for an experience every music lover will appreciate."
Apple Music essentially makes the entire iTunes store available as a streaming service, with a catalogue of over 30 million songs. It is worth noting that the entire library won't be available immediately at launch, with some artists like The Beatles still not included. According to reports, deals for different artists and labels are still being worked out. Aside from this, there will also be curated playlists and a recommendation system to help you find new music to listen to. And aside from human curation, Siri can also find you music now; for example, you can now tell Siri to "Play me the best songs from 1994," "Play the best FKA twigs song," or ask, "What was the number one song in February 2011?"
Even if you don't want to pay, you can sign in with your Apple ID, and listen to Beats 1, which is free for everyone. The playlist on Beats 1 is set by three DJs, Zane Lowe in Los Angeles, Ebro Darden in New York, and Julie Adenuga in London. Apple Music will include other radio stations for different genres of music, but these will only be available to subscribers. Offline listening, unlimited skips, and unlimited music playback are some of the other benefits of getting a membership.
Apple has confirmed that the music will be streamed at 256kbps, the iTunes standard. In contrast, Beats Music, Spotify, Google Play Music and Tidal all stream at 320kbps. While there could be a slight difference in quality, it's not something most users should be able to detect, and will lead to less data consumption.
For streaming services like Spotify in the US, and even apps like Wynk and Gaana in India, Apple Music could represent a serious challenge. In terms of features, it might not actually offer too much that is new, but Apple's vast library, and the fact that the service will be available on all platforms and not just for iOS users, will help it grow, possibly at the cost of these other platforms.