Users in India can expect Apple Music to cost Rs. 120 per month - a family plan which covers six accounts is available for just Rs. 180 (Update: Rs. 190 confirmed as official) - after a 3 month free trial of the service. This was confirmed by users of the iOS 9 Beta, who got a look at the Apple Music application, with the Indian Rupee prices filled in. Although Apple had not confirmed whether India was one of the 100 countries included in the launch lineup for Apple Music on June 30, the fact that the iOS 9 beta version of Apple Music includes India prices shows that it is likely to be part of the initial launch.
At the Apple Music launch at WWDC, only the US price of the service was revealed at $9.99 (approximately Rs. 640), and the family plan of $14.99 (approximately Rs. 958) . In contrast, the India pricing is just about $2 for an individual connection, and $3 for a family plan.
For your subscription, you'll get to listen to music from iTunes (though there are still some exceptions), play music from Apple's music social network Connect, listen to the free Beats 1 radio station and all other Apple music stations, and have unlimited skips on any of these stations, along with unlimited music playback, and offline listening.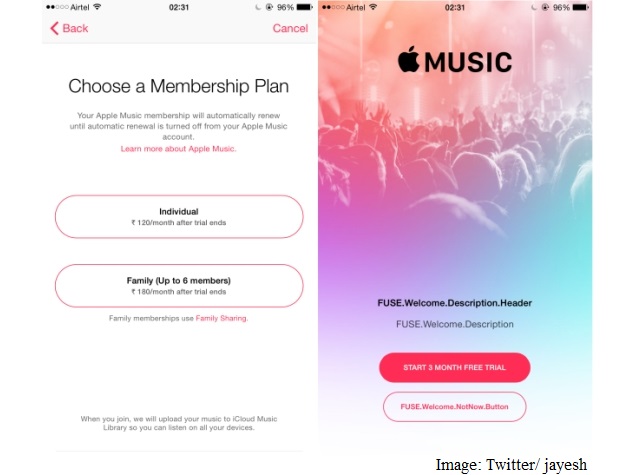 (Also see: Apple Music Will Be Available in India and Everything Else You Need to Know)
The screenshots above show how you log into Apple Music, though Twitter user @jayesh, whose screenshots these are, writes that Apple Music seems to be only a popup, and only shows his music from iTunes Match, for now.
The WWDC announcement had stated that the local price for other countries would be announced closer to launch, so the fact that local pricing has been set for India suggests that it will launch soon. Of course, with the wide disparity between US and India prices, there remains the possibility these are only placeholder prices, and may be revised ahead of launch. However, Apple does seem to be trying to match its competitors in India.
While Apple Music's biggest competition is Spotify, the service is not available in India. Another competitor, Rdio Music launched in India in January and also charges Rs. 120 (precisely Rs. 119) per month, and a Rs. 180 (precisely Rs. 178.50) family pack. There are also plenty of Indian services that offer similar features, though these tend to offer a greater variety of Indian music, and relatively fewer International tracks.
A Gaana+ subscription is Rs. 99 per month, and Rs. 199 per year, though the annual plan does not support offline listening. Wynk, by Airtel, is available at Rs. 99 per month on Android, and Rs. 120 on iOS; Airtel users can get Wynk for Rs. 29 and Rs. 60 respectively. Saavn is another popular streaming app in India, and Saavn Pro costs $3.99 per month in the US, and Rs. 220 per month in India. A Saavn Pro Lite subscription (available only in India) costs Rs. 110 per month, but limits your cache of offline music to 1GB.