When most people think of wrestlers, the image that comes to mind is of giant-sized men with permanent scowls on their faces, who can't talk without shouting. WWE superstar Daniel Bryan, who is in Delhi to announce that the WWE is going to hold a live event in Delhi in January, is about as far from this caricature of a wrestler as possible.
Bryan's a big guy of course, but dressed in button-down checks he could pass as just another foreign tourist in India, and he talks with a permanent smile and a cheerful voice. Aside from the WWE live event which is taking place on January 15 and 16 at the Indira Gandhi Indoor Stadium in New Delhi, Bryan also launched the new WWE game - WWE 2k16.
The game features top WWE stars, and is "eerily" accurate, according to Bryan. "I'm not a gamer, the only console I ever owned was actually a Nintendo, and I got that after the Super Nintendo came out," he says. "I only played one game on it, and since then I've not been playing games, so I guess I wasn't prepared for how lifelike things are now."
Interestingly, while the moves are lifelike and modelled after the real wrestlers, Bryan says that not much motion-capture was involved. "You know, I was watching the game, and the guy looks like me, and he kicks like me, it's crazy how realistic it is, but we didn't have to do motion capture for it," says Byran. "We had to sit in a special chair, and these scanners came down and circled around us, to make a model, which was kind of cool. It was like something from the Terminator," he says with a laugh.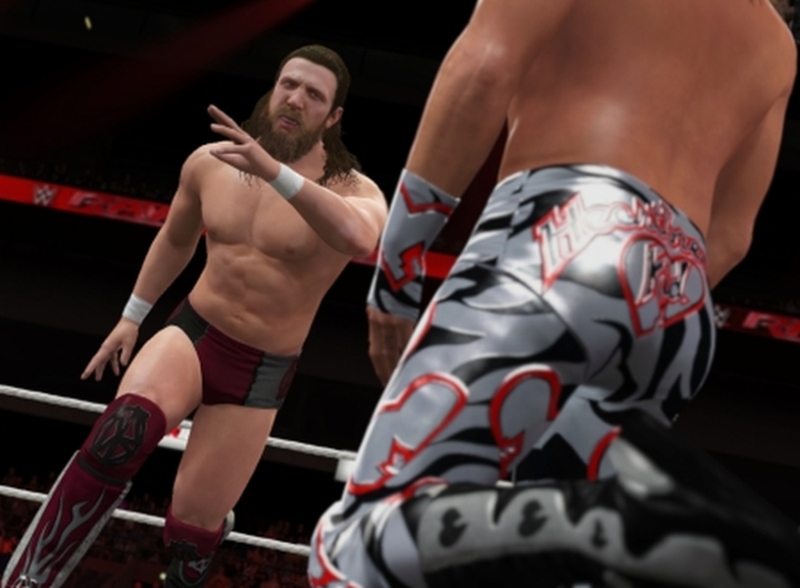 Funnily enough, the Terminator is one of the characters you can play as in WWE 2k16 - it's an extra download not included in the main game, but Arnold, along with the other characters in the game, look good and handle really well. The camera angles are tight, and early impressions of the game make it appear slightly faster paced than the previous edition, but we'll have a more detailed picture up soon in our review.
(Also see: From Federation to Entertainment, WWE's Journey is Mirrored in Wrestling Games)
Bryan himself has mixed feelings. "It's amazing, to see how things look and move so realistically, but it can be disorienting for me," he says. "You know, when the game launched, we were sitting on this upper level watching all these guys on their terminals playing, and it was really cool, but it was also like, here's all these guys who look just like me and it's weird."
"It's like being a creepy puppet," Byran adds with a laugh.
One of the big names in the new generation of wrestlers, Bryan is still less recognisable in India than people like The Rock [Dwayne Johnson] or Batista [Dave Bautista], who are building big Hollywood careers, or even Stone Cold [Steve Austin], whose likeness is on the cover of the new game. But at TGIP mall in Delhi, Bryan is mobbed by fans, and later, at the hotel we're meeting, kids whisper his name in awe.
Bryan himself seems very excited to be in India, and talks enthusiastically about Indian wrestling. "I'm not here to do any scouting, but William Regal, he's been here and we did sign some people recently. And you know, there's this tradition of wrestling in India, so if we get people from here, they bring a whole new way of thinking about the moves, what would work," he says. "When he [Regal] heard I was coming here, he sent me this picture and it's really cool -", at this point, Bryan breaks off from the conversation to pull out his phone, and shows us the picture. "And it's a picture of him wrestling with the nephew of Dara Singh, when he visited in '92." You can see the picture in a tweet by Regal below:
Bryan - who is currently benched due to injuries - says he hopes he will be fit enough to take part in the live event in India and subsequently, in Wrestlemania. "The audience is really enthusiastic, the time we spent in the mall was so great, and to do this in front of 20,000 fans who are really excited about the fight, will be great," he says. The first round of pre-booking for tickets to the show fully sold out in hours, with tickets ranging from Rs. 2,499 to Rs. 9,999. The next round of bookings will open on BookMyShow on November 10.
Fans in India seem to be less concerned about the artifice of wrestling, he says. "You know how in art, there's this term, postmodernism, and it's basically, art for entertainment? I think we've become a little like that," says Bryan. "I mean, everyone starts to knowingly say, 'it's fake, it's fake,' and then the word 'entertainment' comes into our name, and I think that the audience doesn't react the same way - you see something amazing, and you go, 'yeah, that's just a part of the script'."
"But of course it's also real, it's really difficult and you can get badly injured. That's why we've got to keep telling people, 'don't try this at home,' because it is entertainment, but it's also real," says Bryan. "It's difficult, and it's painful."