First announced in August last year, Yamaha's YSP 5600 soundbar, which the company calls a sound projector, is the first soundbar to incorporate Dobly's Atmos technology. This means that the soundbar - a single unit with no additional speakers - can simulate sound coming not just from all sides of the listener, but also from above your head, using something that the company calls a line array of speakers.
This is possible using over 32 distinct drivers inside the soundbar - which the company calls a sound projector - that are used to bounce the sound from the walls around you in order to reach you from the sides. An additional 12 drivers are positioned six to a side in a vertical array that is used to bounce audio off the ceiling, effectively sounding like additional speakers above your head.
"You have a 90 degree arc with the vertical drivers, from the speaker level to the ceiling," explains Keegan Paes, a Product Specialist for Yamaha Music India, "and with the horizontal beam drivers, there is a 180-degree arc for surround sound. It uses a technology called 'beam steering' that uses the array to accurately position the sound, which the military uses for radar."
The interesting thing about this is that the size and shape of the room does not really impact the experience of listening to the soundbar. According to Paes, the Yamaha YSP 5600 can fill up a room as big as 600 square. He adds that the shape of the room does not matter, as this is accounted for by the soundbar during setup.
(Also see: Dolby Atmos at Home Preview - A Glimpse Into the Future)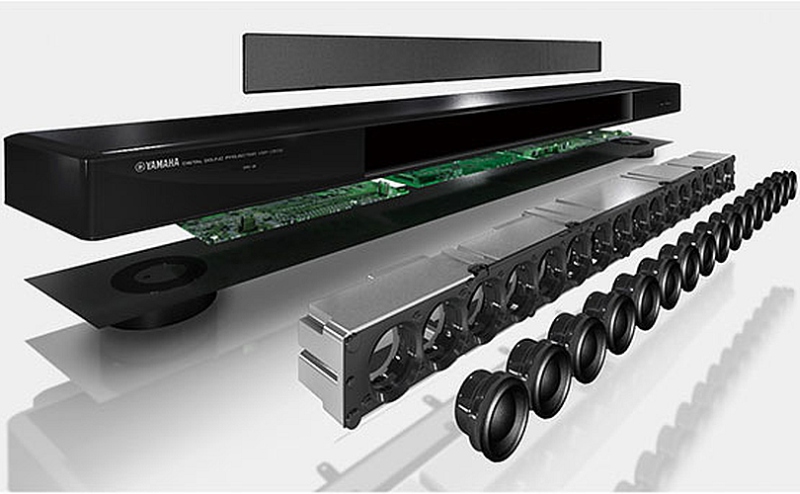 "The soundbar comes with a DSP [Digital Sound Processor] that is used to position the beam drivers. When you first set it up, you set a microphone on the sweet spot you're going to listen from, and it plays test tones to optimise the sound for your room," he explains. "The process is fully automatic, and you can save up to three sweet spots in the memory of the soundbar, so that it directs the sound to you depending on where you are sitting in the room."
This also enables another interesting feature - Target mode - this focuses the beam directly towards the sweet spot instead of bouncing it off walls. This means that you can listen to your music or TV show without disturbing other people in the house.
It's an interesting function though - since audio isn't being carried by lasers but as spreading waves - it's probably a lot more thoughtful to just put on some wireless headphones when you don't want to disturb someone.
There's another interesting feature on the YSP 5600 that also takes advantage of the driver array to "shift" audio though. "Typically, you're going to put the speaker under your television, and this means that while the action is happening on the screen, the dialogues are coming from below the screen," explains Paes. "It's not ideal, specially if you're watching home theatre on a big screen. So we have a dialogue shift button, that allows you to 'raise' the vertical position that the dialogues sounds are coming from."
The soundbar, which is priced at Rs. 1,50,000, is the flagship of the "sound projector range from Yamaha," explains Rehan Siddiqui, Business Head, Sales and Marketing, Yamaha Music India. "There are cheaper models, starting from around Rs. 50,000, but these do no have the Atmos technology. But I think that the whole range is going to be very popular, as people are now less inclined to buying multi-speaker systems."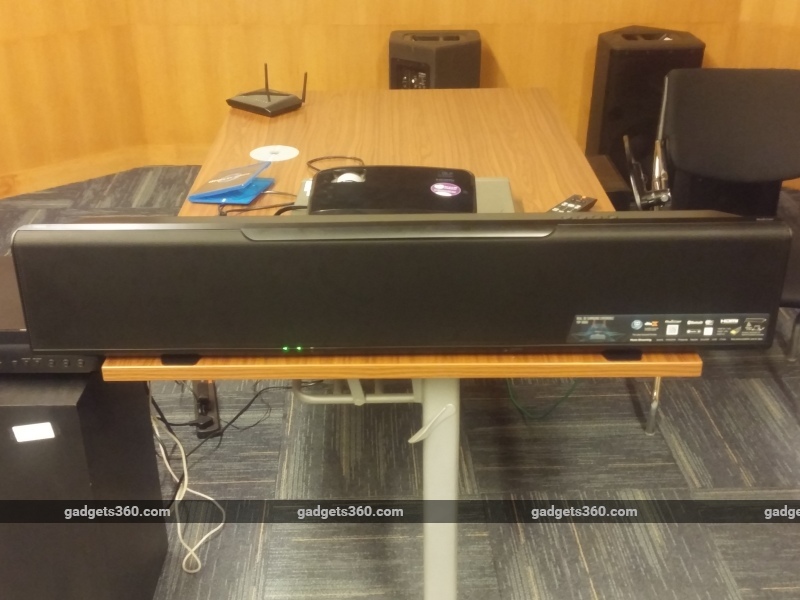 "Today, a lot of people have high paying corporate jobs, and they can afford high quality audio products," he adds. "But the problem is that they also have to shift every couple of years. With a full speaker setup, bundling everything away and shipping it is a big challenge, but with a soundbar, you just roll it in bubble wrap, and that's it."
(Also see: Making Bollywood Movies With Dolby Atmos)
That, coupled with the ease of setting up soundbars ("you just need two nails and you're done," says Siddiqui) when compared to traditional 5.1 or 7.1 speaker setups, and the increasing quality of soundbars, has made this a very in-demand new category, explains Siddiqui.
And of course, if you want a little extra bang for your buck from the speakers, then you can also connect a standalone subwoofer to the YSP 5600, either through a line-out or wirelessly. But Paes says that this is not really necessary, as the two sub-woofers built in to the soundbar should be able to please most people.
We'd largely agree with this - we spent nearly an hour listening to the soundbar (in very controlled conditions, and with demo clips only, so this isn't an authoritative review, just a quick impression) and came away pretty peased with how it sounds.
We listened to some familiar Atmos demos and although the effect wasn't comparable to the experience of listening to these same demos in an Atmos capable cinema hall, it felt pretty impressive. Objects flying overhead really felt like they were above us, and this was never clearer than when we watched a demo of Star Wars Battlefront.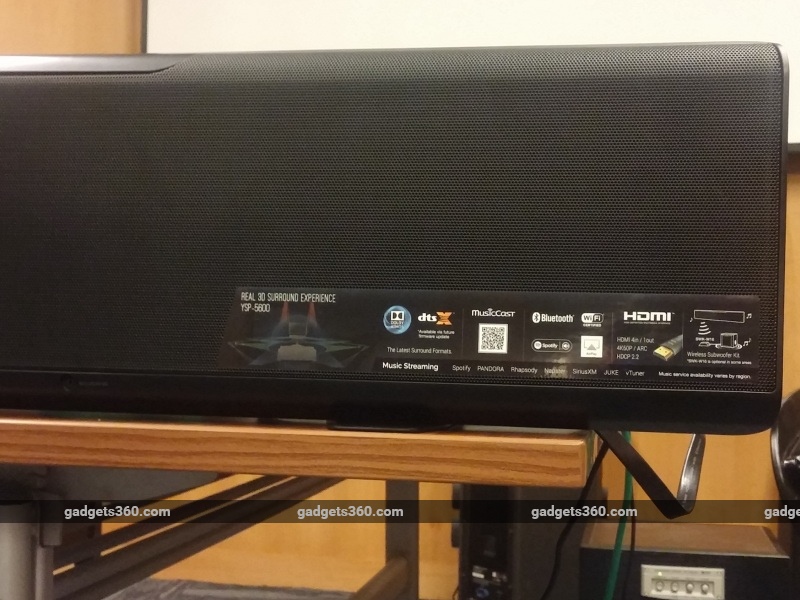 The demo clip from Mad Max filled the room and the sound clearly moves around, but the positioning did not feel as precise as watching the same movie in the cinema. We would have to spend more time with the soundbar to provide a detailed picture, but suffice it to say for now that the YSP 5600 is an impressive piece of hardware.
The speaker also supports all typical hardware inputs, including four HDMI-in ports and one HDMI-out, so it can act as a passthrough to control your home entertainment system. It also supports playback over Bluetooth, Wi-Fi, and Airplay, along with Yamaha's own Musicast platform.
Dolby's Atmos technology was first launched three years ago, and arrived in India around two years ago. In May 2014, Dolby Atmos first made it to Delhi with an overhaul of Delite cinema. A year and a half ago, it made it to the home via a Home Theatre in a Box system; and now it's available in a single soundbar. "The pace at which Atmos has been ramping up is amazing," says Ashim Mathur, Head of Marketing at Dolby Laboratories, India. "Compare that to surround sound, and it started some 25 years ago, and took 10 years just to get to the home market," he adds.
Dolby's Atmos is now present in 150 screens across India, and has been used in around 150 movies made here, but although its growth in cinemas is irrefutable, Atmos is still available in a very limited manner for home users.
There's a list of under 40 Blu-ray titles that support Atmos, though Mathur says more are coming soon, and he adds that the list does not include films from India, such as Mary Kom, ABCD 2, and Baahubali. Taking these titles into mind, the list is closer to 60 titles now. "We're getting titles and content aligned, and there's going to be more content that will support this soon," says Mathur, who also tells us that Atmos is now supported in the PC version of EA's Star War's Battlefront, which he demonstrated.
Whether that's compelling enough to invest Rs. 1,50,000 is hard to say, but more content is certainly going to keep coming so if you're looking at buying a new, high-end soundbar right now, you should at least consider this one.