The latest episode of Game of Thrones, 'The Viper and the Mountain', features a sequence that can only be described as one of the most exciting fights in the books. Tyrion keeps trying his luck with trial by combat, but the more one gets to see of Westeros, the easier it is to understand why. The whole place is a chaotic, brutal mess and what's the worst that could happen, really?
In fact, that makes it sound like a great setting for a massively multiplayer online videogame, right? That's what at least one Imgur user, GameofStones, seemed to think as well, and brought the big heroes (and villains) of Westeros into the world of Hearthstone, a card game based on Blizzard's Warcraft franchise.
In Hearthstone, you play as a hero with 30 health points, and you draw cards of minions and spells, whom you can use to attack the enemy heroes and minions with, or defend yourself and your troops. And GameofStones has made a 31 card deck with the likes of Tyrion Lannister, Khal Drogo, Jon Snow, Ghost, Varys, Olenna Tyrell and other characters from the cast.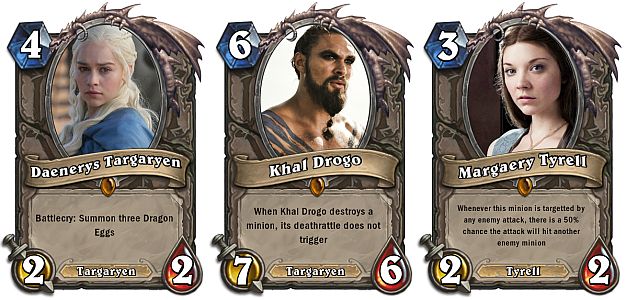 The deck feels a little overpowered in normal matchups, though in a ranked match between people who know what they're doing, this actually feels like a well-balanced deck, with a good mix of powers and weaknesses.
Some characters like Bran, whom you can play for just two mana, do seem a little unbalanced, because while he has zero attack, he can control one random enemy minion each turn. Olenna Tyrell isn't too powerful, at just two attack and defence - but her battlecry takes away three attack from all enemy minions!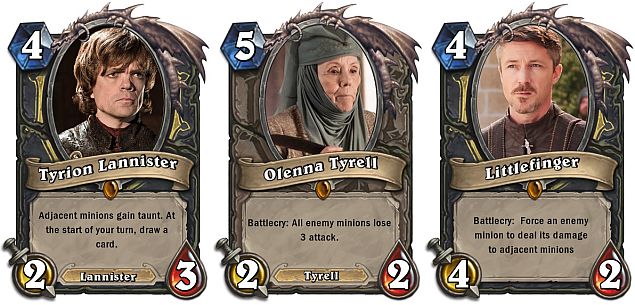 Overall though, this actually looks like a pretty well balanced deck, while still keeping the powers and attacks in line with the story we've been watching, which is pretty impressive really. It's of course not something that's ever going to actually happen, but if Blizzard ever does decide to integrate with a third party for extra cards - we hope this is the one they go with!
To see our older Game of Thrones stories, click here.