Sherlock is returning to TV sets in India for a special episode, which aired in the UK on New Year's Day, and is set to have its Indian premiere on AXN at 9PM on January 9. If you haven't already watched the episode, and are planning on watching it on Saturday, then here's everything you need to be up to date with the show. Last we saw Sherlock, he was whisked away on a flying metal tube for a total of four minutes. For this one-off 90-minute-long chapter though, everything will be much more grounded, literally.
And that's because creators Steven Moffat and Mark Gatiss are taking the detective and his gang back to the Victorian era, precisely 1895. Holmes and Watson met in 2010 - in the pilot episode - with Sherlock studying post-mortem bruising and we catch them in The Abominable Bride in quite the same setting.
The premise is as follows: on her anniversary, a bride by the name of Emilia Ricoletti causes a rather public scene before killing herself. She then rises from the dead the following evening and proceeds to put her husband in the ground. The news spreads like wildfire, resulting in mass hysteria but for Sherlock, the game is afoot.
It's safe to say they won't have the Internet, and all the messaging you see in the episode will take place via telegrams. If you've been on the prowl for a spoiler-free introduction to the latest episode, here's what we do know before the episode rolls around on Saturday.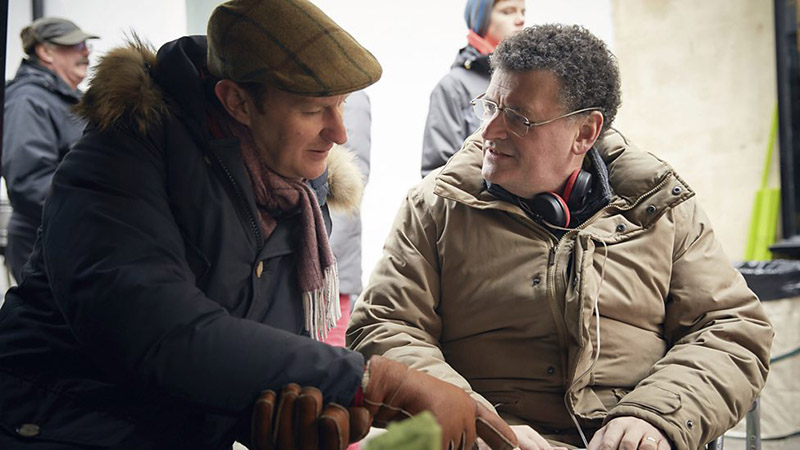 Mark Gatiss and Steven Moffat on the sets of 'Sherlock: The Abominable Bride'
A different setting, but the same dynamic
The writers didn't wish to create a new old Sherlock, but rather transport their version to Victorian times. Moffat said in an interview to the BBC: "Part of the impulse came from me and Mark [Gatiss] saying, wouldn't it be a shame if we never got to see them do it in the authentic setting, in the actual way."
You'll see the change in how the characters talk and behave. "The way that we're doing it is with a touch more formality, but you don't want to completely change those characters that people have come to know and love," said Freeman.
Brought Sherlock Holmes forward, now jumping back in time
Co-creator Gatiss said bringing Sherlock into the 21st-century was what excited them at the show's beginning in 2010. Seeing how Sherlock's investigations and Dr. Watson's stories of them would work in a world with search assistants and microblogging, but not lose the cloud of mystery that hangs over Conan Doyle's work was the challenge.
Moffat and Gatiss - who also plays Sherlock's elder brother Mycroft - managed it with aplomb and made us feel the eccentric genius was right at home in today's world.
(Also see: 'I Am Basically Drawn to Anything Vaguely Odd': Sherlock and Game of Thrones Star Mark Gatiss)
"But obviously, to do it with gas lamps and top hats and hansom cabs, as a full-on sort of Gothic treat is completely irresistible," he added.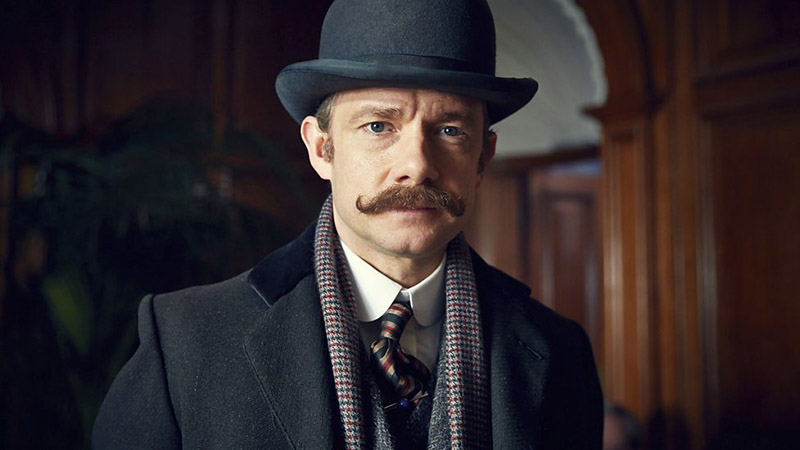 Martin Freeman as John Watson in a promotional still from 'Sherlock: The Abominable Bride'
Don't listen to the 'time travel' fan theories
Ever since news surfaced of a one-off special episode set in the Victorian Era, the online community has tried its best to connect the dots, chief among those Doctor Who-style time travel theories, since Moffat has been involved with the sci-fi show for a decade now. This was despite insistence from the writers that The Abominable Bride was a 19th-century sandbox in itself.
"We wouldn't have done the story we're doing, and the way we're doing it, if we didn't have this special. It's not part of the run of three episodes," Gatiss said in an interview last year.
Initially though, even Cumberbatch thought the creators had gone crazy. "I thought it was madness. I thought they'd finally lost the plot, jumped the shark, all the other clichés of television gone mad with itself. Then they expanded the idea and pitched it to me properly and I think it's fantastic. Absolutely brilliant," he said.
Simply put, enjoy Sherlock wearing a deerstalker and John sporting a moustache. That being said...
Benedict Cumberbatch as Sherlock Holmes in a still from 'Sherlock: The Abominable Bride'
It's a one-off special but there's lots for fans to enjoy
BBC's Sherlock has given us three seasons of three episodes each, not counting the mini-episode that aired before the third season. In that period, we have been witness to wonderfully acted - largely down to the chemistry between Cumberbatch and Freeman - and some of the best written episodes - courtesy of the showrunners - based off Sir Arthur Conan Doyle's detective stories in recent memory.
Moffat and Gatiss are setting the clock back on their own modern rendition two centuries, but you can expect to see a lot of the same that gave the show its appeal and popularity. That includes wry exchanges and fast-paced humour (more of the same), plus self-aware commentary and an even higher level of disdain displayed by Sherlock for everyone (new to this episode).
There's a reasoning to the latter - which shall become clear once you see Saturday's episode - although it's debatable how it contributes to the show.
The new Sherlock Christmas will be broadcast in India on AXN this Saturday, 9 January 2016. If you want more Sherlock, you'll need to wait until January 2017 for an entire new season of three full episodes.