If you've been following the world of comic books, then this has been a busy week. Riverdale fans can finally say good-bye to Archie Andrews, and in the television adaptation of Hellblazer (you might remember the character from the strange Keanu Reeve movie titled Constantine), his bisexuality and chain smoking is going to be played down or hidden away.
There are some big changes in the Marvel canon as well - for one thing, as revealed by Entertainment Weekly Ultron is made by Tony Stark and not Hank Pym (Ant-Man, whose movie is still supposed to release in 2015). Marvel also announced that in the comics, Thor is going to be a woman now.
It's a little confusing, in that this isn't a retcon; the old Thor still exists, but he is no longer deemed worthy of Mjolnir, and now a woman will wield the magic hammer. The new character will have the same powers and even the same name, so it's not like Batwoman or another female version of the male character. Series writer Jason Aaron emphasises in Marvel's press release, "This is not She-Thor. This is not Lady Thor. This is not Thorita. This is THOR. This is the THOR of the Marvel Universe. But it's unlike any Thor we've ever seen before." The release also states that this isn't a temporary female substitute, but the one and only Thor.
That's not all though - Marvel also made an announcement that Steve Rogers, Captain America, is passing his shield on to Sam Wilson (the Falcon), who will become the new Captain America. In a recent comic, Captain America was drained of the super soldier serum when fighting with super-villain the Iron Nail - Rogers gets depowered, and ages into an old man.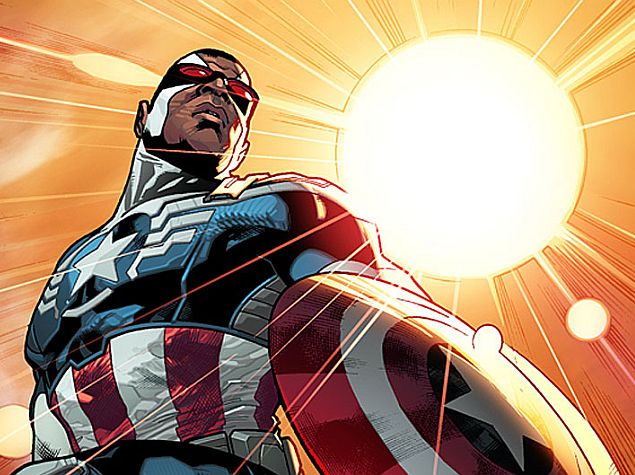 He's rescued by his friend and ally the Falcon, who had a fairly prominent role in this year's Captain America: The Winter Soldier. And the Falcon will take over the mantle of Captain America now.
Created in 1969, the Falcon was Marvel's first African-American superhero, so this move has the unintended consequence of taking away a well-established character, but it remains to be seen how exactly Marvel will handle this.
This isn't the first time that another character is filling in the shoes of either of the two heroes - Captain America's role was most famously filled by the Winter Soldier, Bucky Barnes, and a lot of heroes, including Captain America, have wielded Mjolnir in the past. Hell, there was even a time when Thor was embroiled in a battle between the frogs and the rats of Central Park, after he was transformed into a frog by Loki.
These two changes are unlikely to affect the Marvel movies - comic continuity is a lot more flexible, and the movie studio has multi-picture contracts with all the stars, so even if changes do happen, it's going to take some time.
What's amazing though, is how tempered the responses to these changes has been. Sure, if you go on Twitter, you're going to see a lot of upset comic book fans who hate the announcements. But on the Internet, expecting universal support for everything new is just stupid.
Compared to some other changes in comic books in recent times though, the negative reaction has been muted.
Just three years ago, in 2011, when the first Thor movie was made, there was a huge backlash against making Heimdall, a minor character, black. Some even proposed a boycott due to this change. That same year, in the Ultimate Comics: Spider-Man series, Marvel gave us Miles Morales, a black teenager who took up the mantle of Spider-Man from Peter Parker. Morales is a black-hispanic teenager, and when the character was announced, it was decried as a publicity stunt, and again, a huge gush of negative reactions online.
Then there's Kamala Khan, an American teenager of Pakistani descent living in New Jersey, who first showed up in 2013, and started headlining Ms. Marvel earlier this year. This move was again met with a lot of public outrage amongst 'fans' who once again trot out the tired statement that "if you want to introduce a politically correct character, why not create a new character instead of ruining an existing character?"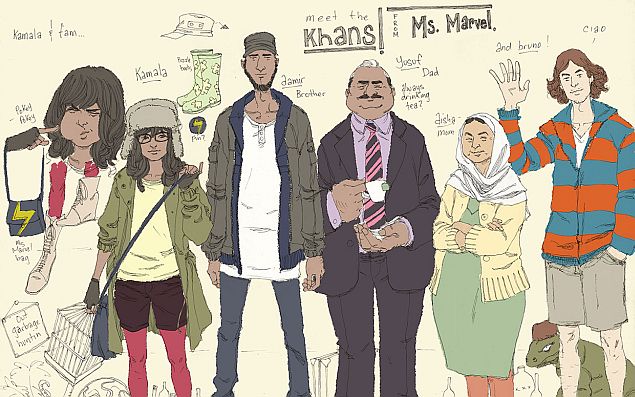 With each successive change, the outcry has been a little less, and today people seem to be more open to the idea of superheroes who don't fit into the stereotypical American mould. There are some very difficult ideas of representation which are frankly, beyond our scope to discuss. However, it's an encouraging thing that the number of people complaining about Captain America and Thor seems a little less than before.
That could be because of how well each of these earlier changes actually worked out. Idris Elba was cheesily perfect as Heimdall, and it would've been hard to complain after seeing his performance. Miles Morales' Spider-Man was not just Peter Parker with a different race, but a fresh character who was interesting in his own right. Like a lot of Marvel's heroes, he's a teenager grappling with the powers and responsibilities he's gained, and he brings a different take on a familiar archetype. And as for Kamala Khan? Ms. Marvel has been a delight, with beautiful art, and a sense of humour that's infectious.
If any of these changes was implemented badly (a risk that's still in place), then it's likely that the backlash would come pouring in. So far though, Marvel has been doing a good job, and hopefully it'll continue to do so. We hope one day will come that the changes aren't anything to raise an eyebrow over. Meanwhile, we hope for an announcement on Iron Man next!