It's been a Pokemon sort of week. The game has gripped young and old - thanks to the characters' cuteness or sheer nostalgia respectively - and has dominated social media so much that even people and publications that never discuss apps or animated Japanese inventions have been pulled into the sea. Its slow global rollout has led to fakes, caused a number of incidents while getting people out of their homes, given a boost to its investors, crashed servers, made people make superfluous claims about the future of AR and gaming itself. It even highlighted our podcast Orbital this week, and we even spoke to ecstatic Pokefans in India who aren't perturbed by the many issues the game has.
Beyond that, with the much-hated-before-release reboot of Ghostbusters getting an international release, producer and former CEO of Sony Pictures Amy Pascal said the franchise will be "endless". "People are going to love this movie so much that's they're going to demand more and more," she added. Early reviews suggest otherwise, though the audiences have yet to have their say. The film will release in the country on July 29.
There's some more movie news too - despite dying in a shockingly violent scene inside a church, Colin Firth's character in The Kingsman will be back in the sequel, it's been confirmed via an Instagram post by new cast member Pedro Pascal (Game of Thrones).
Thursday brought the Emmy nominations for this year, and the awards themselves will be held in September. HBO's fantasy saga Game of Thrones leads for a third year running with 23 nominations, with The People vs OJ Simpson: American Crime Story a close second with 22. The second season of Fargo, which was part of our best TV shows of 2015 list, came third with 18 followed by the latest season of Julia Louis-Dreyfus-led comedy Veep with 17. Netflix political drama House of Cards, BBC spy mini-series The Night Manager and HBO's tech comedy Silicon Valley finished with double-digit nominations as well. All of those seven shows have been recommended by us here on The Weekend Chill.
Which brings us to this week's list. Welcome back and here are your top picks for this weekend:
TV:
Mr. Robot
Elliot Alderson (Rami Malek) is a security expert by day serving the interests of giant E Corp, and a vigilante hacker by night who rats out child prosecutors and the like. But he's also psychologically unstable, an opiate addict and socially aloof. So when a mysterious man by the name of Mr. Robot (Christian Slater) appears in his life with a plan - to bring down E Corp and wipe out everyone's debt aka a clean slate - a disillusioned Eliott participates with just a bit of hesitation.
The show - created by Sam Esmail - proved to be an unlikely hit with critics and audiences when it began last summer. It grabbed a couple of Golden Globes and a few Critics' Choice Awards - for best drama show, best supporting actor for Slater and best lead for Malek - and has been nominated in some of the same categories at the upcoming Emmys. The second season, which began this week, has of course a lot more riding on it considering the acclaim garnered by its opening act.
Check out our spoiler-free review of the second season before you take the plunge.
How to access: Colors Infinity, Sunday 10am or 7pm
Time commitment: 2 hours
Stranger Things
For filmmakers who grew up in the last quarter of the 20th century, 80s horror-thrillers, high school drama and the charm of small town America were a big influence. Stepping into the confluence of that is Netflix's latest original series: Stranger Things.
Starring Winona Ryder, Matthew Modine, David Harbour, and a bunch of unknown but remarkable child performers, the show takes place in 1983 Indiana where a town is suddenly full of - excuse the pun - strange things. There's an unseen monster force kidnapping people and playing with the lights, and one strange girl on the run from "bad people".
Created by the Duffer brothers (Wayward Pines), Stranger Things rides on audiences' nostalgia and manages to craft a gripping narrative that slowly takes its hold on you. And since it's a Netflix show, all eight episodes of the first season are available Friday.
If you're unsure whether to commit or not, go check out our review.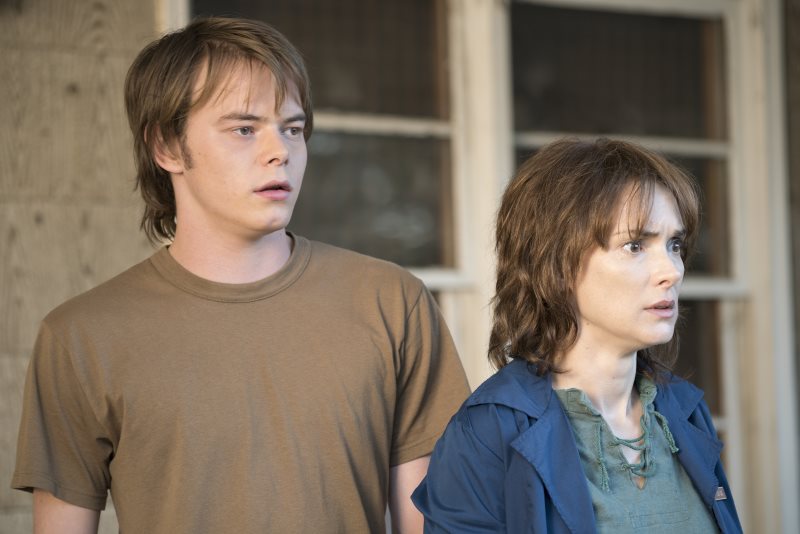 How to access: Netflix
Time commitment: 6 hours and 40 minutes
Music:
Centres by Ian William Craig
Edmonton, Canada-born and now Vancouver-based singer and composer Ian William Craig has made a habit of using retro stuff such as cassette players and reel-to-reel machines to give his music a unique texture. That continues on his ninth full-length release in Centres, which opens with sweeping grand 10-minute long track Contain (Astoria Version). Starting on a soft bed of distant vocals and light synth work, it builds and builds until reaching a crescendo towards the end.
The 13-track 72-minute long album is full of such glorious melodies, be it light accordion turning to heavy distortion on The Nearness, the darkness of A Circle Without Having To Curve, and throbs on Power Colour Spirit Animal.
How to access: Apple Music/iTunes or Spotify
Time commitment: 1 hour and 12 minutes
Other musical mentions
If you're looking for something less avant-garde and experimental than Centres, there were a couple of other good releases as well last Friday. Australian electronic outfit The Avalanches released their second album in 16 years - Wildflower - which started production back in 2005. That's probably the definition of long time coming.
You should also give British pop artist Shura's new album - Nothing's Real - a look. It's her debut release, it's got an 80s feel to it and the singer doesn't fear looking inside herself.
Apps:
Super Stickman Golf 3
Saskatchewan, Canada-based indie game company Noodlecake Studios has found success with its wacky 2D golf mobile romp that has you bouncing off and avoiding objects with a tiny golf ball. Its latest effort - Super Stickman Golf 3 - was in the works for more than a year before seeing a release last week.
One of the biggest changes in how you move the golf ball is by the introduction of the post-strike spin element that we felt had the potential to make the game a bit easier, or less dependent on luck, depending on how you see it. If you're a fraction off on calculating the right power, you can correct that by applying spin after you've already hit the ball.
If you've played the earlier entry in the franchise, levels in SSG3 can feel a bit borrowed from it. Add to that similar power-ups and course specifics and you've got an entry that's more evolutionary than revolutionary. But when it delivers hours of endless fun as this does, there isn't much room for complaint. Plus, you've got turn-based and real-time multiplayer across platforms.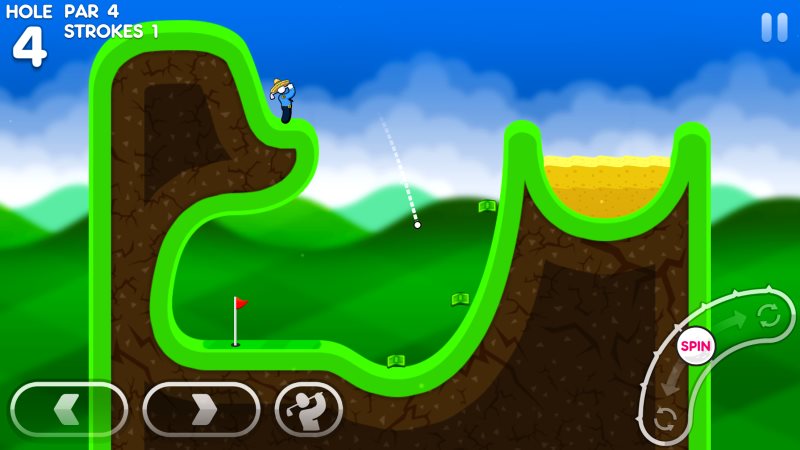 How to access: Google Play Store or Apple App Store
Time commitment: As much as you want, really
Out There Chronicles
Based on the studio's earlier game Out There, Out There Chronicles is an interactive graphic novel devoid of the action that gripped its predecessor. It's also not a sequel, instead taking place millions of years before the original. Here's the description from developer Mi-Clos Studio:
"After a slumber of a million years, you wake up on America, a planet colonized by humans who fled the planet Earth. In your quest to find your people, you'll set off on a galactic adventure where you'll meet a host of colourful characters and visit unimaginable locations."The game also lets you master the language of the aliens, develop relationships with various characters and choose from a complex dialogue structure that will unearth history of the Out There universe. It's been written by FibreTigre, author of the original game, and illustrated by French artist Benjamin Carré who is well known for his sci-fi work.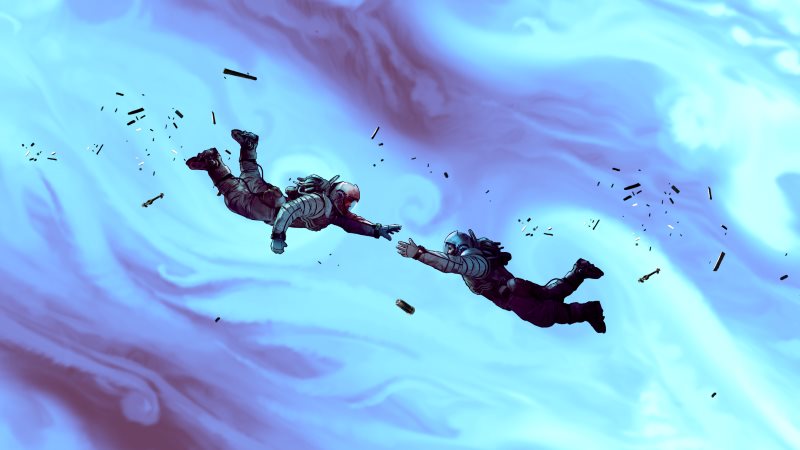 How to access: Google Play Store or Apple App Store
Time commitment: 2 hours
What are you planning to do this weekend at home? Tweet your suggestions to us @Gadgets360 with #WeekendChill or let us know via the comments.