Simon Pegg is a busy man. In the last two years or so, he's juggled being on the sets of the latest Mission: Impossible, Star Wars: The Force Awakens, and the upcoming Star Trek Beyond. And in the last of these, Pegg's role has grown from being just an actor (he plays Scotty) to working as a co-writer - something that has taken a lot out of him. He spent eight or nine days on the first film in the series - 2009's Star Trek - but on Beyond, when he wasn't acting, he was on the sets as a writer in case anything needed tweaking.
"It was a bigger challenge by a long way," Pegg admits in an interview conducted in May. And it wasn't easy, he resigned three times while writing the film. JJ Abrams, director of the earlier two instalments and producer on the third, just wrote him an email that said: grow up and get back to work. A lot of the pressure, Pegg says, was down to getting the script together in a short space of time. The writing team of newcomer Doug Jung and Pegg was formed in a hotel in January 2015, when the two met up with director Justin Lin - who has worked on four films in the Fast and Furious franchise - and producer Lindsey Weber.
While Pegg had experience scripting feature films (most famously with the Cornetto Trilogy) putting together a summer tentpole fixture - especially one as prestigious as Star Trek in its 50th anniversary - was as nerve-wracking as it was exciting. Pegg was first approached to write Star Trek Beyond while he was still working on M:I Rogue Nation, when producer Bryan Burk had a word with him. "And so [Bryan Burk and I] started riffing on ideas about, 'If you were going to make a Star Trek film from scratch, what would it be about?' We had loads of these conversations and then eventually he took me aside one day and said, 'do you want to write the Star Trek film?' It might have been on the set of Star Wars actually, come to think of it."
Owing to Pegg's schedule, Jung and he had to work across two continents whenever they could squeeze in a bit of time. "[We] did a little bit of stuff where I'd be on the phone to Doug in LA [Los Angeles], because I'd just done a day on Mission: Impossible and then I'd be working with Doug until 1am," he said. After that, Jung travelled to the UK and stayed at Pegg's house.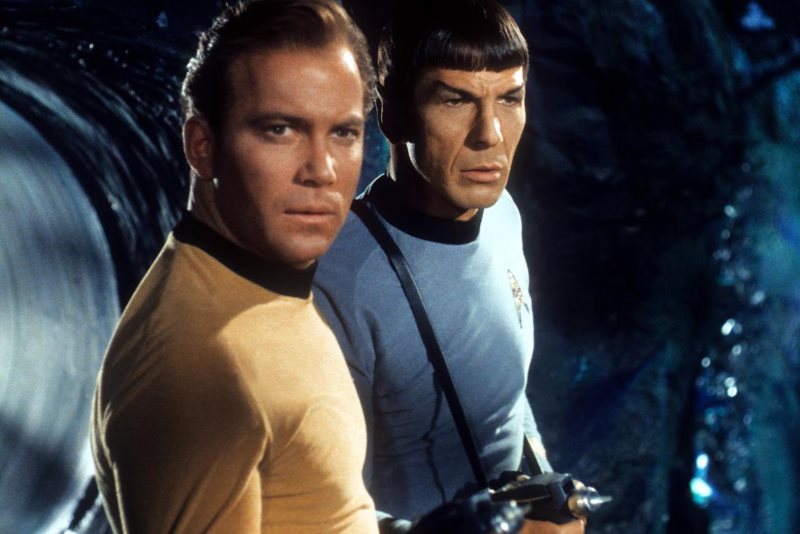 "[We] would write all day and then in the evening we would sit and watch two episodes of the original series, mainly to mine it for detail," Pegg added. "We thought it would be fun if certain officers were mentioned who came from the original series, or certain situations were alluded to so that it felt like there was a kind of continuity, even though this is a different timeline."
The reason they involved themselves with the television series that started it all was because the writing team wanted to explore Star Trek's original ideas under creator Gene Roddenberry. And that's why on Beyond, the Starship Enterprise and crew are into a five-year mission where they encounter something completely new that isn't Klingons or Romulans. With that as the backdrop, that gave Pegg the chance to study the crew's relationship with each other.
"One of our things going in was like, 'what would it be like to work in essentially the same building together for five years? How would that affect interpersonal dynamics? How would that affect your view of your job?' That's one thing they never really looked at in the series," he said. To achieve that, Pegg and Jung decided to go big: the destruction of the Starship Enterprise. With the crew stranded on a dangerous alien world called Altamid, Jung and Pegg chose to pair up characters who had little screen time together in previous films.
That in itself brought about humour, which Pegg believes to be an essential component without making it into a comedy. "These things can become way too bogged down sometimes in furrowed brow seriousness, when people forget that they're not entirely serious things," he added. "They often say that Bones and Spock are the sort of angel and devil on Kirk's shoulder, because one is pure emotion and the other one's pure logic. So with this film we paired up Bones (Karl Urban) and Spock (Zachary Quinto) together for a lot of scenes, so that you have these two opposing forces butting heads and finding common ground, which is both dramatic and comedic."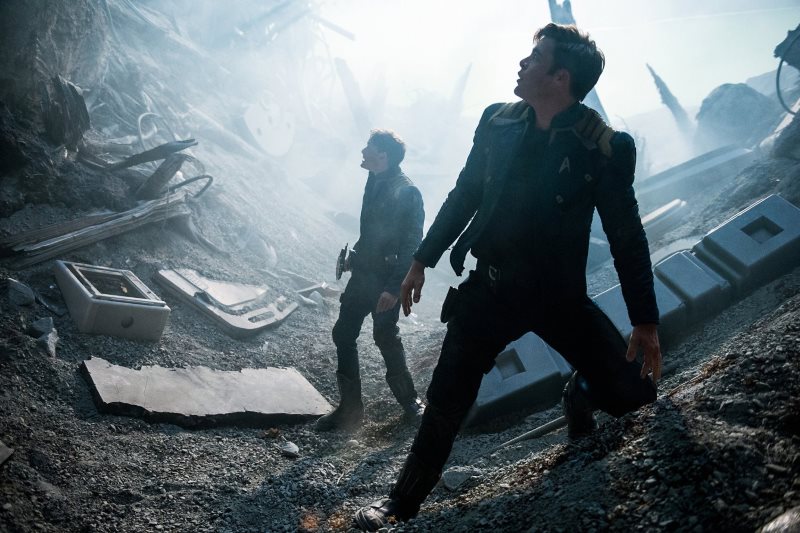 Meanwhile, Chris Pine's cynical Kirk finds himself with Anton Yelchin's optimist Chekov. (Yelchin recently passed away in an accident, and everyone in the cast have paid condolences to the 27-year-old actor during the press tour. In an interview, Pegg revealed that Lin went back into the edit room and edited the film's final scene to add a tribute to the Russia-born star.) Zoe Saldana's Uhura has been paired with John Cho's Sulu - who has been played as gay according to the actor and writers - while Pegg himself as Scotty is with franchise newcomer Sofia Boutella, who plays a young but resourceful alien Jaylah.
Jung stated that Pegg's "lifetime of knowledge" regarding Star Trek was really helpful for their working relationship. "[It] was a huge burden off because he could say 'I think Kirk would say this' or 'Spock might use this word instead'. Sometimes he'd play Scotty in the room, very convincingly, and sometimes he'd be Bones or Spock. It was kind of hilarious."
Finishing Beyond was a huge relief for Pegg, and it allowed him to take proper time off for the first time in ten years, he said. When he went away for five months, he told his agent to not call him unless Steven Spielberg was on the other line. And during Christmas last year, Pegg got a call from his agent which made him wonder what could be so important. "My agent said, 'you remember you said, don't call unless Steven Spielberg calls?' I went, 'yeah?' So that was interesting," he said.
With Star Trek Beyond releasing worldwide at the end of this week, Pegg will return to work with Spielberg's Ready Player One next month, followed by another Mission Impossible in October.
Star Trek Beyond Giveaway - Day 1
Terms and Conditions
Winners of the Day 1 of the contest will be announced right here on Thursday.
The winners will be picked at random from the entries.
Contest is open only to residents of India.
In case of any dispute, the decision of Gadgets 360 staff will be final.
One e-Code entitles a customer to buy a ticket of Star Trek Beyond up to Rs. 300, if the ticket price is over then Rs. 300 then customer has to pay differential amount.
The said e-Code can only be used online at www.pvrcinemas.com to book a PVR ticket which is subject to availability only for Star Trek Beyond movie with the validity of 90 days & client has to pay the convenience fee during online ticket generation.
The said star pass cannot be used at Director's Cut, Gold Class, Imax, Opulent, Mahagun, and Cinemax.
E-Code will have a validity of 90 days from the date of issue.
Customer is liable to pay a 3D glass rental fee per ticket as applicable.
The e-code cannot be clubbed with any other offer from PVR.
No refund of cash will be made for any items purchased with the e-code.
E-Codes are only valid for movie tickets & can be redeemed in single transaction only.
E-Codes are only valid for "Star Trek Beyond" Movie Tickets & cannot be redeemed for any other movie.
The terms and conditions can be changed at any time.