Japan's once-mighty electronics makers have lost billions of dollars from TVs but Sony Corp and Panasonic Corp won't quit, saying retreating from the world's living rooms would close the door to more promising businesses.
Consumer electronics account for a shrinking portion of income after restructuring focussed Sony on gaming and image sensors and Panasonic on electric car batteries. But TVs remain among their best-known products.
Staying in the TV market - particularly at the premium end - keeps the pair relevant and ensures their brands and quality are at the forefront when consumers shop for other electronics, they said. Sony, for example, said it saw a strong correlation between sales trends for its TVs and audio systems.
That makes it worth persevering in a TV market dominated by Samsung Electronics Co Ltd and cheaper Asian rivals, with Sony and Panasonic content to hold modest shares by focussing on high-margin, high-definition "4K" models.
"TVs are the soul of Sony and we don't want to be without them," Ichiro Takagi, head of Sony's home entertainment and sound business, told Reuters in an interview.
Investors have long speculated about Sony and Panasonic gradually exiting TVs, reflecting Japan's declining position in the tech sector. But analysts also said sticking it out was worthwhile as long as they were profitable.
"Especially for Sony... If they quit TVs, there's a chance that the Sony brand will be diminished," said Junya Ayada at Daiwa Securities.
Sony holds 7 percent of an industry it once revolutionised with its Trinitron technology, while Panasonic has 4 percent. South Korean leaders Samsung and LG Electronics Inc together hold about 40 percent.
"There was a time when we were going after volume, and we totally lost that race," said Takagi. "Even in the days of the Trinitron, we only had a share of around 10 percent. I think 10 percent is appropriate now."
Restructuring
Under Chief Executive Kazuo Hirai, Sony has shed thousands of jobs and sold off its personal computer (PC) unit after several years of losses. Hirai has not ruled out dispensing with the TV arm as well if it fails to stay profitable.
But Takagi said an exit was now less than likely after cost cutting helped the unit book a small operating profit in the last business year, its first in over a decade.
Moreover, Sony - with interests ranging from its Hollywood studio to PlayStation videogames - aims to recapture its cachet as an entertainment-to-electronics group through increased collaboration across the company, Takagi said.
TVs encapsulated the sound and picture technology developed by the various businesses, he said. Sony is also aiming for a high-end comeback in audio, earlier this year introducing a portable music player that costs over $1000.
"Historically, TVs have been at the centre," Takagi said. "When sales rose, sales in audio and home theatre rose as well. As the TV operations recover... we'll see a rise in audio sales."
Pointing to a revival are Sony's 4K televisions. Last year, Sony quadrupled its share of TV sales at Best Buy Co Inc, the largest U.S. consumer electronics chain, to 12 percent by concentrating on large, high-end models, Takagi said.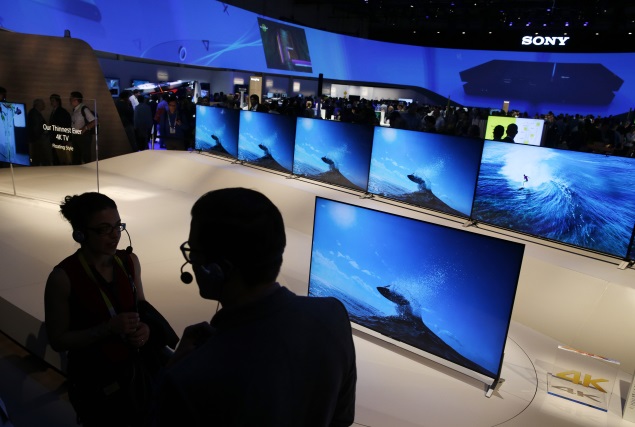 Analyst Hisakazu Torii at DisplaySearch said Japanese TV manufacturers had little choice but to focus on high-end models, particularly when faced with a rival like Samsung whose smartphone success has given it overwhelming resources.
But 4K TVs already account for nearly 40 percent of sets with screens larger than 50 inches, meaning they were starting to lose exclusivity, he said.
Analysts say consumers, particularly in the United States, are increasingly opting for larger sets for their living rooms to watch movies and live events, while opting for PCs and smartphones instead of small bedroom TVs.
"Once 4K penetration goes beyond 70 percent, that means commoditisation and price competition," Torii said.
Smartphones
Panasonic, on the other hand, has not seen a comparable upturn, and is increasingly out-sold by previously little-known Chinese manufacturers such as TCL Corp.
Its TV division reported seven consecutive years of loss while the overall company turned itself around by focussing on automotive technologies and high-margin home appliances.
But Masahiro Shinada, head of Panasonic's TV business, said maintaining a presence in television made it easier to sell more profitable white goods - not only by lifting the company's image, but also winning cooperation from retailers who prefer to deal with manufacturers of high-volume products such as TVs.
"They really open the way to selling refrigerators and washing machines," he said.
Panasonic, like Sony, is looking to the high-end TV market for prestige and profitability. But as consumers increasingly watch content on the go, there is a risk of TVs losing their status as brand-defining devices.
"Your kids' cellphones are Samsung, those kids become young adults, those young adults become adults," said Mark Sasicki, TV buyer at Abt Electronics - the largest single-store retailer in the United States, spread over 37 acres of a Chicago suburb. "It plays into their appliance business."
© Thomson Reuters 2015