If you watch a lot of movies on your laptop, then you should consider investing in a HDMI cable so that you can plug it into the TV screen and watch from your couch or bed, instead of hunching over the laptop. That's the basic concept behind a Home Theatre PC as well - a small form factor computer that you connect to your display, often running a specialised software like XBMC with which you can display your video collection and easily watch things.
In both cases, you could get up and go to the machine every time you wanted to load a new video, or start a playlist, but that's a fairly cumbersome solution. Instead, you could do what this reporter did, and buy a small wireless keyboard which you can keep with you. These keyboards aren't really ideal for typing a lot, but you can do things like type in a URL, or navigate through a menu fairly easily. Most of these come with an integrated trackpad/ trackball so you can easily control the mouse pointer as well.
Here are our picks, in no particular order.
1. Lenovo N5902
This keyboard (Rs. 5,050) (pictured top) is designed with ergonomics in mind - it's a neat little mini-keyboard with a handle to the back so you can hold it like a remote when you're just using it as a mouse. Integrated in the handle is a touch panel that works like a scroll-wheel, and there's a small optical trackball (like in a BlackBerry) just under the keys.
The keyboards has a full key layout, with some shortcuts like a CTRL-ALT-DELkey - don't worry, you can't press it by accident, it needs to be held along with the Fn button which is on the other side of the keyboard.
It'sincredibly comfortable to use as a mouse, and the keyboard itself feelspretty solid as well. There are backlit keys so you can turn off the lights and enjoy your movie, and the keys themselves are a little biggerthan those on a BlackBerry, so you can type without too much trouble.
Incase you are on a budget, you can try the Lenovo N5901 (Rs. 1,489) - it has a physical trackball instead of an optical one, and it doesn't have backlit keys, but it's otherwise more or less the same keyboard, and a lot cheaper too.
2. Amkette Wi-Key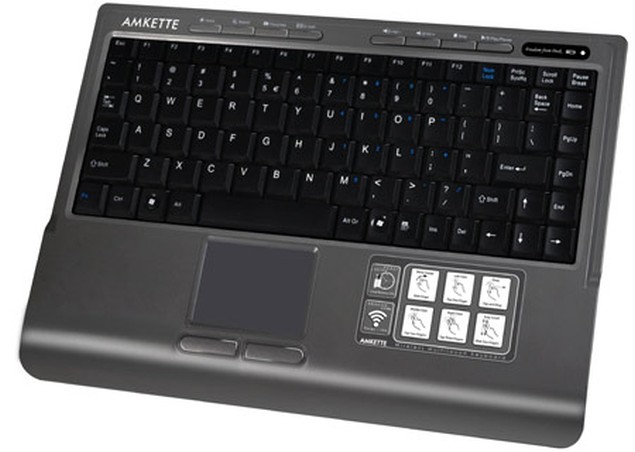 In case you want something a little bigger - maybe you want to be able to deal with any last minute work without having to get back to your laptop - then the Amkette Wi-Key (Rs. 1,954) is a pretty good option.
The Wi-Key is a large keyboard - it's slightly bigger than Apple's wireless keyboard, and doesn't feel particularly premium, but at that price, it's not too bad, particularly when you consider that Amkette has integrated a trackpad and mouse buttons under the keys. It's better suited for HTPC use than for taking with you when you travel because of the added size though.
3. Logitech Dinovo touchpad controller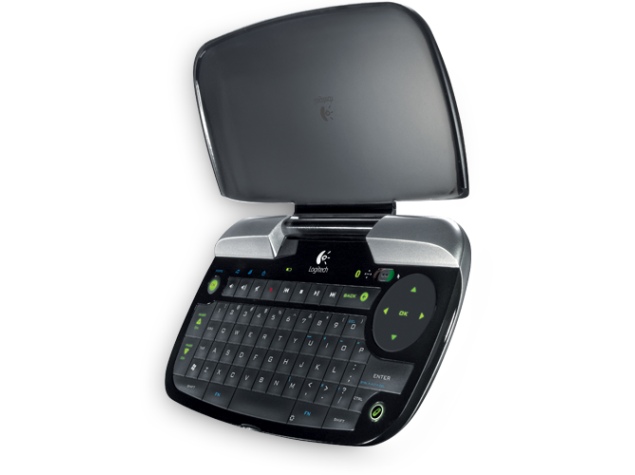 This keyboard (Rs. 5,259) comes in a clamshell design, but the upper cover is just that, a cover, and serves no practical function. The Dinovo is a sturdy little device, but it has a couple of disadvantages when compared to theLenovo 5902. For one thing, the keys are a little smaller, and have a little less travel, which feels uncomfortable for long use. Secondly, the design places the trackpad at the top right corner of the keyboard, which makes using it with just one hand a little uncomfortable. However,the clamshell design means that the keys are protected when it is not in use, and it feels like you can afford to leave it lying around in thehouse instead of having to stow it away carefully.
4. Microsoft Arc Keyboard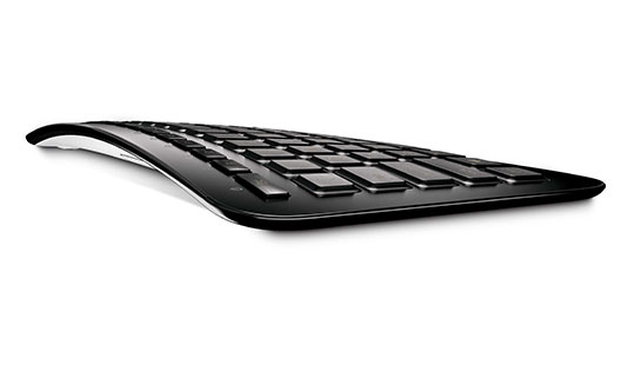 The Arc keyboard (Rs. 2,750) and mouse (sold separately) are both actually pretty impressive, but if you're running any decent media manager like XBMC, you should be able to manage with just the keyboard. It's a small keyboard which fits snugly in your lap, has a gentle curve somehow whichmakes typing a breeze and if you need to use that laptop for more than just movie watching, then this is the best keyboard on the list. On the other hand, if you're using the laptop for anything other than movies and browsing, then you should probably keep it next to you and not under the TV.
5. Perixx Periboard 717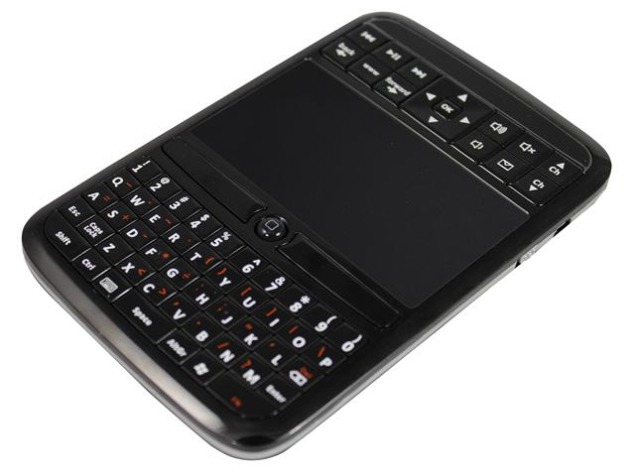 We haven't used this particular keyboard (Rs. 4,674) extensively, but have tried it out once. Based on that limited experience, it seemed like a good keyboard that was overshadowed by the only slightly more expensive options from Logitech and Lenovo.
The Perixx actually looks remarkably similar to an old BlackBerry handset, with a near identical keyboard layout. On the top edge is a row of mediacontrols, which work with XBMC, and instead of a screen, you've got a large touchpad. The touchpad does seem better than that of the Logitech Dinovo, but on the other hand, the Periboard felt a lot flimsier. It also looks really boxy and ugly, unlike the relatively stylish alternatives.
6. Cideko Wireless Air Keyboard and Gyro Mouse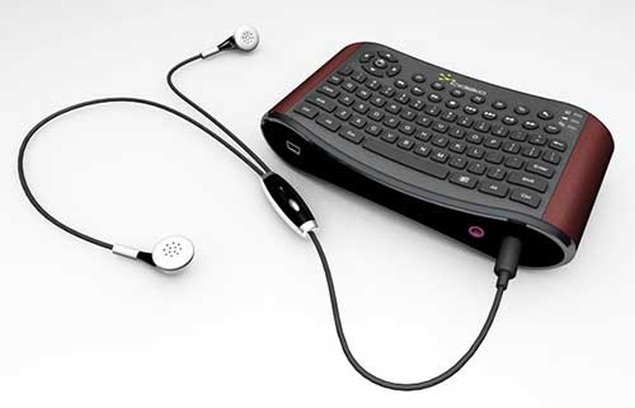 This keyboard (Rs. 6,368) has a name that's quite a mouthful and a high price as well, but there are a few things going for it. For one, this is the onlykeyboard where the keys are not spaced in a rectangular grid, but are laid out at a slight angle, like a real keyboard. They're also not snug against each other but have a little space, which makes it easier to type.
On the flip side, this is possibly the thickest keyboard. That does give it a good grip, but hurts what is supposed to be the standout feature of the keyboard - that it is an air mouse. Instead of using a trackpad, you just wave the keyboard up and down to move the mouse on the screen. The technology is pretty good, but it gets tiring fast.
There is one more feature that is really great though - the keyboard comes with a 3.5mm jack that you can plug your earphones into (just like the Roku remote). This means that you don't have to invest ina wireless headset, if you're watching something and don't want to disturb others. This feature is not commonly available, but might not beworth the extra price.
Affiliate links may be automatically generated - see our ethics statement for details.