In the first part of our interaction with Netflix at CES 2016, Chris Jaffe, Vice President - User Interface Innovation, Chitavan Patel, Director - Content Acquisition, and Cecile Fouques, Director - Consumer PR EMEA answered some pressing questions about how the company's simultaneous expansion to 130 new countries came about, their specific plans for India, and how they plan to deal with particular local conditions such as poor broadband penetration and over-enthusiastic censorship.
In Part 2, the trio address even more questions about Netflix's philosophy, how it functions, and how it balances its own priorities with those of its users.
(Also see: Netflix Is Here, and No, It Is Not Censoring Any Content)
Content, or to use the team's preferred term, storytelling, is the most important thing that will draw and keep subscribers. How then does the company address the fact that the catalogue in India is significantly weaker than that of the US and other existing countries?
"Relative to other countries, it's a function of what rights are available to us, so it's not necessarily that it's not there, it's that other license holders have licensed those rights and are inaccessible to us," Patel explained. Jaffe added: "As Reed said [in his keynote] some of these rights are locked up for ten years, so in that sense when you look at this kind of expansion, there's almost no right time to do it. These things are constantly in flux, that's why we chose to go now with originals and a really great licensed catalogue."
Patel provided further context, without missing any opportunity to plug Netflix's own shows: "We typically take a second window on content and so you'll see the first run seasons, so it airs in the US and then it airs on local networks, and then we'll come in some time after the initial airing of the season. And so there may be some overlap in the shows that you see, but there will be a delay in when you see the season relative to when it aired in a country the first time. But our originals are always day-and-date to when they launched in the US."
So what about discoverability? How do users make choices with a growing library of shows and movies, many of which they might never have heard of before? Netflix believes the answer lies in its recommendation engine.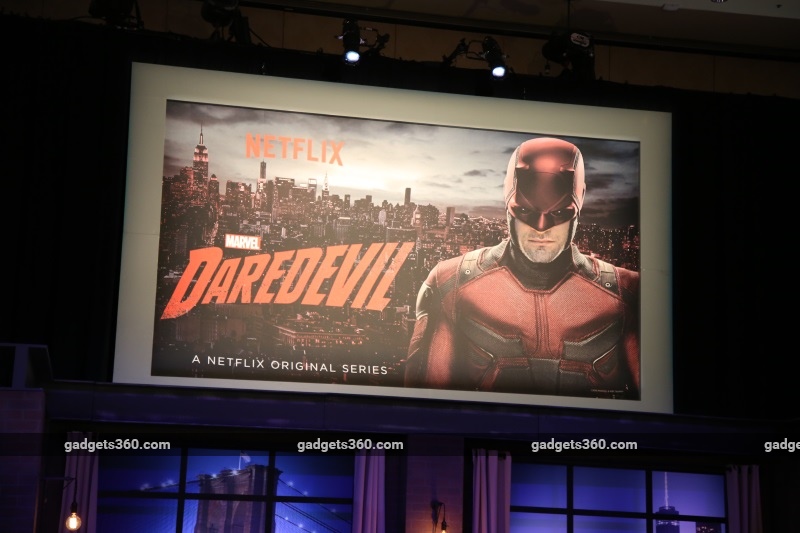 Jaffe elaborated: "As the interface guy, I'm very happy to say that I think the content is really it. From an interface perspective, what we really want to do is connect members with really great stories. There are a lot of stories on Netflix and for you to find the right thing to watch right now, and it's likely that that thing is different from the thing for her [points to Chitavan] and the thing for me. If we're doing our job, we're finding you that thing and then we're getting out of the way because we want you to enjoy it."
Is the ultimate goal to have an endless stream of content, sort of like a TV channel, but personalised? "The way to think about the goal in a high-level abstract sense is that we would love to get to a place where at any point of time we know exactly what you want to watch," Jaffe said. "That could be continuing episode 3 of Daredevil, it could be a new documentary.. that's the goal. We're not there yet, it will take us a while to get there. That's the goal. How that's presented, we'll innovate along the way. If it's a continuous stream, if it's a selection kind of experience, we don't know."
"We'll figure that out. A good way to think about the Netflix product is as a marriage of UI and personalisation," he added. "The UI is the structure and how you interact with it; the personalisation is the algorithms that in real time look and see what kinds of things you're watching now, what kinds of things you do and don't like. And then it looks at the catalogue and serves just the right things for each person. We innovate across both of those dimensions separately and together."
But if everything is decided based on what you already like, don't you lose some of the joy of discovering something new that you wouldn't really have given a chance? Do we lose some of the serendipity of flipping through TV channels and stumbling across something great?
That's definitely something the company is aware of, Jaffe agreed: "It's important to understand that there are hundreds and hundreds of factors that we pull into our algorithms and we weight them appropriately, and so what our teams is constantly doing is trying to identify new factors. It could be big parts of those are obviously behavioural; the kinds of things you've been watching recently but then there's other things that aren't. Years ago we were very focused on this notion, but you can get into a position where all you start seeing is comedies and we realised that wasn't the right thing to do. The algorithms take all that into account now, and so variance and other kinds of things are applied to generate the kind of merchandising that you see."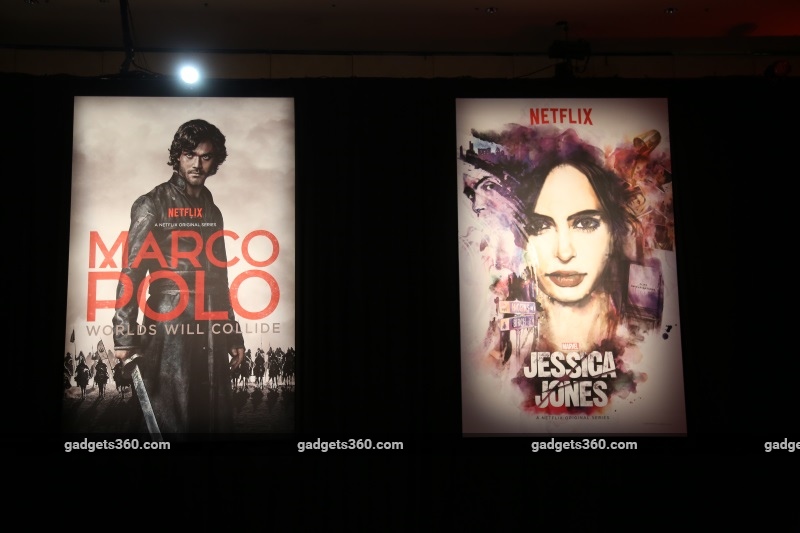 That raises the question of privacy. A lot of people might feel uncomfortable with the service studying them in order to deliver recommendations. Can users opt out if they don't like their activities being tracked? Jaffe was non-committal about that: "You have the ability to opt out of A/B testing and some of our early stage innovations."
Fouques jumped in to address the question. "In terms of privacy, we try to protect customer data as much as we can. Right now we do care about the most is PIN code access to content... Our work starts now and we will see. We don't have a very precise answer and this point because we don't know."
Speaking of the balance between privacy and more accurate recommendations, we asked Jaffe directly about something that came up in a presentation made by Shawn DuBravac, CTA Chief Economist, on the day before CES kicked off. DuBravac had suggested that Netflix would integrate with home cameras, thermostats and other sensors in order to detect users' moods and environments to deliver even more finely tuned recommentations.
Jaffe however did not want to address the notion. "We have not put that out there, we don't really have a comment on anything in that area," he said. "There are a lot of consumer products out there with a lot of interesting sensors packed in. The one that people have talked about the most is the latest version of the Xbox. You can use Netflix with voice through that experience but we don't have any comment around what they were talking about, I think that was largely hypothetical."
But is that kind of behavioural and environmental sensing something that interests him? "The way we think about innovation opportunities with new technologies is that it needs to be a specific thing that's useful for consumers relative to the use case of discovering and consuming content," said Jaffe.
"There are a lot of innovations out there but only a few of them are relevant to how people consume content. So we look at things like 4K or High Dynamic Range, or bigger screens, or smartphones with better processing power or better connectivity," he adds. "Those are innovations that directly tie in to the use case of discovering and consuming content. Things beyond that are much more speculative."
"So today we have a very basic application with Oculus, [for the Gear VR] it's basically rendering the same TV UI on the mobile phone that you clip in to the Gear glasses. That's an early take on a static, two-dimensional virtual reality. And that's interesting; we're not making big investments there but that's something that could possibly be in this use case of video consumption and discovery. But it has to really be there, there has to be a latent consumer need for it and it has to be appropriate for the very focused thing that we're doing."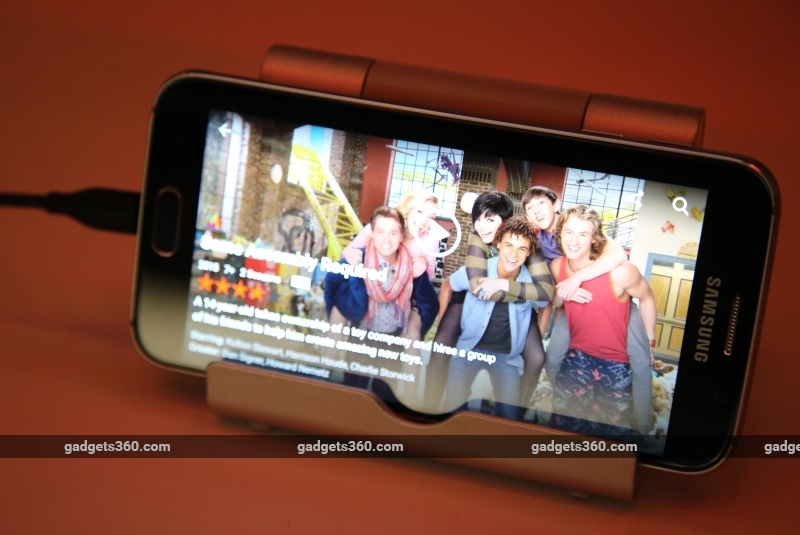 Even so, we pressed, the idea must be tantalising. It ties in with Netflix's stated goal of providing the perfect recommendations and also its methods of using data. Sensors could provide incredible amounts of non-subjective data.
Jaffe shrugged it off: "I think for us, we spend a lot of time as a team internally talking about prototyping and playing around with these things but we always have to check ourselves in terms of taking it farther; is there really a consumer need and opportunity, do we think it's a better experience? We look at all the opportunities; there are lots of things lying around that we need to tackle for personalisation and UI to keep making the experience better."
Even without the sensors, Netflix has a huge number of interesting and potentially accurate profiles of its users. How tempting is it for the company to turn that into a giant stream of advertising money?
After a bit of laughter and knowing nods from the team, Fouques set the record straight: "It isn't tempting, it's [against] our philosophy. We don't want to go there because this is not our model, we are not a broadcaster. It isn't meaningful to talk about temptation because that is not us and we won't go there. We are very respectful with our customers. I think we need to put more effort into our innovation using this data smartly for our consumers and not selling things that at the end of the day are not going to serve the consumer. You said you get super annoyed when you have a lot of commercials cutting into the content - some people are doing this, we are doing differently."
Jaffe then added "If you come to the Netflix website or app or anything in India or anywhere else in the world today, you will see very clearly that it says 'no ads'. It's a fundamental brand promise." Patel chimed in with the content perspective as well. "Because of the storytelling you get this very immersive experience when you're watching two to three episodes of something, and to be pulled out of the world of ancient China and Marco Polo to watch an ad would not be so pleasant."
Read Part 3 of our conversation with Chris Jaffe, Chitavan Patel and Ceclie Fouqes for more about Netflix's approach to developing local originals, piracy, and the long-term future of the company.