Netflix's launch in India and 129 other countries has only just gone live and it's a huge move from the famously disruptive company, which until now served only 60 markets. Chris Jaffe, Vice President - User Interface Innovation, Chitavan Patel, Director - Content Acquisition, and Cecile Fouques, Director - Consumer PR EMEA spoke with Gadgets 360 on the sidelines of CES 2016 in Las Vegas on Wednesday and answered a few burning questions.
(Also see: Netflix Launched in India, Plans Start at Rs. 500 Per Month)
On the topic of content, Patel was clear that while Netflix's original series and movies were the stars of the service, Netflix is invested in varied local programming. "We'll have all of our original series along with a host of US Hollywood movies and TV shows. In India in particular we've licensed almost a hundred local Indian Bollywood titles; classics, some recent ones, and some indie cinema that we're excited about," she told us.
There is one prominent Netflix Original that's currently missing though - you can't stream House of Cards on Netflix India - possibly due to licensing issues, as it was being aired on Zee Cafe. The only other show that we can recall making it to Indian broadcasters - Orange is the New Black - is available, likely because it was licensed under different terms.
"For our licensed content which we buy from studios around the world, it's particular to the countries because that's how licensing rights are sold," Patel adds. "We acquire the best content we can get in each market based on the rights that are available, and in a couple of markets, India in particular because of the really rich production landscape there and the history of Bollywood, we elected to have some local content... and over time we'll continue to add titles."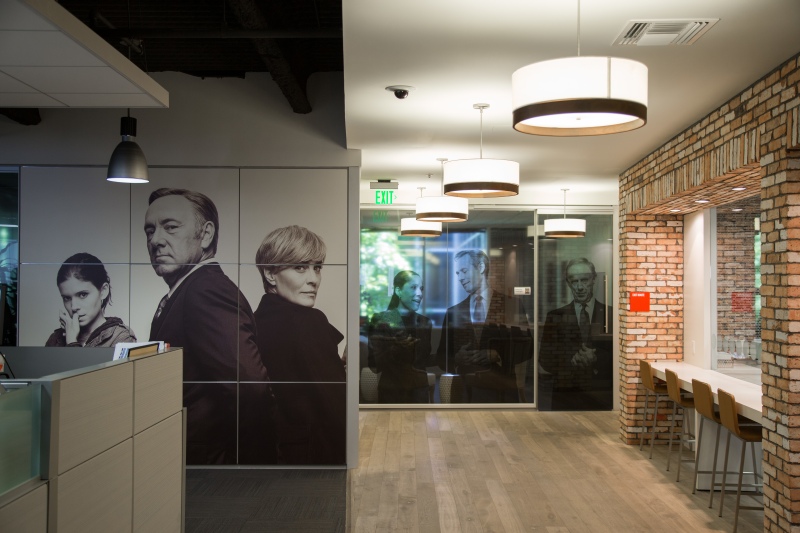 Beyond Bollywood, there is already regional programming on the service. "We have Gujarati content, we have some Punjabi content. We're looking to flesh that out as well," said Patel. "What's really important is that now that we've launched, we get to see what people are engaging with and as soon as we see what's popping and what people want more of, we'll add more of that content." When pressed about whether there are any plans to commission original Indian content, she was less specific: "Over time, we are exploring that in all of our larger markets, and India being such a great production hub, we are exploring opportunities as well".
(Also see: Netflix and Chilli Chicken? Maybe, but There Are Challenges)
In terms of American shows that are popular and in demand, Jaffe added: "Marquee series like Breaking Bad, Better Call Saul, Suits, Arrow; things like that... The way to think about it is that the content on Netflix is not static, and so over the next year or so the content may even double. When we think about the original series we're looking at 31 new series or seasons of series coming this year, and 24 new original feature films."
Censorship is a hot topic in India, and Netflix has no plans to change anything about its programming - at least not yet. Characterising the entire launch as a learning process, Jaffe explained that the service encourages self-selection. "Nothing on the service is censored at this point. First of all one thing to understand is that to sign up for Netflix a credit card is required. You go through the signup process and then you access Netflix. It's a very proactive process; you have to go seek it out. This is not just for India, this is for the whole world - what we really want to do is give members the information they need to make smart choices around the kinds of things that they and their families want to watch."
Jaffe demonstrated pulling up a TV show and pointed out the information shown to users on screen. "We give you a sense of what the title is, what the rating is by age, a little more information about what the show is, and then as it launches you get more information about what's in the show." Interestingly, the ratings are not provided by any agency; they are based on Netflix's own global rating structure. "Another key feature we have is that parents can lock out any content they see on the service and it requires a PIN code; to protect children. We make these features available and the information available, and then we want to learn how it works for our members. Our goal is to comply with local rules and regulations but at this point there's no censorship of anything on the service."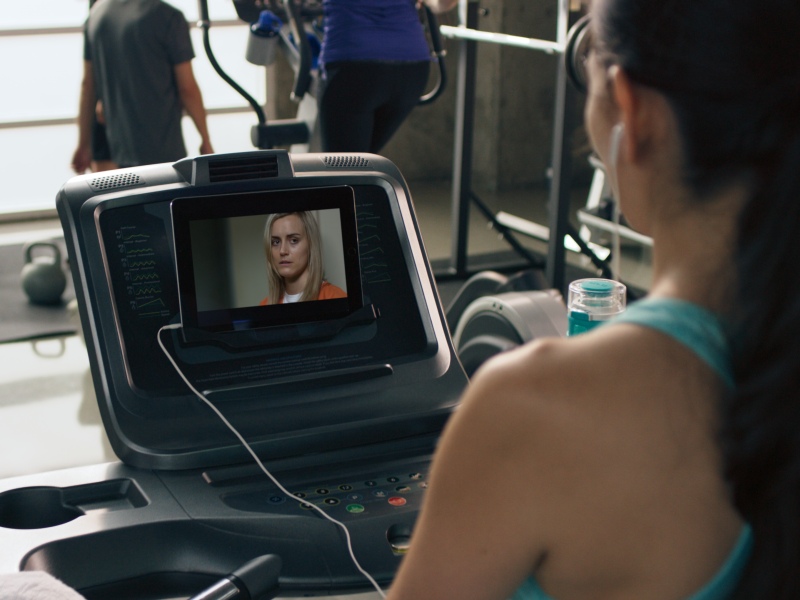 On the possibility of legal trouble down the line, Jaffe reiterated that the company considers itself "in a learning mode". "We're going to react proactively to issues that come up." He later added "Our belief is that Internet TV is here to stay. Consumer control, informing the consumer and giving the consumer tools to manage what's right for them and their families is the most important thing. We want to abide by any local regulations and we want to respond and see what happens on a case-by-case basis."
Fouques added another perspective: "There are some people who are going to be offended and there are others clamouring for freedom. So it's not up to us to make regulations for this. We are an entertainment service so we are not here to dictate any rules. We want to make entertainment available to everybody."
But how are consumers going to enjoy Netflix, considering its bandwidth requirements and the prevalence of data caps? "India isn't unique in data caps; there's lots of places all over the world that have them... This is one of the things that we're very interested to learn. This is the first day of a lot of learning. We're very interested to learn what those limitations are, what ends up happening in terms of the bandwidth, what kinds of devices [people use], where people end up using Netflix... we want to learn on the content side, on the product side, on the delivery side, all of these things so we can make the service better."
The "learning process" is a recurring theme through the conversation; as though the launch in 130 countries is one huge experiment. "We could spend a lot of time studying the problem or we could launch the product and see how it really works because it's very difficult to get a sense of the entire use case," Jaffee asserted. At this point, Netflix's algorithms that determine streaming quality are not any different for India. "What happens with adaptive streaming is that the moment you begin playback on something, it knows the device that you're on and it strives to get you the maximum quality based on the bandwidth you have, and it modulates that every second and decides. We'll know what bitrates and what kind of bandwidth consumers are getting and so we know what the picture quality is."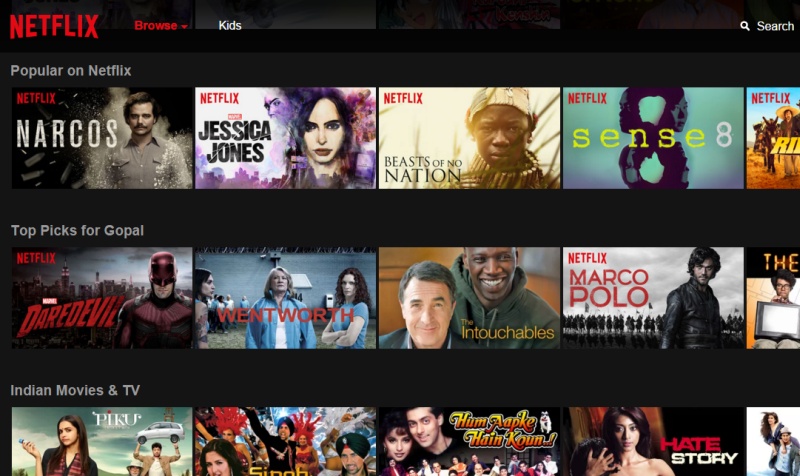 Another issue particular to India is pricing although this is something that could change as the results of this grand experiment start filtering in. According to Jaffe, the company is currently of the opinion that a single, roughly uniform pricing structure across all countries makes things simpler for everyone, but it's possible that things will change. We pointed out that Apple's prices for media are considerably lower in India and that piracy is rampant and unlikely to be punished, to which Jaffe replied "This is another learning dimension. We're open to whatever is the most compelling opportunity for consumers but we need to learn and figure that out". Didn't the company research local spending habits and how much people are actually willing to pay? "Our pricing team considers the macro factors of pricing all over the world as part of this approach to launching in 130 countries. This is one of those things where we felt the value was in getting the product out there... We could have taken a lot longer to make things perfect."
In terms of infrastructure and dealing with ISPs, Jaffe said "We make our OpenConnect caching appliances freely available to any ISP that wants them around the world; we'll happily go and install them." Fouques added: "When we go into a new country or region, our doors are open. We talk with everybody and as soon as we see a benefit for the consumer, we will do it. It's the same thing for content and everything because we do care about what the consumer wants."
However, the company won't get embroiled in net neutrality issues. "The consumer wants to get access and we are really keen to have a free Internet because we are on the Internet, but also we consider that it's going to be an issue with some governments. We want to provide the best that we can but that's a government issue and we are not going to interfere in any decision. If the Internet can be free for everybody, it's the best for the consumer again, not just for us," she stated. Will Netflix ever enter a deal with one ISP at the cost of others? Fouques shook her head emphatically.
Read Part 2 of our interview with Chris Jaffe, Chitavan Patel and Cecile Fouques for more about Netflix's plans for more insights about how Netflix's personalised recommendations, user privacy, and whether there will ever be targeted ads on the platform. In Part 3, the trio talk more about Netflix's approach to developing local originals, piracy, and the long-term future of the company.