Seated inside the plush Shree Balaji studios in the Mumbai suburb of Andheri, we were treated to a live demo of Dolby's latest sound technology for digital cinemas - Dolby Atmos. The sound of flapping wings of a bird panned 360 degrees on the background of pitter-patter of raindrops. It's a near perfect recreation; one that completely overshadows the on-screen visuals.

We got to chat with Anup Dev, a Sound Re-recording Mixer at Shree Balaji Studio and a Bollywood veteran who has worked as sound re-recording mixer for films like Chennai Express, Ra.One, and Singam 2.
"The difference in sound quality between 5.1, 7.1 and Dolby 3D is almost imperceptible," says Dev. "However, the same cannot be said about Dolby Atmos. The difference in sound quality is huge."
What is Dolby Atmos?
Dolby Atmos is essentially a way to layer an extra bed of sounds over the regular mix made using traditional channel-based method. The bed mix largely consists of atmospheric sounds. On top of this bed, additional audio elements or an audio object can be positioned according to the corresponding visual on screen. Instead of using the speaker channels, Atmos can pinpoint individual speakers, to make the position of sounds much more precise, letting you accurately trace the movements of, say, a helicopter, or helping you feel like you're really inside a scene as the various environmental effects fill the space.
In simpler terms, Dolby Atmos gives sound designers the ability to 'move' the sound as background or foreground objects move on or off-screen, giving the resultant effects a more realistic feel. Instead of 5, 7 or 11 channels of sound that they are traditionally used to, film makers get access to up to 64 channels so they can make sounds seem to move in a very precise manner. On the ground, this means using sophisticated algorithms to design placement of speakers throughout the theatre so as to be able to recreate that experience.
A recent example from Hollywood is the latest Transformers movie. In one scene, there's a gunfight taking place, and you can hear - not just see - the bullets whizzing past, and thudding into different parts of a wall.
The first Indian film to use a native Atmos mix was Madras Café, and we caught up with Bishwadeep Chatterjee, the film's National Award-winning Sound Designer.
"When we [sound engineers] are panning the sound of a helicopter flying above the audience," says Chatterjee, "using Atmos we can pinpoint the source and the sound becomes more realistic as a result. Moreover, we can also pan the sound using overhead speakers."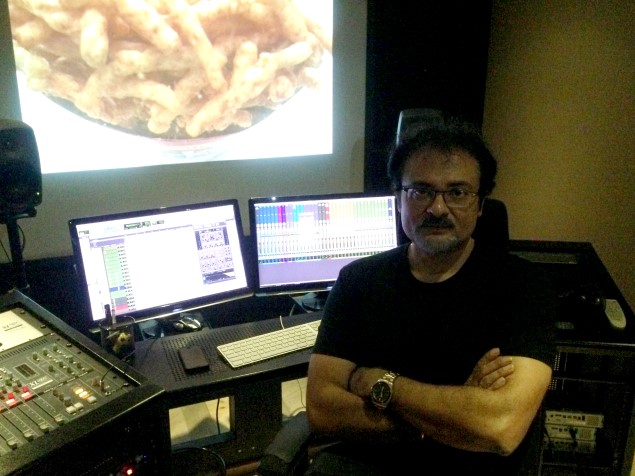 Bishwadeep Chatterjee with his arsenal of sound recording tools.

What this means is that the audio doesn't just move from side to side, simulating the sound of a helicopter flying overhead. With the sound coming literally from above, the result is a much more realistic sound, and a much more immersive cinema experience.
As Chatterjee puts it: "Our perception of hearing is always on. You cannot close your ears. Shut your eyes and concentrate on the sounds when you are in a cafeteria, a market place, or a place of religious worship and you will understand the cornucopia of sounds that are present. We (sound designers) try to simulate this entire experience with film."
People like Dev and Chatteerjee make this happen during post-production after all the sounds have been recorded. Dev says, "In our studio we use the Dolby Atmos Panner plugin for Avid Pro Tools to create the final mix."
Using the plugin, sound designers and engineers can actually use the soundscape creatively to route sound to specific speakers or pan it across the hall.
"Now sound engineers have very precise control over panning out of sound - they can take individual objects and move that around," adds Gaurav Gupta, Managing Director, Futureworks India, a leading audio and VFX studio, where Salman Khan's Kick was recently mixed for Atmos.
Shree Balaji Studios in Andheri is equipped with Dolby Atmos.

On the playback end, a movie theatre trying to upgrade to Dolby Atmos compliant setup should be able to accommodate up to 64 speakers which can be placed as left or right surround, and overhead as well. Currently, there are two Dolby Atmos theatres in Mumbai - PVR, Juhu and Inox Cinemas, Malad - and, in total there are 35 Dolby Atmos theatres across the country.
(Also see: Building India's Largest Dolby Atmos Theatre)
Both Dev and Chatterjee are of the opinion that now sound engineers have more space to work with and showcase their creativity to the fullest but advice subtle effects without going overboard.
For example, "We can pre-empt certain sounds using the power of low-frequencies without interrupting the dialogue and rest of the frequency space," says Chatterjee. "We can use the rumble of an incoming train to create anticipation of its movement even before it travels past the audience."
Not just for action movies
Pixar's Brave was the first Hollywood movie to showcase Dolby Atmos technology to the world in 2012. We are just past the half-year mark in 2014 and already around 50-odd movies across Bollywood and Hollywood have used Dolby Atmos. This includes films like Kick, Race 2, Dhoom 3, and the 3D re-release of Sholay. But in India, it's not just Bollywood that is adopting the new technology.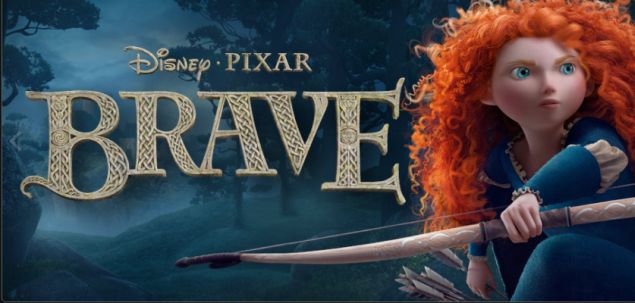 Dev has used Dolby Atmos for regional films with limited budget belying our notion that Dolby Atmos is only meant for big budget movies.
"I am currently working on Singham Returns which is a big budget film but I've also worked on two Marathi films, Shutter and Saturday Sunday, which featured Dolby Atmos audio," says Dev. Since the recording and other filming doesn't change, the only increased cost is in the pay being given to the sound engineer, and therefore, using Atmos doesn't really hurt a film's budget much, he adds.
Sound engineers in Bollywood are paid by the hour and Dev states that it typically takes 30 percent more time to complete a film with Dolby Atmos mix. Correspondingly, the budget for sound production also increases 30 percent. "The rise in budget is minuscule and I don't really see a reason for producers to object," says Dev.
And the impact of Atmos is so perceptible that as more halls are starting to use the technology, more directors will also want to take advantage of it. Madras Café, the first Indian film to use Dolby Atmos, went on to win awards for sound design. When the film was being made though, the director was initially resistant to the idea of using Atmos.
Chatterjee says, "Dolby Atmos hadn't reached Bollywood until Madras Café's production was in the midway stage. It took some time to convince Shoojit but I made him understand that the backdrop of war is the perfect setting to explore Atmos and that it will add to the tension. There was a gamut of emotions in the movie ranging from war zones in Sri Lanka to the tensions building up in Delhi to the main protagonist's angst."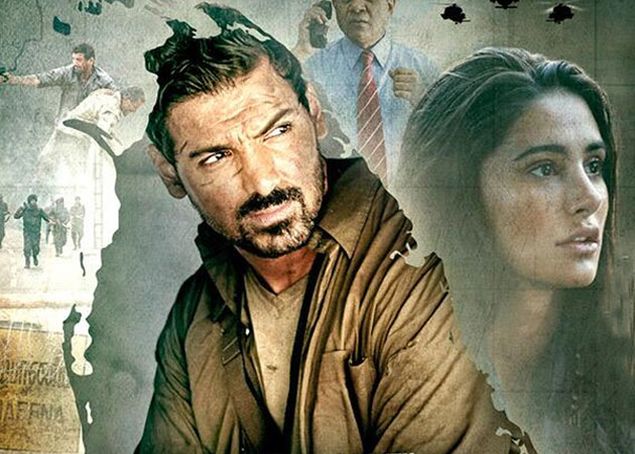 That's not to say that Atmos is suited only for action films, as both Dev and Chatterjee state that it is genre independent.
"Even in a romantic film, if the on-screen couple are in a café having a conversation we can create a depth to the sound by adding conversations of other people in the background," says Chatterjee.
Gupta talks about the yet-to-be-released Into the Storm and the implementation of Dolby Atmos effectively in the movie.
"[The movie] is fabulous to see with Dolby Atmos complementing the sound," says Gupta. "It will scare the living daylights out of you. Just the way they have used the sound effects of storm will make you feel like you are actually in it."
Gupta believes that there is no reason why Dolby Atmos won't become the de-facto standard for mixing audio for all movies in the near future.
"From an engineering perspective not much changes," he says. "They need to be more creative than before. I think every single major motion in Bollywood and Hollywood will be in Dolby Atmos soon. The growth of Dolby Atmos is faster than that of Dolby 5.1."
"I would be comfortable living in a 10x10 room but if I were gifted a 5000 sq. ft house I would be thrilled - Dolby Atmos does the same thing," says Chatterjee. "We have more soundscape now. Instead of working with surround and hoping that it accurately recreates the sound of a grenade, we can now pinpoint the exact location and direct it to a specific speaker."
As of now, the number of halls in India that make use of Atmos technology are still very few but that's changing quickly. Old halls like Sapna and Delite have gotten a complete makeover, while chains like PVR are also starting to make the switch. Since the content side of the equation only involves a small additional expense, there's no reason to assume that Atmos isn't going to become the norm, and soon. And when you see how people like Dev and Chatterjee use the technology, it's easy to understand why.