Releasing a film (or even a TV series) must be a lot less fun these days than it was just 10-15 years ago. With the current ubiquity of video through YouTube and social media, it's impossible to go into any entertainment experience without "spoilers" - and even if you don't care about such things, the endless speculation is taking the fun out of the experience.
Take for example all that's happening with Ant-Man right now. The film won't release until July but the hype for it is already building fast. A small 1.50 minute trailer has been discussed frame by frame on sites around the Internet, building elaborate theories based on a very short video. You can see the video for yourself below:
Is it cool? Yes, kind of. There's a few things given away here, about Paul Rudd's Scott Lang, and his family, and there are a couple of very short clips of action in the Ant-Suit. And the trailer ends on a funny note, which is great. But to look at a shot of San Francisco and elaborate on how that makes sense because it's far enough from the action in New York so it wouldn't be affected by the earlier movies in the series is madness, particularly considering that Avengers: Age of Ultron is coming out in May well before Ant-Man, and we don't really know what to expect from that film yet.
The rest of the trailer has some very cool shots of a miniaturised ant man riding a flying ant, and we're really looking forward to a movie in the future where Ant-Man and the Hulk meet so that we can watch Paul Rudd and Mark Ruffalo being all funny-awkward together, but based on this short clip, trying to figure out the entire character arc or how it connects to the rest of the Marvel Cinematic Universe seems a little pointless.
Equally baffling is the huge conversation that has sprung up around a single haircut - haircut that gives away the result of one of the biggest cliffhangers in the Song of Ice and Fire books. In the last book in the series, A Dance with Dragons, [spoilers follow, so read the books and come back here?] Jon Snow is planning to ride south to save his sister, but the men of the Night's Watch have had enough of his crazy schemes. One by one, a solemn procession of the men of the watch come up to their Lord Commander and stab him.
It's a great scene, and the way it is written leaves Jon's fate unclear; with the next book in the series still nowhere to be seen, the HBO adaptation of the books - Game of Thrones, will likely have caught up with the books when the fifth season (which starts airing in April) finishes. Unfortunately, a single haircut has convinced many people that they know what happens next. Actor Kit Harrington who plays Jon Snow in the series was recently spotted at the premiere of a new movie he stars in, with shorter hair. He's still got long hair that looks a lot like his character, but it is visibly shorter now. But in December, Harrington was quoted saying that he regrets being contractually obligated to keep his hair long for Game of Thrones.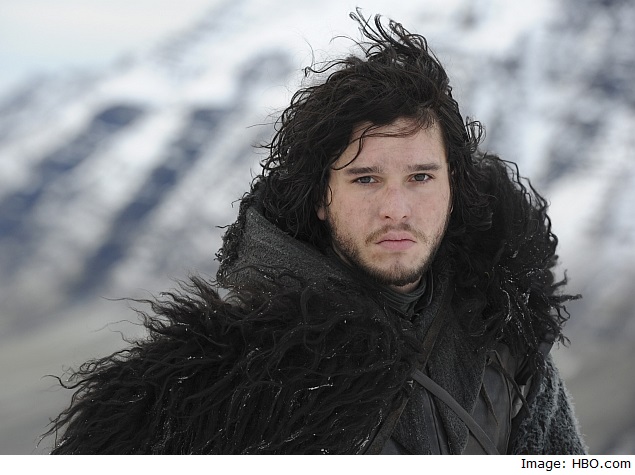 With a haircut just a little over a week since then, does this mean that Harrington is no longer with the show? And if that's the case, does it mean that Jon Snow is actually dead? That would have a big impact on one of the biggest fan theories that has been floating around, regarding Jon Snow's parentage. That's what the conspiracy theorists on blogs and sites like Reddit would have you believe anyway. But there are any number of possible explanations - with the show having just stopped filming, and the next season's filming not due for several months, Harrington might just be keeping his hair trim in the interim.
Or, after five years, he might have decided to follow the lead of his fellow cast and wear a wig. Maybe Jon isn't dead, but won't be a part of the sixth season anyway - with the fifth season not having started yet we don't know much at all about where the show is headed right now. Even if the conspiracy theory is correct - and it probably isn't - the next book could still feature Jon given all the divergences between the books and the show that have started to come up.
For a spoiler addicted Internet audience though, it's becoming impossible to just wait and see what happens, and unfortunately, that means that it is impossible to watch almost any "geek" film or TV show without being swamped in spoilers. Earlier, you had to worry about people giving away the plot if you missed the show the day it first aired. Now though, we've reached a point where everything is being spoiled pre-emptively, and that's just not fun.