On Wednesday, CBS released its first teaser trailer of the upcoming Supergirl TV show. Of course, this is just a first look, and most people would expect that the characters would also grow and develop over the course of time in a weekly show.
Judging by some of the (highly judgemental) responses we're seeing online though, you'd imagine that the trailer represents the final sensibility of the show, and that people expect a pilot episode to stand for a show's entire run.
Maybe we're just spoiled by Netflix, which has turned TV shows into long movies that are binge-watched, and thus, need, to hit the right note from the first moment. Most weekly TV shows, on the other hand, tend to have their ups and downs, and can certainly go up - or down - in quality. Just ask Agents of SHIELD - in both the first and second seasons, the first half of each season has been markedly worse than the back half, but it rallied magnificently this week to deliver one of the best finale episodes on any TV show.
So with that in mind, let's take a look at the teaser trailer. People have been comparing it quite needlessly with the Black Widow comedy sketch Scarlett Johansson did on Saturday Night Live (SNL). If you haven't seen it already, here are the 6 minutes 36 seconds that are horrifying large swatches of the Internet.
If your idea of "good" television is to make it more like a blood-and-gore filled movie, then this will definitely not appeal to you. If you wanted more of Arrow, or (the infinitely better) Daredevil, then just catch up to Agents of SHIELD so that you can enjoy that finale.
But the fact is that not every show has to deliver on those grounds to be enjoyable. The Flash is one of our favourite shows these days, and the series shows how you can tell a superhero story while still maintaining a sense of humour.
That said, the teaser certainly wears a few influences on its sleeve. The Devil Wears Prada looms large, as we see Supergirl's boss - played by Callista Flockhart (Ally McBeal) - walk into the office and talk about how she has a private elevator so that she doesn't have to smell other people's cologne, and then proceed to fire orders at her staff while clearly channelling Meryl Streep. Supergirl splutters like Ugly Betty when talking to people, and runs around fetching layouts and coffee.
There are also some standard teen comedy tropes, such as the weary and worldly roommate (her adoptive sister, in this case); and a series of makeovers, as she tries lots of different outfits. People complained about that, but it was a decently funny segment, as we discover why exactly Superman has a cape (aerodynamics) and we see different iterations of the costume ending with the logo - the coat of arms of the House of El.
There's a sequence in the trailer where Flockhart defends the use of 'girl', instead of 'woman.' Handled poorly, that dialogue could end up sounding like the hopeless defence of a legacy name, but Flockhart is campy enough in her delivery that instead it's a funny line, which leaves Supergirl speechless.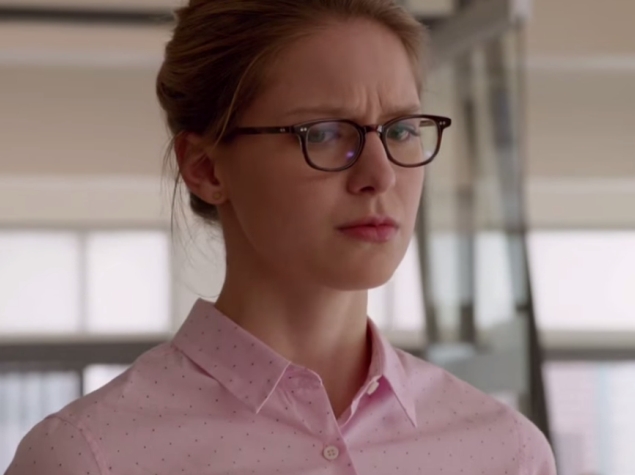 Actually, that's the one part of the trailer that did look a little worrying. Supergirl is played by Melissa Benoist, who also played a pretty similar character on Glee. There too, she was frequently saying naive, earnest things, tossing in a golly gee, and then swooping in to save the day. With soaring vocals instead of the power of flight, but you get the idea.
The problem is that such a character gets quite boring. We're hoping that Supergirl will be able to grow out of her speechlessness over the course of the show - maintain the optimism and hope that Superman is supposed to stand for, keep the humour and the campy tone of the trailer, but also be able to hold her own not just against gun-toting bank robbers, but also against cutting remarks.
On the other hand, if your only complaint about the show is that it looks like it will appeal to teenage girls - and you're not a teenage girl - then you need to lighten up. If the show can expand the audience that comic books cater to, then that is a good thing, which can only result in a greater variety of stories and more experimentation with the medium.
Otherwise you're stuck with more of the same, and a dying medium. It's well past time we grew beyond that, and frankly, even if Supergirl is a big hit, the "grown up" shows like Daredevil or Arrow aren't going to go away either. Fandom isn't a zero sum game.