A vanity van parked in one corner of an extremely noisy exhibition centre hosting the Mumbai Film and Comic Con is as weird a place as any to interview anyone, particularly when all that separates you from a horde of fans is a makeshift wooden wall. It's in this setting that NDTV Gadgets caught up with Mark Gatiss - the writer and actor extraordinaire who is most recognisable for playing the Braavosi banker Tycho Nestoris in the HBO adaptation of Game of Thrones, and Sherlock Holmes' brother Mycroft on the BBC adaptation of Sherlock.
Gatiss also has writing credits for Sherlock and Doctor Who, making him a bit of a legend in geek circles. The man himself cuts a figure that's as interesting as any of the characters he's written, and he's managed both acting and writing very successfully. But which one of these hats does he prefer and why?
"I like both hats, it's hard to wear two hats, so I have one hat divided down the middle," he jokes. "I've always done both and I love doing both and it keeps everything very varied and interesting and I did a lot of filming this year, I've written three scripts but I've done an awful lot of shooting and it's been very enjoyable. Equally I like sitting at home and writing half year and acting the rest of it."
That's probably why so much of Gatiss' work is so beloved in geek circles - he comes across as someone who really enjoys what he does. Gatiss is one of the rare few who finds himself in arguably three of the biggest TV shows - Doctor Who, Sherlock, and Game of Thrones. Each of them are diverse universes ranging from the modern day to sci-fi to gritty fantasy. But which one does Gatiss hold dearest?
"I'm a tiny part of Game of Thrones, it's a very violent world. Sherlock's world is kind of our world - so probably Doctor Who because you can go anywhere," he says. And while Gatiss admits to being a big fan of grimness in stories like Game of Thrones, if you're familiar with Doctor Who and Sherlock, you know that as a writer, Gatiss is drawn to whimsy and humor even in straight, serious pieces.
"I'm a big fan of grimness, but I think for my own stuff it always tends to be a bit funnier, lighter but also... I'm basically drawn to anything vaguely odd," he says.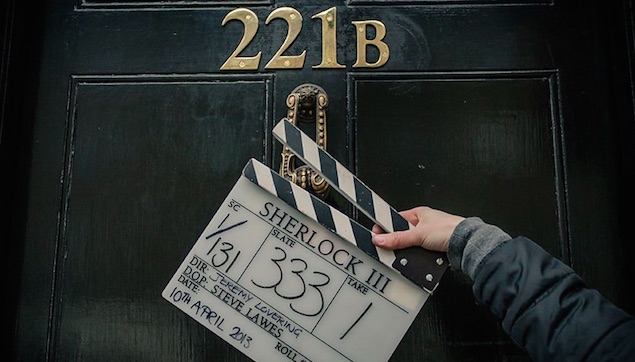 Gatiss is no stranger to dealing with odd scenarios. He tells us that straight-laced stories aren't for him.
"Many years ago I was asked to write a police series and I just couldn't do it. I didn't even try. After two meetings I said there's no monsters in it or no kind of strange crimes I just can't do it. It would be awful, it would be too straightforward for me," he explains.
Instead, he ended up working on what is probably the most famous set of stories about detectives and investigations - Sherlock Holmes. We're all the better for it what with Sherlock turning out the way it did. He reminiscences as to when he and his writing partner Steven Moffat had an inkling that they had a hit on their hands.
"When we were filming the pilot, Benedict and Martin were in the back of the taxi when Sherlock does that deduction about his phone," he says. "It was an enormous thing. The first time Benedict did it I got quite teary. That's based on a famous deduction with Watson's watch (in The Sign of Four) and I thought this is our version - there they are - it's our Sherlock and Dr. Watson."
The duo of Cumberbatch and Freeman exuded a kind of chemistry that had Gatiss confident about the show's success. Cumberbatch was the only actor who read for the role of Sherlock before Moffat and Gatiss made up their mind, Gatiss tells us.
"Benedict was the only person that we saw, we did have a very very long list but we didn't pay any attention," he says. "We all came to the same conclusion at the same time. I knew him. He played Stephen Hawking and he was in a film called Atonement. He came in and read. That was it. He was perfect. We saw six people for Dr. Watson and as soon as he and Martin read, we knew that was the show."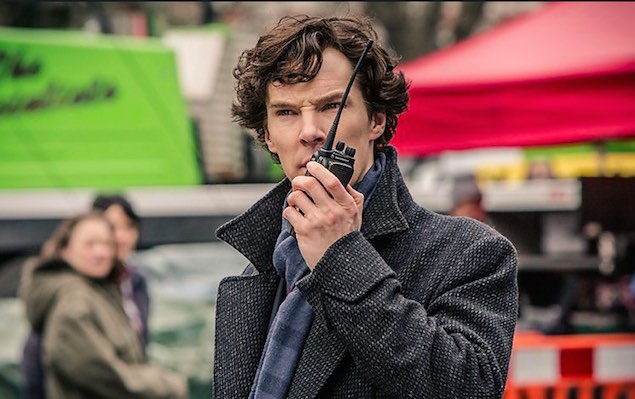 Of course, both actors careers have bloomed since Sherlock came around - both are now appearing in big blockbuster movies but Gatiss tells us that the actors' presence has not overshadowed their characters.
"People would pay to see them as John and Sherlock all the time," says Gatiss. "The only problem is its harder to get everyone back together to make more. Not because they're not willing but it is about trying to get diaries to align."
Part of the challenge lies in the format of Sherlock - it's not a continuing series with dozens of new episodes each year - even HBO shows get 10 episodes each season to develop the narrative. Sherlock gets three episodes each season. That's why, for instance, the creators wanted to make sure that fans weren't left wondering about Sherlock's death; Gatiss says he would rather leave cliffhangers to the show itself.
"We knew we were going to do some more," he says. "By doing three movie length stories every season, everything was sort of telescoped. We brought in Moriarty and Mycroft quicker than what we would have done if it had been a longer series. If we did 12 one hour episodes it would have been a slower build and so with the the Reichenbach Fall we sort of had five minutes with him definitely dead."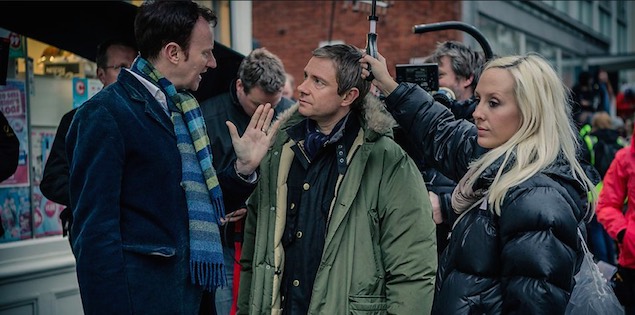 "Also it was the best cliffhanger that you could imagine," Gatiss continues. "I remember the day I told Steven we should be in the graveyard and the very last shot is Sherlock looking at his own grave. But yes, we had no idea it would become as huge as it was. It was an international talking point for two years." On the topic of Gatiss and Moffat, we wondered how the writing duties for a show as nuanced as Sherlock are divided. Gatiss tells us it's as per their interests
"In series two Steven was very drawn to the kind of messed up, upside down love story of A Scandal in Belgravia," he says. "I was originally going to write The Reichenbach Fall but he said, 'every time you talk about the Hound of The Baskervilles your eyes light up.' Because it was a gothic horror story and I was trying to write a modern version in which the ghostly bits were sort of became about conspiracy theories and stuff like that, it was very interesting. We're drawn to our own particular enthusiasms."
The enthusiasm could lead Gatiss to adaptations beyond Sherlock as well. There's a spark in his eye when we ask him what his wishlist of literary masterpieces are that he'd like to bring into the modern day.
"There's a lot of big books I'd like to do," he says. "There's a particular one which I can't talk about which I might be doing. But its very exciting. I'd like to do some HG Wells." However when pressed further, he remains tight-lipped signing off with, "those big science fiction romances are rather nice but nothing imminent."