Despite fairly unreliable 3G service and ISPs that offer low speeds and data caps, video consumption in India has been growing steadily. YouTube alone has over 70 million monthly users, and while the likes of Netflix and Hulu may not be available here just yet, the more serious viewer can choose from several free and paid options across services like Spuul, BoxTV, and BigFlix.
The latest entrant in this space is Hooq, which was launched in January this year as a joint venture between Singtel, Sony Pictures, and Warner Brothers entertainment. On Wednesday, the company launched its beta program in India, and plans to roll out the service to consumers sometime in June. Unlike most services of this type in India, Hooq will not have any free content - you're either a subscriber, who can watch all the content on the service by paying Rs. 199 for a month, or you watch nothing at all.
Co-founder and Chief Content and Distribution Officer Krishnan Rajagopalan told NDTV Gadgets that Hooq plans to be a destination for premium videos, adding, "by premium content I mean video content that you will not find on any free sites."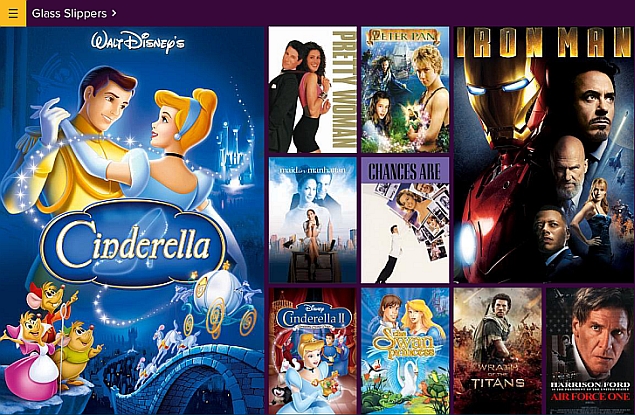 This means, for example, that popular Hindi TV shows which have been uploaded by the content owners to YouTube will not be a part of Hooq's catalogue. The 15,000 titles that the company is launching with right now will include a mix of local and International content, including Hollywood films and US TV shows, along with Thai, Korean, and Japanese films. This makes sense considering that Hooq earlier launched in the Philippines and Thailand.
15,000 films and counting
The service launches with over 5,000 Hollywood films, and over 15,000 films in total, adding many more each day, says Bithos. This content is being curated using a combination of algorithms, and human intervention.
"So for example, right now, you can see a category called 'guy movies', which has films like Inception and GoodFellas and the Hangover," he says. "That's not something that an algorithm would do. Others would say, 'hey, you've seen this film, so you might want to see that film,' which is a little limited you know? They can't say, 'hey, you haven't seen this film, but it's Mother's Day so you could watch it with your family'."
Although Hooq's investors include Sony Pictures and Warner Brothers Entertainment, its library is drawing on a lot of other studios as well, and its presence in the market won't affect other streaming services' relationship with those two studios either.
"We're a completely neutral service," adds Rajagopalan, saying, "and we've tied up with a number of content providers including Miramax, Dreamworks, Yash Raj Films, Disney-UTV, Rajsrhee, and more."
Interestingly, Rajagopalan says that Hooq does not plan to modify content for Indian broadcast standards, unless there is a legal requirement to do so.
"The laws aren't clear on this matter, and while we will comply with all laws, right now we don't believe we should be altering content," he says. Given the often crazy level of censorship on TV in India, this could be one good reason to subscribe to Hooq, though one wonders if this honeymoon period might end if and when the service becomes more popular.

However, while the service's library is fairly robust, and Hooq is adding lots of new content on a daily basis, there's no question that much of the new and interesting TV content is still missing. Older, but hugely popular shows like Grey's Anatomy aren't in the library either. Shows like Agents of Shield, Community, and Game of Thrones are all showing up on Indian TV channels, and are of course available via other means on the Internet.
(Also see: To pay or steal: How piracy is offering a better TV and movie viewing experience)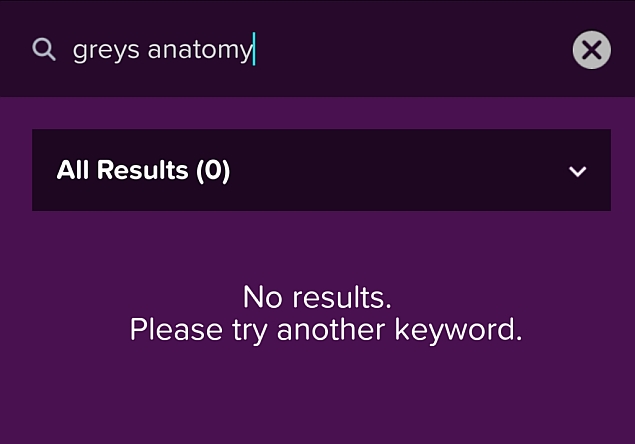 Built for emerging markets?
Hooq's CEO, Peter Bithos, says that the service has been built for emerging markets. This is manifested in a number of different ways, he explains.
"For one thing, the UI has been designed to be easily used on a number of devices," he says. "We know that the typical user isn't going to have a Samsung Galaxy S6, or the latest iPhone. So that's why, instead of the small thumbs of the same size you'll see on other platforms, we've got these big, poster-like thumbs throughout the UI, that are easy to see and interact with."
There's also a bandwidth indicator that shows on the top left corner of your stream. "So if your video is getting pixelated, you can see that and you'll know why, but if you'd rather let it buffer instead, you have that option too," Bithos adds. "On the bottom right, you can click on the settings, and where they're available, you can choose the subtitle language, or the audio track, or change the video quality from low, medium, or high."
At the same time, Hooq also allows you to download movies or TV shows to watch later - the idea is that if you're at home or at work, with a good Wi-Fi connection, then you can download a film to watch while you're making your commute - without eating into your mobile Internet plan.
"You can also choose the download quality," Bithos adds, "so if you're about to leave home in half an hour and want to watch something on your mobile phone's small screen, then you could quickly download the show on the 'Low' setting."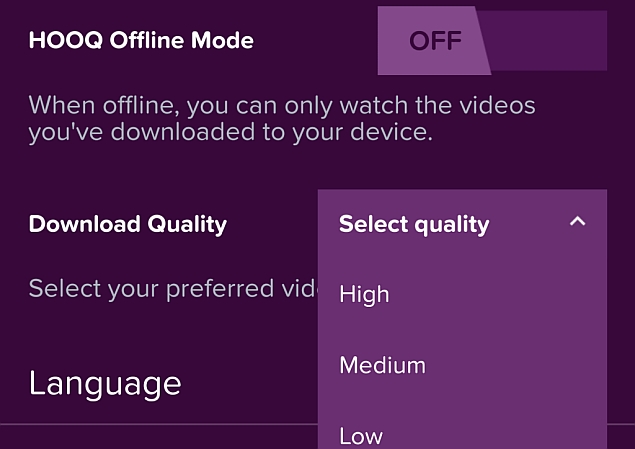 "People can plan how they use their data," adds Rajagopalan. "So, they might want to download at low quality to preserve data, or they're nearing the end of the cycle and there's a lot of data left on their plan, they might prefer to switch to high quality. We want to leave the option available to our users. You can even set the app to only stream on Wi-Fi, or set it to offline mode, where it doesn't use data at all, and only plays downloaded videos."
Can it measure up to piracy?
Whether you talk to Spuul, or BoxTV, or even Hooq, piracy quickly becomes a part of the conversation. In a market like India, that's a serious consideration, but Bithos insists that the Rs. 199 charge for the service offers enough value to the user.
"Otherwise you'd have to search for a torrent, and the download the file, and you don't know what you're getting until you've spent that time - and your data - on actually downloading it," says Bithos. "And the whole experience is pretty convoluted, even something like Popcorn Time, it isn't easy to set up and get running on your phone, or your computer, while we're so simple anyone could use Hooq."
"And if you're not downloading the file - you spend money to go to a shop, you see what content he has and you choose between that, and you spend money again to get the SD card with the video on it - and then the video is locked to an SD card which you can't easily move between devices," he adds.
While these are valid points, the fact is that with piracy, users still have complete control over their content. And the experience of using an application like Popcorn Time surpasses most legal solutions. On the other hand, if you're a Hooq subscriber, you can only register a maximum of five devices with your account. You can stream videos to two devices simultaneously, and you can download up to five pieces of content (either films or TV shows) at any given time, across all your devices. What's more, if you've downloaded a video, and your subscription expires, then you can't watch that video again without subscribing again.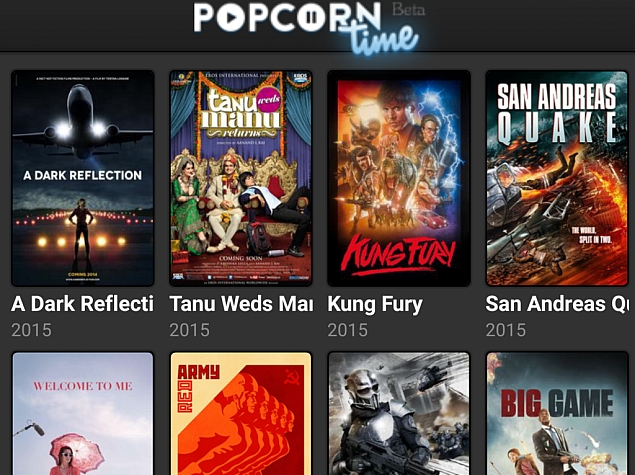 It's also never going to have the same speed of getting new releases as piracy - Rajagopalan notes that with Hindi films, it's very hard to predict as most studios have case by case deals for rights, while Hollywood films have a fairly standard system of "windowing". "We'll get it at the same time as anyone else in the world," he says.
Rajagopalan is quick to admit that fighting piracy single-handedly is impossible, and says that Hooq wants to involve the entire ecosystem with a series of partnerships. None of these have been finalised yet, though Bithos says to expect announcements to start coming "in the next few weeks". He didn't share many details about the partners Hooq is talking to right now, but partnering with telcos is likely going to be the first step.
Both Google's Chromecast, and recently the Teewe 2 include 20GB/ month of free data from Airtel for three months. Bithos also hinted at partnering with mobile OEMs, to have the app pre-installed on phones. He's clear though that Hooq does not plan to enter into any exclusive partnerships with any carrier or mobile phone company.
A question of data
The actual data consumption of the app is also worth thinking about. Aside from the Rs. 199 you'll spend per month for Hooq itself, you've also got to consider the data required to stream or download videos. Streaming a video means that if you want to rewatch a film or TV show, you have to use bandwidth for it all over again.
How much varies with the quality of the video. Bithos doesn't go into the specific details of resolution, but says that the high setting is HD, at which resolution, a film could take between 1GB to 2GB to stream or download. He doesn't specify what resolution the low setting is, but says that a film could be around 250MB to 300MB in size.
In other words, unless you'll likely run into the FUP limits of your home broadband connection, or run up big bills on your mobile plan. Of course, the five film limit works against Hooq here - once you've downloaded five films (across any of your five registered devices), you can't download anything new until you remove one of the stored films.
Despite these concerns, there's a lot to like about Hooq as well. The catalogue looks pretty decent if you like Hollywood content, and the UI is easy to use and looks good too. We've signed up for Hooq's beta, and will share a more detailed review after some time, but as of now, things look good.